Trending:
How to create a versatile closet for all occasions: suitable for women who lose or gain weight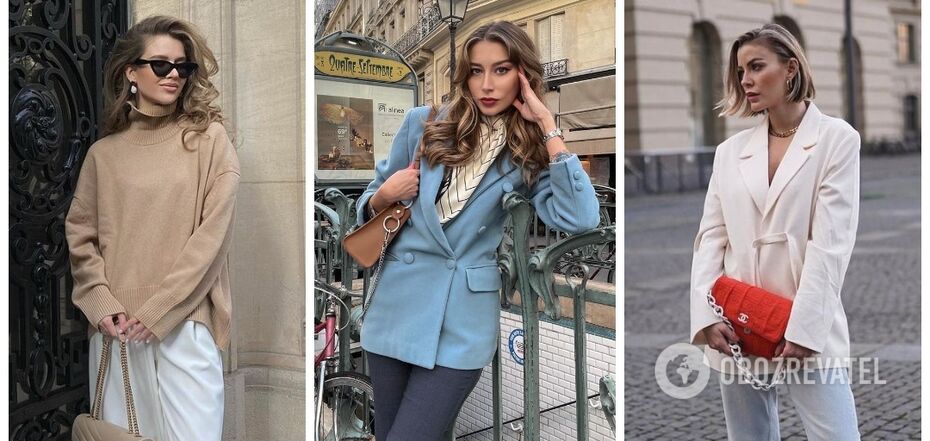 Stylish outfits for every day.
Because of dramatic changes in weight, it becomes more difficult to style the clothes you have. And you want to favorably emphasize the silhouette and, perhaps, to disguise the "extra". So, having gained volume in the waist area, it is no longer possible to wear a dress-case or, say, jeans with a high fit. They will only emphasize the changes in the body and will give discomfort. If you wear a straight cut outfit and throw on a jacket - it's a different matter: you feel confident and look spectacular.
Learn in the material OBOZREVATEL about how to create a basic closet, which is perfect even with small changes in the parameters of the figure. With these tips you will forget about the phrase "I have nothing to wear".
1. Revise your closet
Divide your clothes into three piles: keep, alter, and sell/ donate. The first is all the clothes in which you feel comfortable and that perfectly emphasize your figure. The second is textiles that you like, but need to be altered a bit: updating the cut, adjusting the length or, for example, removing unnecessary hardware. The third is anything you can sell, donate to someone or give to homeless shelters; clothes that look well-maintained but don't fit as well as you'd like and are difficult to alter.
2. Research what works for you
When a person loses or gains weight, volume is added in certain places. For example, if you tend to gain pounds in the waist and abdominal area, then buy pants and skirts with an elastic waistband, and dresses - A-silhouette or straight cut. So your clothes will be universal, and will be suitable for weight fluctuations. But from oversize clothes, which makes the silhouette shapeless, or from excessively silhouetted things better refuse. They are not often useful.
3. Emphasize basic pieces
Create a capsule closet where you can combine one size larger and one size smaller pieces. Be sure to go with a classic palette. For example, T-shirts, T-shirts, jeans, jackets, shirts, pants with belts or elastic waist and skirts. This way you don't have to worry about what fits you, because you know you have versatile pieces that you can create a large number of looks with.
4. Choose a "tricky" cut of clothes
If you have strong fluctuations in weight, then your must have - dresses with a flare, straight cut, shirt dresses, high waist or asymmetrical cut. They well outline the hips and "mask" the bulging belly. And if they have a length of midi, they also pull out the silhouette. Also visually correct the figure midi and maxi skirts. They can be a great base for spectacular images: with sweaters in cool weather and with a T-shirt or T-shirt - in warm weather.
5. Don't forget to accessorize
Wear a jacket, loafers, pants and a blouse. A few days later, wear the same clothes, but with different shoes, and tie a scarf around your neck. The image is the same, but thanks to the accessories it looks new. The same effect will be if you wear the same dresses and skirts with different shoes, belts, bags and jewelry. Don't limit yourself to one-size-fits-all outfits.
Earlier OBOZREVATEL wrote about 5 summer things, organically fit into the fall images.
Only verified information from us in Telegram-channel Obozrevatel and Viber. Don't fall for fakes!