Trending:
How to clean white sneakers to make them look like new. 8 proven ways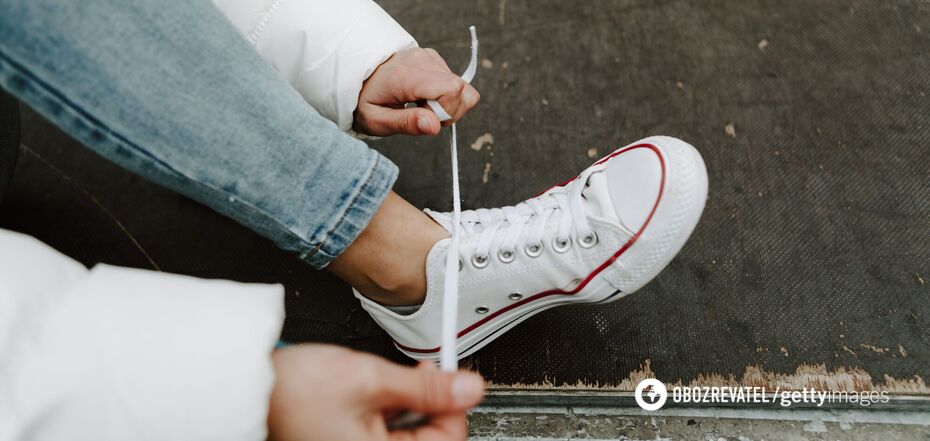 How to whiten sneakers at home
White sneakers are a unique basic element of men's and women's closet, which fits perfectly into any image, and especially in summer. However, often light-colored shoes after the first wear need a thorough cleaning procedure. You can do it at home with the help of household remedies, which will surely be found in every home.
OBOZREVATEL collected 8 simple ways and some important tips that will help to return the white sneakers to their former appearance. Before cleaning it is necessary to prepare the shoes for subsequent procedures: remove dirt and dust with a dry brush, sponge or microfiber cloth, as well as pull out the laces and insoles - it is better to wash them separately.
1. Toothpaste
Use a white toothpaste with no extra flecks. Squeeze a small amount onto the stain and rub it in a circular motion with an old, dry toothbrush. Remove the residue with a cloth or sponge soaked in warm water. You can also enhance the effect with soap.
2. Baking soda
Use water to make the baking soda into a paste. Apply the resulting mass on the sneakers. Do not forget about the "magic wand" in the form of an old toothbrush. Rub the mixture and leave it for a while, and then wash off the residue with a napkin or sponge. By the way, you can also combine baking soda and toothpaste.
3. A mixture of vinegar, laundry detergent and lemon juice (or hydrogen peroxide)
To make a thick paste you will need: 2 tablespoons of vinegar, 2 tablespoons of washing powder, 1 tablespoon of lemon juice or 3% peroxide. Gently rub the resulting grease into the surface of the sneakers and leave it for 10 minutes, then rinse with warm water. Some sources recommend adding a teaspoon of baking soda to the paste.
4. Potato starch + milk
Dilute potato starch with milk in a 1:1 ratio. Apply the mixture in a thick layer on the shoes and leave it to dry completely. Wipe off the residue with a damp cloth or sponge. This handy trick is suitable for leather sneakers.
5. Micellar water
Girls know firsthand how great this product copes with cleaning the face from makeup, but it can also be used to clean small dirt on white shoes. To do this, you need to moisten a cotton disk with micellar water and thoroughly wipe the stains with it.
6. Acetone + vinegar
Mix a spoonful of acetone and a spoonful of vinegar. Soak a cotton disk or a napkin with the resulting liquid and go over the surface of the shoe, and then rinse it with water. This method is also ideal for cleaning the soles of sneakers.
7. Oxygen-based bleach
This lifehack will be useful for the owners of fabric white sneakers. Mix the product with a small amount of water, apply it to the shoes for 10-15 minutes and rinse off.
8. Laundry soap
Moisten a bar of soap, rub it on a toothbrush and thoroughly go over the surface of the sneakers. Afterwards, rinse well with warm water.
Tip: Do not dry your sneakers near a heat source, such as a radiator. Do it at room temperature.
With a washing machine be careful. Some sneakers may not "survive" after the first wash, so it is better to still clean them by hand. If you are confident in the quality of your shoes, then do not forget the important rules:
Before loading your sneakers into the machine, soak them for a couple of hours in warm water with bleach or stain remover.
Wash your shoes in special bags or with a towel.
It is recommended to use a stain remover or liquid bleach soap instead of powder.
It is better to turn off the spin and drying mode.
Earlier OBOZREVATEL wrote about a simple flyhack, which will allow you to get rid of annoying flies in the summer. It turns out that you can scare away insects with the help of simple improvised means. They are sure to be found in every home. This - sugar, honey and water. More - in our material.
Only verified information in our Telegram-channel Obozrevatel and Viber. Do not fall for fakes!