Trending:
How to choose the perfect jeans for every day: 7 tips from the designer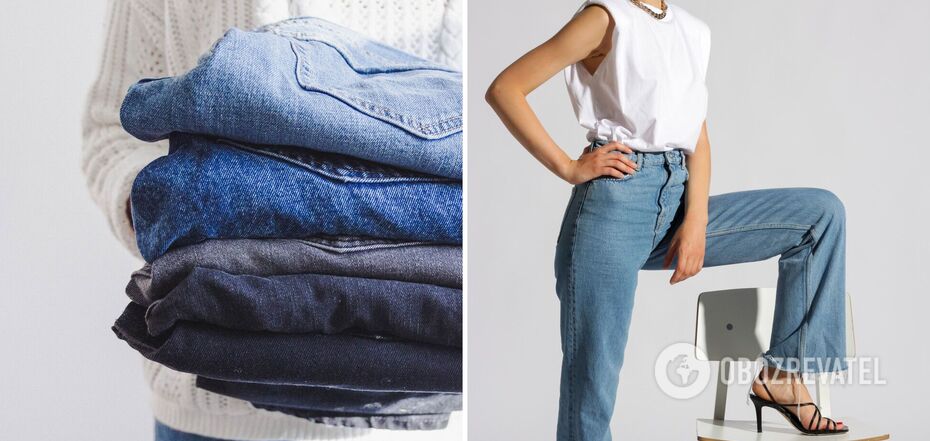 Different brands have different sizing charts, so don't trust the labels on your clothes.
Jeans are a wardrobe staple that can be worn anywhere: to work, an evening out with friends, or even a business meeting (if you combine them well, of course). But with so many styles and brands out there, finding the perfect pair isn't always easy, especially when you're shopping online.
What to Wear fashion magazine has collected 7 tips to help you navigate the world of denim and find the best jeans. Designer Kelly Harington explained how to make buying jeans easy and choose the right pair. She also talked about techniques that will help you find the perfect fit, even if you can't try on jeans in person.
How to buy jeans online
"My top tip for buying jeans online is to have an idea of what type of cut and fit you're looking for, such as baggy, straight, flared, or skinny, and what type of denim you prefer - solid or raw, stretch or 100 percent cotton," Harington says.
"Measuring the height of the jeans (at the inseam) and the waist measurement are the most important, as the length can be altered by taking them to a tailor," she adds. The dimensions of the pair you are considering should be listed in the product description section.
How experts try on jeans
"I know it's just my opinion, but be prepared to try on many pairs of jeans in different sizes-I always wear clothes to shopping that are easy to remove in the changing rooms," Harington says. "The sizing systems of all denim brands are different, so I prefer to ignore them and shop by eye or use measurements. The same goes for the fit. A straight fit may not work for me in one brand, but it will be perfect in another. It's all about finding your perfect jeans, which can take time. When I find the perfect fit, I often buy them in several colors," the expert explains.
"Keep in mind that the style that suits you doesn't have to be trendy. Timelessness, whatever that means for you, is key. I would also advise investing in 100% cotton denim or, even better, organic cotton, which may be stiff at first, but the jeans will last longer. If you like comfort, look for denim with 1% elastane," she adds.
What to consider when buying vintage jeans
"Eighty percent of my denim collection consists of vintage denim, and they come from vintage stores, flea markets, and charity shops," Harington says. "When I buy vintage denim, I focus on the quality and fit of the jeans rather than the brand, but I always choose from the men's department because I prefer a looser fit. Take a tape measure and write down your measurements if you can't try on the jeans. Look for denim made of 100% organic cotton, as they last longer and can be repaired with patches," the designer recommends.
What the best jeans look like
"I love that denim is a timeless fabric that gets better with age, and it's a cornerstone of my wardrobe," Harington says. "For me, the best jeans are vintage men's from the 90s. They're not particularly collectible or trendy, but they work for me. Pair them with sneakers, sandals, boots or heels. They are suitable for any occasion. I love them with holes, paint splashes, and even repaired ones." The perfect pair of jeans is the one you reach for again and again, and everyone will have their own version. The key to finding yours is to try as many different silhouettes and fabric compositions as possible.
Jeans styles that have stood the test of time
"Straight and baggy silhouettes, in my opinion, never lose their relevance: they can be worn to any event," Harington says. "I like pre-washed denim as well as raw dark denim," she adds.
How to style jeans
Jeans are one of the most versatile items in terms of style. "You can see me wearing denim looks that sometimes consist of shoes, a bag, jeans and a jacket. For me, there are no rules in denim: I mix styles and eras. I also like the combination of jeans and a shirt - I tend to do this in my everyday style," the expert says.
How to care for jeans
"There are so many theories about washing jeans. Denim doesn't need to be washed often," Harington says. "In fact, it is advisable to wash as little as possible. The less often you wash your jeans, the better it is for your clothes and the planet. Wash at a low temperature, inside out, and on the gentle cycle. Spot clean stains and dirt in a circular motion to avoid fading. Avoid tumble drying - using a tumble dryer weakens and damages the fabric," she explains.
Earlier, OBOZREVATEL wrote about 5 ideas of what to wear with jeans in the fall of 2023 to look expensive.
Only verified information is available on the Obozrevatel Telegram channel and Viber. Don't fall for fakes!