Trending:
How the ugliest shoes became a trend: Hilary Swank, Emily Ratakowski, Reese Witherspoon and other stars love it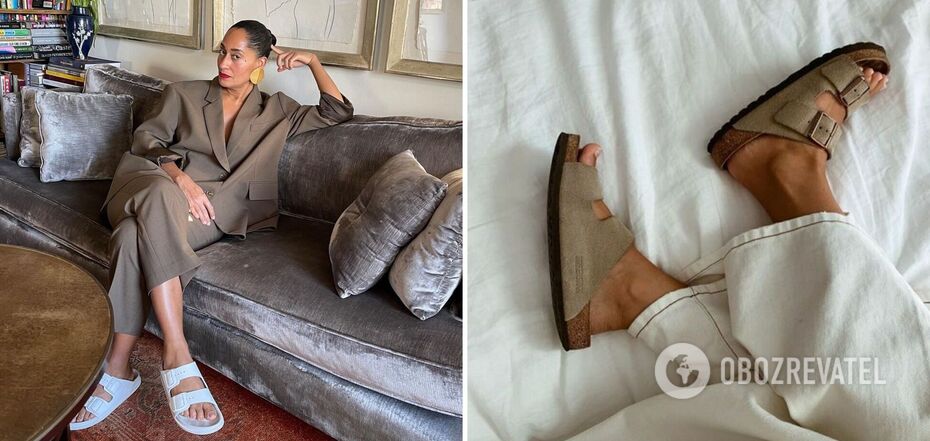 Ugly shoes that celebrities love
There is no denying that these sandals are ugly. Wide, flat, the opposite of elegant, they make your feet look like paws.
According to Daily Mail, the Birkenstock brand was not meant to become a fashion icon: the company was founded in 1774 by German shoemaker Johann Adam Birkenstock to sell comfortable shoes. The famous "Fussbett" or footbed made of contoured cork, suede and jute was developed by his great-great-grandson in 1896. Then, in the 1960s, a German tailor living in California brought the sandals to the United States.
They were considered too ugly for shoe stores, and the "hippie" aesthetic relegated them to the aisle next to the colorful muesli. They remained there until 1990 when 16-year-old model Kate Moss failed to wear a pair to one of her first fashion shoots. Finding themselves on the feet of a potential supermodel rather than a middle-aged bohemian man, the Birkenstocks became popular.
In 2019, nearly 24 million pairs were sold in more than 100 countries. This week, Birkenstock, now majority-owned by the American finance company of French luxury house Louis Vuitton Moët Hennessy, announced a $9.2 billion (£7.6 billion) IPO on the New York Stock Exchange. The price of a company that essentially sells unattractive street slippers is about savvy marketing, smart collaboration, and seducing the entire fashion industry.
In 1996, the Arizona model was at its peak with a classic style with two thick straps and silver buckles, the same one worn by Moss in her iconic shoot for The Face magazine.
In the late 90s, they were worn by all members of the younger generation. In the wave of fashion called "grunge", they looked just as cool with a skirt as they did with jeans and a beanie hat.
In 2013, Phoebe Philo, who ran the French fashion house Celine, released a fur-trimmed design that sold for nearly $500. A few seasons later, Givenchy introduced a colorful metallic sandal with double straps that looked suspiciously similar to the Arizona. Other design houses followed them, cashing in on the demand for designer shoes.
In 2018, Birkenstock did something very smart. The company decided to work it out instead of trying to fight the fashion world. First, they engaged London's Central Saint Martin's, allowing students from fashion colleges to dig through the archives and redesign some of their classic models.
Next, the brand enlisted a few select fashion houses to reimagine some classic styles, namely the Boston Clog and Arizona. Rick Owens, Valentino, and Proenza Schouler created the interpretations. This collaboration of designers - almost all of the items were sold out - made Birkenstock the main topic of fashion talk. This was followed by partnerships with Manolo Blahnik, streetwear brand Stussy and Jil Sander. One of the most anticipated fashion items of the past year was the Dior interpretation.
What's more, a pair of Birkenstocks appeared more than once in this year's top movie, Barbie. As a result, Birkenstocks's sales grew by 300 percent. However, instead of oversaturating the market, Birkenstock did the opposite: it limited its availability worldwide. Now it is one of the most coveted brands on the planet, loved by celebrities and the fashion world, which has always had a soft spot for a light "ugliness."
Birkenstocks with cork insoles and chunky straps are perfect for this. Wear them with an ultra-feminine dress to avoid looking too boring, or pair them with white tennis socks (as most people under the age of 25 do) to turn yourself into a hipster of the younger generation. What's extraordinary is that while other items in the ever-changing world of fashion have faded into obscurity, Birkenstock has been in the spotlight for more than three decades.
Earlier, OBOZREVATEL wrote about 5 models of outerwear that should not be worn if you are below 165 cm and below.
Only verified information is available on our Telegram Obozrevatel and Viber. Don't fall for fakes!