Trending:
How First Lady Olena Zelenska has changed since February 24, 2022. Photos then and now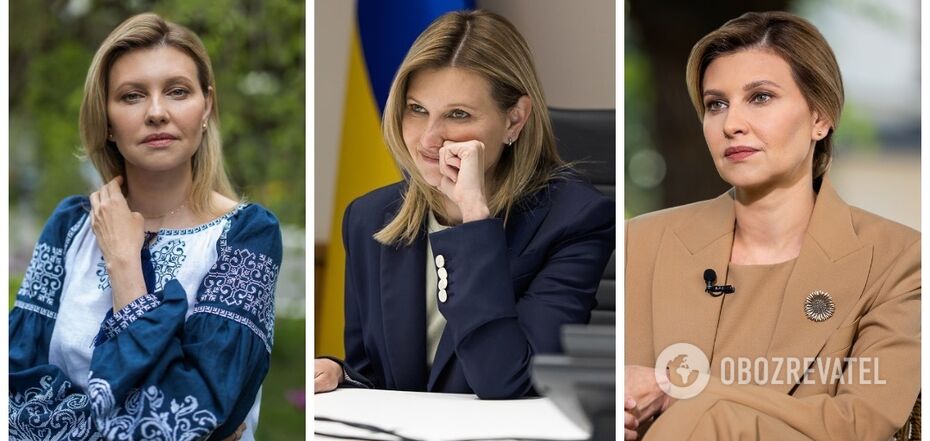 Olena Zelenska has become stronger and more confident since the beginning of the full-scale war.
On Thursday, February 24, 2022, the lives of Ukrainians changed forever. Muffled sounds of impacts, definitely not fireworks... The aggressor country of Russia launched a full-scale war against Ukraine. In an interview with the British newspaper The Guardian, First Lady Olena Zelenska said that she felt like she was dreaming, like she was in a parallel reality: "It was a surreal feeling... like I was playing a computer game and had to go through certain levels to get home again. But I held on and had a strange smile on my face all day because I was trying not to show my children I was panicking."
More than a year and a half has passed, and the war continues. The resistance to the occupiers continues, and it has taught Ukrainians to be resilient, strong, and unbreakable. Olena Zelenska has also changed - she has left the shadow of her husband, the president, and now, according to TIME magazine, she is one of the 100 most influential people of 2023. The magazine called her a "defender," "the pride of the nation," and "a beacon of hope for people." Read about the transformations that have taken place in her style, hairstyle, look, and character in the OBOZREVATEL article.
A public speech a few days before a full-scale war
On February 21, 2022, Olena Zelenska held an open dialogue "Caring for Mental Health" where she met with young people, government officials, and domestic and international experts in psychological support. The main goal of this event was to discuss how to make psychological support in the country widespread and accessible.
The First Lady emphasized the importance of being prepared for stress and feeling the support of society. At the time, she was wearing an emerald-colored suit and her hair was in a bun. She wore a tentative smile on her face and a calm look in her eyes.
After the start of the full-scale invasion
On the morning of February 24, 2022, the First Lady was shocked and numb when she heard her husband, the President, say "It's begun." Volodymyr Zelensky hastily left for the presidential residence to chair a meeting of the Security Council. Olena packed her belongings and went down to the basement with her daughter, son, and security guards every time the bombs exploded too close. She told The Guardian that there was no time for sentimentality. She thought she might never see her husband again.
Then the first lady moved with her children to a relatively safe place in Ukraine (as the family could be used to put pressure on the president), forbade them to use gadgets, and communicated with her husband only through special phone lines. For 2.5 months, Zelenska actively posted posts on Instagram, calling on the international community not to remain silent about the brutal war in Ukraine and to support the country in its fight against the occupiers. She did not post photos and videos of herself, as her priority was to disseminate evidence of the crimes of the Russian army.
In early May, Olena Zelenska had a video call with "soul mates" Dalia Nausiedene, the First Lady of Lithuania, and Brigitte Macron, the First Lady of France. During the conversation, she was dressed in a navy blue suit and gray long johns, visibly nervous: she covered her face with her hands or held them modestly in front of her (see photo above). The first lady's eyes were tired and exhausted from the new reality, but she tried to hide it behind a slight smile.
After this online meeting, the wife of Volodymyr Zelenskyy felt her potential and continued to act both in Ukraine, supporting the people, and in the international arena. Her style of dress has changed significantly. While before the war she wore snow-white, yellow, bright blue, peach, or red outfits, after February 24 she changed them to suits with a restrained cut and color palette. It's like a message to the world that Ukraine is fighting: its people are focused, strong and always ready for challenges. It is also interesting that since the beginning of the war, Ms. Zelenska has often abandoned stiletto heels in favor of comfortable sneakers, loafers and sneakers.
The first lady's smile has also changed. Before the full-scale war, it was childishly naïve and highly expressive, and in the first months of 2022, it became light and barely noticeable. Ms. Zelenska wrote about her condition in an Instagram post: "It seems to me that the entire civilized world understands what we are going through. When asked "how are you holding up?" she said that she was like that locker in Borodyanka. We are all like that now."
If we compare the photos of Olena Zelenska attending official meetings and communicating with leaders of other countries on her own and those of her with her husband, we can see a noticeable change in her facial expression and behavior. Next to the president, she smiles broadly and sincerely, is calmer and more confident. His presence seems to be a great support and helps her to hold on emotionally.
Since June 2022, the First Lady has been wearing her hair in a bun more often and less often with slightly curled strands. It all depends on the occasion of the official meetings and whether they require protocol.
Also, since the summer of 2022, Zelenska's stylist, Natalia Kamenska, has been experimenting more with the cut and decoration of her outfits, making them less strict and more classic. After all, Zelenska not only speaks publicly about events in Ukraine, but also communicates with the world through her images, popularizing authentic Ukrainian brands. Each image of Olena Zelenska emphasizes her strength, intelligence and intelligence.
Nowadays, the First Lady appears at public events and in official addresses in asymmetrical costumes with "speaking" brooches and embroidery. For example, the brooch "Wormwood, Evshan-Zillia", a shirt with embroidered ears of grain, a brooch in the form of a map of Ukraine or in the form of the legendary rooster from Borodyanka. The only thing that remains unchanged is the calm color palette of the outfits.
When Mrs. Zelenska visits the military, young Ukrainians, or listens to lectures, for example, she wears more practical clothes. It can be a massive sweater with pants or jeans with a belt and a blouse. In this way, she demonstrates that support and motivation of the people in difficult times are more important to her: the emphasis shifts from external presentability to the exchange of emotions and sincere conversations.
She stepped out of the shadow of her husband, the president
One telling example of the huge transformation in the character of the First Lady of Ukraine is her visit to the Davos Economic Forum on January 18, 2023. Before her speech, she learned about the tragedy of the plane crash in Brovary, where the top leadership of the Ukrainian Interior Ministry was killed. She burst into tears, but then wiped her tears away and found the strength to deliver her speech. That day, Zelenska wrote on Instagram: "I dream that our families will never need emergency ways of survival. But I want to do everything possible to make a peaceful Ukraine a country without orphans, and those families who have lost their homes have a place to return to."
Earlier, OBOZREVATEL wrote about the top 5 most stylish first ladies in history.
Only verified information is available on the Obozrevatel Telegram channel and Viber. Don't fall for fakes!