Trending:
Four anti-trend items that will always be in fashion: women love them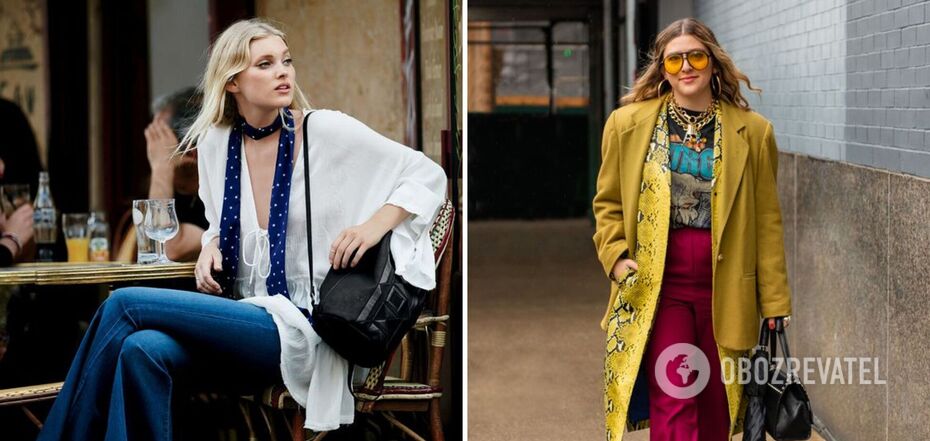 These looks may not be trendy, but they will definitely surprise you with their look
Of course, trends influence fashion, bringing something fresh with the change of seasons. However, probably even the most trendy fashionistas will not blindly follow trends that they do not like. There are styles that always remain "timeless", although we de facto call them anti-trend.
What to Wear has collected 4 looks that will forever remain out of trend, but women still love them. Including celebrities, who remain true to their own tastes, not to the fleeting fashion.
Boho
The reigning boho queens, actresses Mary Kate and Ashley Olsen, still stick to their tried-and-true bohemian combinations on the red carpet.
Street fashionista Sofia Sanchez de Betak is always admired for her approach to mixing and matching, creating a wardrobe filled with specialty boho pieces sourced from all over the world.
Actress Lisa Bonet was and still is a bohemian rock 'n' roller at heart - her '90s look deserves special attention.
In the 2000s, Nicole Richie was also one of the first to embrace the boho style under the guidance of superstylist Rachel Zoe. She still adheres to this style of clothing, only in a more sophisticated and minimalist way.
Parisian stylist Catherine Baba is the most sophisticated and luxurious representative of the bohemian spectrum, choosing vintage designer clothes and plush fabrics.
Total Black
Jennifer Aniston and a little black dress are like strawberries and cream. An iconic duo that will always catch your eye.
Model Jordan Dunn often opts for bold all-black outfits when going out in the evening. When her outfits look this good, who can blame her for being anti-trendy?
From tailored suits to pencil skirt dresses, model Ashley Graham is not immune to the classic possibilities of an all-black ensemble.
Carine Roitfeld, the No. 1 fashion editor, often wears all black in the most daring combinations, like this '80s-inspired leather jacket.
If Kate Moss isn't wearing champagne-colored satin or a leopard print, you're likely to see her in an all-black outfit of any variety - it's a look she wears over and over again.
Minimalism
Helsinki-based Sylvie Moos has quickly become one of the modern muses of minimalism.
A minimalist in her own right - even if she is not tied to the trendy wave of beige - Meghan Markle always keeps chic in simple things.
British Vogue's deputy editor Sarah Harris has a wardrobe full of high-quality pieces. Her belief is to always choose less (because it's invariably more).
Carolyn Bessette-Kennedy's 90s style is gaining popularity again thanks to a new reinterpretation of simple clothes.
Eccentric
Erykah Badu uses crazy hats, bright colors, wild style ideas, and more for every one of her public appearances.
An example of what eccentricity can look like, Iris Apfel is a true reflection solely because of the fact that it was never a fad or a phase for her - an eccentric is a lifelong inspiration for her.
Michelle Elie has one of the most avant-garde street wardrobes. It's full of art and sculptural pieces by the likes of Comme des Garçons.
Betty Bahz is one of the brightest and most daring fashionistas in London at the moment; her ultra-glamorous outfits can be seen from the dance floor.
Suzy Lau of Style Bubble has stayed true to her own unpredictable aesthetic. Championing young talent and unexpected combinations, she is a true London eccentric.
Earlier, OBOZREVATEL wrote about the sexiest trend of spring-summer 2024 and how it depicts a new kind of seduction.
Only verified information is available on the Obozrevatel Telegram channel and Viber. Don't fall for fakes!