Trending:
Elizabeth II wouldn't approve: 5 protocol rules royals have broken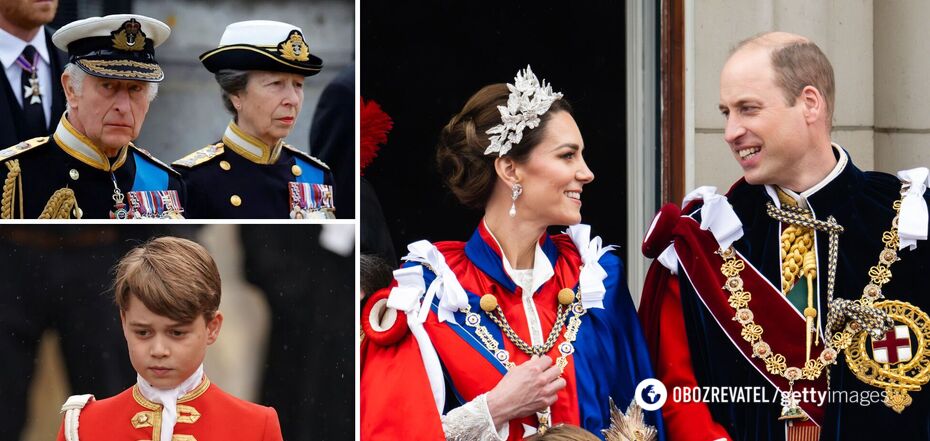 Monarchs who broke protocol.
Queen Elizabeth II followed strict royal protocol during her 70-year reign, and demanded the same of the other Windsors. Members of the royal family are taught etiquette from childhood. They practice correct pronunciation, pitch of voice, the ability to choose things according to events, as well as perfecting the technique of curtsying and bowing. And that's just a small part of the rules.
Since the Queen's death in September 2022, the monarchs have been working hard to ensure that, as she did in her time, they don't break protocol. But so far it is not always successful. More details - in the material OBOZREVATEL.
1. Catherine, Princess of Wales
Members of the royal family are forbidden any too familiar interaction with the public, including hugging and kissing their subjects. However, Kate Middleton broke protocol during a surprise meeting with her former history teacher Jim Embury in February 2023.
During a visit to the National Maritime Museum of Cornwall, Catherine spotted Embury among a crowd of admirers and walked over to give him a hug. "What you taught me, I am now teaching my children," the Princess of Wales said. By the way, the two haven't seen each other in 25 years. "She hasn't changed a bit. And the same as she was - conscientious and attentive," the teacher shared his impressions. And ironically added: "I hate to think what these kids are learning!"
2. Prince George
Honorary royal pageboys play an important role in the coronation, as they hold the monarch's mantle during the ceremony. According to royal protocol, pageboys are children of aristocrats, and there should be no members of the monarchs' family among them. For example, in 1953, at the coronation of Elizabeth II, the plume of the dress was held by the maids of honor. These were girls with the title "ladies", not "princesses".
In May 2023, King Charles III broke this protocol during his coronation. He made his eldest grandson, 10-year-old Prince George, a page boy, despite the fact that this is against tradition. The boy loved the initiative. He performed the honorary role, but beforehand asked the king to allow him to wear black pants instead of tights. Charles III approved the violation of the dress code not only for his grandson, but also for other pageboys.
3. Princess Anne
Breaking royal protocol is not always a sign of disrespect. Often these rules are a relic of a bygone era, as they have a number of sexist features. For example, numerous royal regulations prohibit women from participating in large ceremonies. Only men can walk in the monarch's funeral procession, and women must ride in a carriage with other mourners.
In September 2022, Britain's Princess Anne walked in the procession with her brothers and nephews during the funeral of her mother, Queen Elizabeth II, becoming the first woman in history to do so. She was deeply affected by the loss, so not allowing her to walk with her brothers would certainly have looked cruel.
4. Prince William
According to royal protocol, the sons of King Charles III should bow or curtsy to His Majesty and Queen Consort Camilla during meetings. However, at the coronation, Prince William and his children broke this protocol by not bowing to the King's wife. Only in front of Charles III. It is not yet known whether the Prince of Wales forgot to do so, or whether it was a sign of solidarity with his late mother Princess Diana, whose place on the throne was taken by another.
5. King Charles III
According to tradition, the reigning monarch annually spends the summer at Balmoral (a castle in the Aberdeenshire region, the private residence of British kings in Scotland), as Queen Elizabeth II did throughout her reign. In 2023, however, King Charles III broke this rule. He lived on his estate of Birkhall (in Scotland) from summer to early fall. That is, for the first time since the 19th century, a monarch decided not to reside in a castle. "Balmoral Castle is where he said goodbye to his mother, the Queen. There she died and left her last memories", - commented on the king's decision ex-royal butler Grant Garrold.
Earlier OBOZREVATEL wrote about 7 signature poses and gestures of the Windsor family.
Only verified information from us in Telegram-channel Obozrevatel and Viber. Do not fall for fakes!