Trending:
Dynasty star Joan Collins, 90, reveals the secret of her successful marriage to her husband, who is 58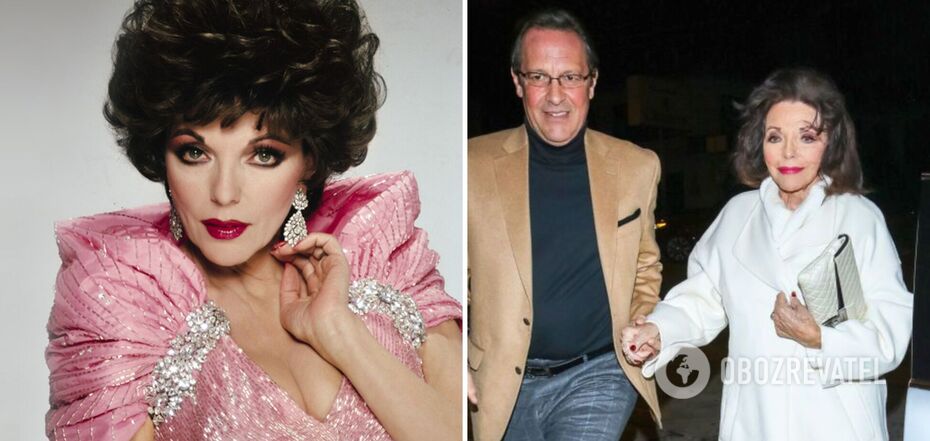 The couple has been together for over 20 years.
Age is a forbidden word in the Collins family. Not because Joan is afraid of her 90 years. And not because her beloved fifth husband is several decades younger than her. But because she has always believed that the secret to aging well is... not to think about it. "О! We don't think about it," she laughs when asked about this year's birthday. "I'm 60... plus," Joan adds.
She shared her secrets of a happy marriage with her husband in an interview with The Mirror. As it turned out, they are simpler than you might have imagined. This year Joan turned 90, while her second (or rather fifth) half is 58.
"It's the fifth happiness," Joan says, " I've been feeling it for years. He's a wonderful, kind, really good man. He's my... how does he always say it?.. My partner, yes, and my best friend. He's also extremely handsome - and he's getting more handsome every day."
The couple first met in 2000, when Joan was 67 and touring the United States. Percy was her 36-year-old divorced producer. They became close over lunches on the road, and soon, for the first time in her life, Joan fell in love with The Good Boy. A last-minute change of plans saved Percy from being near the World Trade Center on September 11, 2001, and becoming a victim of the Twin Towers attack. After that, the lovers decided that life was too short not to get married.
They tied the knot at Claridge's in London in 2002. So Joan found a man who treated her like a queen? "No, not at all. It doesn't work that way," she says. "A relationship is about two people supporting each other." Every morning before her husband goes for a run, he brings Joan coffee in bed while she reads the newspaper.
"Percy and I became really good friends at first," she says, "so we had that connection. We really knew each other." Joan believes it's important to give each other space: "He has his office and I have mine. I spend my time writing or calling friends. And he works, taking care of our three properties," she says of their homes in London, St. Tropez, and Los Angeles. "Then we do things together. Like any couple, we have our ups and downs. We fight from time to time, and that's normal," the actress says.
Percy's Peruvian heritage explains his attitude to age differences. "The age difference didn't matter to him," Joan says. "In Peru, if a woman is attractive, she's just attractive. They don't think about it."
After enduring years of criticism about her "boy toy," Joan seems pleased that attitudes have changed. Although recently, older men have also had a "hard time". For example, her peers Robert De Niro, who is 80 years old (his partner is 45) and Al Pacino, 83 years old (the girl is 29). They have something in common - newborn babies.
The thought of having to deal with nighttime feedings and diapers again doesn't bring much joy to the mother of three and grandmother of four. "Don't get me wrong, I adore my little granddaughter," Joan says, "but a couple of hours with her is enough for me!"
Her previous love life was complicated: she was only 19 when she married Irish actor Maxwell Reid after he raped her on a date on their first night together. Three years later, they divorced, and the actress went on to marry Warren Beatty, but she had to have an illegal abortion.
This relationship ended due to his infidelity, as did her eight-year marriage to the late actor, singer, and songwriter Anthony Newley. She then married movie producer Ron Cass in 1972. He used drugs and left her penniless in 1983. The next was Swedish musician Pete Holm. They divorced two years later, in 1987. "[Percy] is the best lover I've ever had," she boasts of her husband in her book.
Since then, she and Percy have had a few dramas: a fire in their London apartment, fleeing forest fires in the south of France, Joan later fainting in Los Angeles (her corset was too tight and her food too light, according to doctors), and three stages of Covid.
But for the most part, the only tumultuous love life that keeps them awake at night is what they see on TV. "TV is so boring today," Joan says, "so Percy found episodes of Dynasty on tape. We didn't have a chance to watch it at the time, so I haven't seen about three quarters of them. Percy asks what happens next with Blake and Alexis, and I don't know! Now I understand why the show was so popular."
Earlier, OBOZREVATEL wrote about how 56-year-old Vincent Cassel started an affair with a 27-year-old model.
Only verified information on our Telegram channel and Viber. Don't fall for fakes!