Trending:
Don't do that! Three eye makeup mistakes that can age you by 10 years. Photo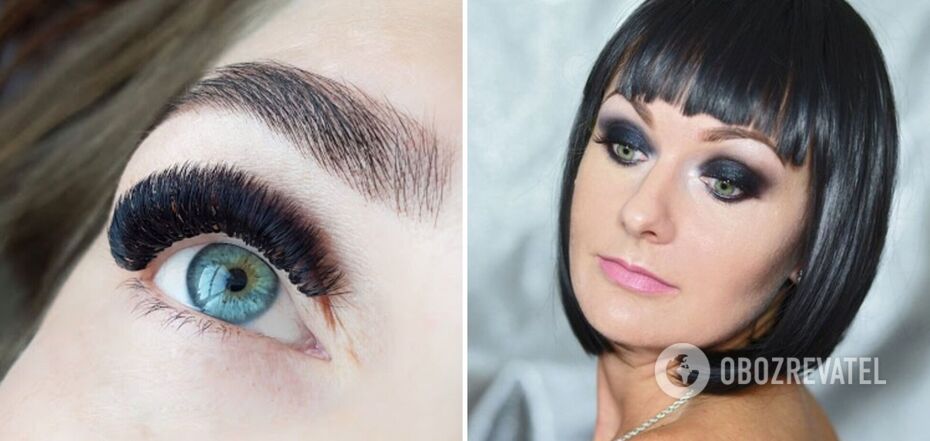 Eye makeup mistakes that can age you 10 years
Proper eye makeup enhances the expressiveness of your eyes, thereby significantly elevating your overall image and adding allure. However, it's crucial to avoid certain mistakes that can make you appear ten years older.
One common mistake is using the wrong makeup products that can age your eyes. This includes metallic and pearlescent shadows, which may appear appealing in evening looks but can also accentuate even the slightest wrinkles. Makeup artists suggest opting for matte shadows and products with lightening particles instead. These and other guidelines will be discussed in detail in the OBOZREVATEL article
Shadows that age
As previously mentioned, one of the major mistakes in eye makeup involves using inappropriate eyeshadow colors on the upper eyelid. It is essential to exercise caution when using graphite and black shades, as this somber palette tends to accentuate skin irregularities, redness, and areas of thin skin where veins may be visible. To avoid this undesired effect, we recommend opting for warm and natural colors.
Furthermore, it is advisable to refrain from selecting purple, red, and deep pink eyeshadows. These shades tend to enhance redness, distort skin tone, and emphasize dark circles under the eyes. Additionally, avoid applying dark shadows on the movable eyelid and light shadows on top of it. This makeup error can create the illusion of a drooping eyelid. Applying dark shadows on the lower part of the eye can visually diminish the eyes and impart a tired appearance, so it is crucial to steer clear of this common mistake.
The arrow is too thick
Another frequent mistake in eye makeup is creating an excessively thick line on the upper eyelid with heavily curved tips. A broad winged eyeliner can give a cartoonish appearance, particularly for individuals with smaller eyes. Moreover, it can weigh down the gaze and create a droopy effect, making the overall image appear 5-10 years older.
Unnaturally long glued eyelashes
It's no secret that long eyelashes can create a spectacular and confident look. However, it's crucial to find the right balance. If you use false eyelashes, they should appear as natural as possible. Extremely long, overly thick, and excessively curled lashes can become your biggest and most deceiving adversary. Such an exaggerated "brush-like" effect not only appears childish and unnatural but also comes across as caricatured and inexpensive.
Another mistake in eye makeup is applying lashes in a clump or strip that doesn't match your facial features and eye size. Excessively voluminous and long lashes tend to look unflattering, particularly on petite women with delicate facial features.
Previously, OBOZREVATEL provided information on short haircuts that can make one appear older, as well as highlighting hairstyles that are perfect for the summer heat.
Only verified information is available on our Obozrevatel Telegram channel and Viber. Don't be fooled by fake news!