Trending:
"Do not mess with Ukrainians!" Comedian Simon Brodkin brutally ridiculed the occupiers and admired the Ukrainian military. Video.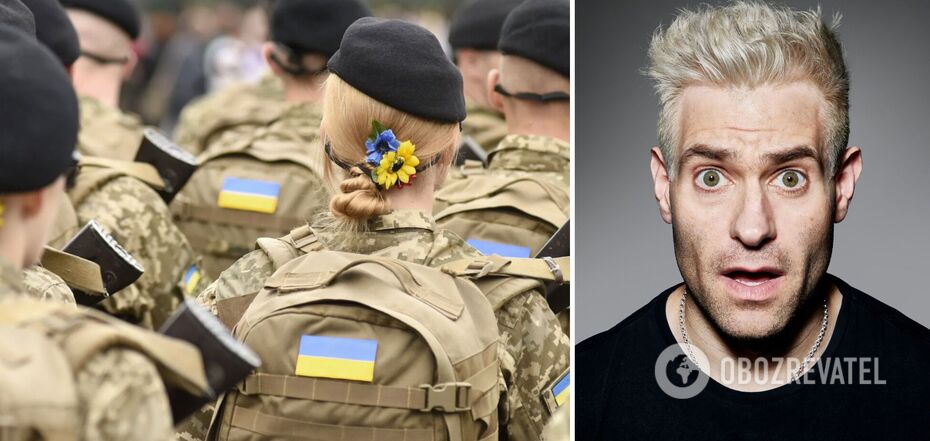 Comedian Simon Brodkin tells a fascinating story about a Ukrainian woman soldier
Simon Brodkin, a well-known English stand-up comedian and actor of comedy television series, told a story about a Ukrainian woman soldier during one of his performances. The Ukrainian defender impressed the comedian with her fearlessness and another nuance about her activities in civilian life.
Brodkin posted the relevant part of his performance on Instagram. The video was accompanied by a message to Russians: "Don't f*ck with ukrainians! ", which can be translated as "Don't occupy Ukrainians!" (to watch, scroll to the bottom of the page) .
The stand-up told the story of the Ukrainian military to the audience during his tour of the UK, and they, in turn, greeted the artist's story with a standing ovation. Brodkin dismissively spoke of the occupiers as pigs, although he did so in the guise of a supposed defender. However, his attitude toward the Russian invaders remains quite obvious.
So, the comedian said: "I was watching a Ukrainian woman. She was interviewed on the news... A nice woman, she said: "When the war started, I joined a battalion called 'Fuck the Russian pigs'. We killed hundreds and shit on their dead shitty bodies. When the war is over, I'll go back to teaching elementary school."
The story impressed not only the stand-up and the audience in the hall, but also Internet users who saw his video online. In particular, Ukrainians reacted to it. They wrote in the comments: "Yes, we are. And even more. We go to do yoga and meditate", "Glory to Ukraine! Our women are the best", "At the beginning of the war, there were protests in Ukrainian cities against the occupying Russian troops. One day, an old Ukrainian woman was filmed giving sunflower seeds to one of the Russian soldiers and coldly telling him: "Keep sunflower seeds in your pockets so that when you die, sunflowers will grow from your dead body.", "Don't mess with Ukrainians. When they are attacked, they will do anything to protect what is theirs."
As OBOZ.UA previously wrote, a stand-up comedian from Berlin, known online as Dragos, trolled a viewer from Russia during one of his performances. He did it with the help of a play on the words "peace", "occupation" and "annex", which have several meanings in English.
And Ukrainian stand-up Anton Tymoshenko joked about why he would go to Russia after Ukraine's victory. The comedian hinted that Russians will need humanitarian aid when their country loses shamefully and pays reparations.
Only verified information on our Telegram channel OBOZ.UA and Viber. Do not fall for fakes!