Trending:
Clown, horns, skeleton: top 7 non-standard hairstyles for Halloween 2023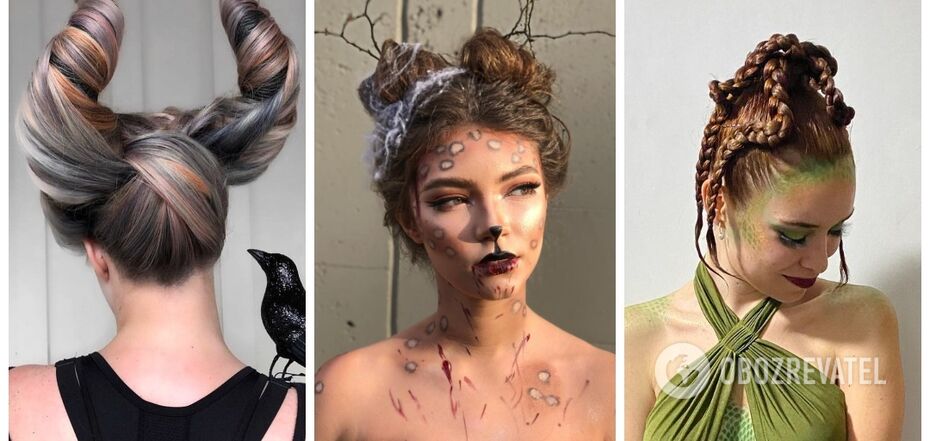 Creative hairstyles for Halloween 2023.
Would you like to try on the image of Venzdey, Cruella, Medusa Gorgon, or someone else for at least one night? There is a great opportunity for this - Halloween, the holiday of mysticism. Make a themed manicure with imitation of the devil's horns and tail, in the form of snake skin, with blood painted on it, or something else. Next, put on a horror-style outfit and apply makeup so that you are scared to look at yourself in the mirror.
Finally, do your hair. OBOZREVATEL has prepared a selection of bright hair experiments that you will want to repeat. If it's a pity to dye your strands, use a trick - put on a wig.
1. The spider web
This hairstyle can be done by anyone. Gather your hair in a tight ponytail, and then use a hook and a thick black rope to weave a cobweb. The result will be modest, and with a slight hint of Halloween. You can wear this new look to your workplace. Of course, if the dress code does not prohibit it.
2. Clown
For this option, it is desirable to have a frame in the form of a hair hoop. Glue three wires to it. Then wrap the strands around them and secure them with hairpins and hairspray. This hairstyle is best suited for ladies with thick hair.
3. Medusa Gorgon
Everything is easy here. Even a child can do it. Gather your hair in a palm tree ponytail. Divide it into 5 or more segments, and braid each of them. Then, using invisible bobby pins, randomly attach the "snakes" and fix them with hairspray. You're done!
4. Maleficent
Did the image of Angelina Jolie as Maleficent sink into your heart and soul? You can try to recreate it. An easy option is to gather your hair and put on a headdress with horns like your favorite character. A more complicated one is to imitate the horns with your own hair. We recommend wrapping the strands around the finished base and fixing them with varnish. This way, they will hold perfectly throughout the festive evening.
5. Deer
If you're planning to go as a deer for Halloween, don't limit yourself to store-bought antlers. You won't surprise anyone with them. Two bunches with small branches and artificial cobwebs that can be fixed with varnish will look more creative.
6. Spiders
Braid your hair in the form of a net: as shown in the photo below. Then attach small spiders to your hair. Are you afraid of these arthropods? They will quietly, unnoticed by you, "sit" on the strands. But we sympathize with your friends: especially those who have arachnophobia. After all, they will have spiders right in front of their eyes.
7. Skeletons
Make a parting in the center. Attach artificial bright strands to one of the halves. This is to avoid spoiling your hair with toxic dye. Then lightly curl the hair and attach skeleton jewelry to it.
Earlier, OBOZREVATEL wrote about how Halloween is celebrated in different countries of the world.
Only verified information is available on our Telegram channel and Viber. Don't fall for fakes!