Trending:
Britney Spears, Ken, lynx: who the victims of plastic surgery wanted to be like. Photo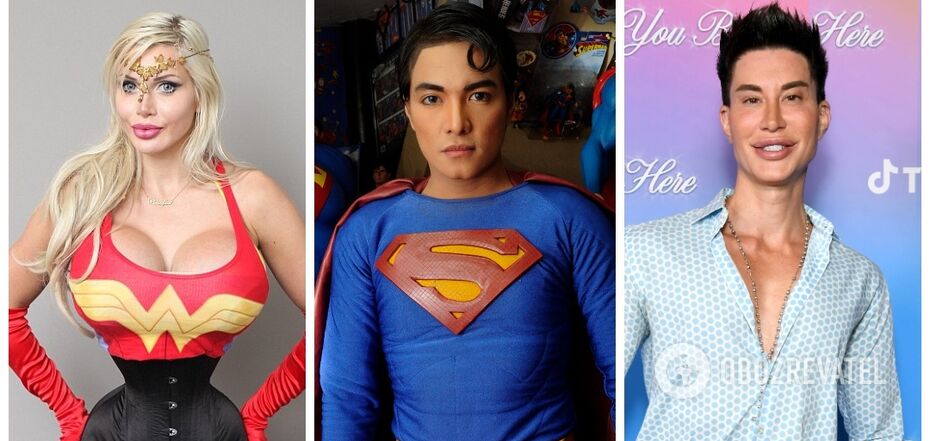 These people have spent fortunes on plastic surgery.
Some people cannot accept their appearance. They go under the knife to correct "defects" or change themselves beyond recognition. They have a mental disease called body dysmorphic disorder. One of the most striking examples of this diagnosis is the legendary Michael Jackson. He became truly happy when he reshaped his nose, lightened his skin and resorted to having an implant placed in his chin.
Who are some of today's internet stars who have this disorder? Who did they want to become like? Read in the OBOZREVATEL material.
1. Brian Ray
Brian Ray from Los Angeles had 90 plastic surgeries, spending more than 80 thousand dollars. Why? He wanted to look like singer Britney Spears. He first decided to make changes at the age of 17, because he became obsessed with the singer when she released the song Oops! I Did It Again. Bryan had veneers, rhinoplasty, Botox injections, lip augmentation and ear reshaping. He's not going to stop there.
2. Jocelyn Wildenstein
83-year-old Jocelyn Wildenstein from Switzerland is known around the world as "catwoman." She had surgery that cost over 2 million dollars to make her eyes look like those of a lynx. Later, Jocelyn got into Botox injections, enlarged her lips and changed her face to a bigger one. Did it make her look like a lynx? I don't think so. But she made herself look worse for sure.
3. Pixiee Fox
Model Pixiee Fox decided to become like Jessica Rabbit in 2015, a cartoon character of detective noir novels about Roger Rabbit. First, the girl changed the shape of the nose, ears, then enlarged lips and removed lumps of Bish. She also did liposuction, a complete reconstruction of the jaw, increased her breasts to size 9 and removed 6 ribs. The last plastic surgery almost killed the girl. Pixiee had a hard time with rehabilitation and faced complications.
4. Herbert Chavez
Filipino Herbert Chavez spent 16 years of his life to become a "copy" of his idol Superman, the hero from DC Comics. He has made 23 plastic surgeries: corrected the shape of the nose, increased the chin and lips, bleached the skin, made abs and even inserted implants in the thighs. In total, Herbert spent about $6600 to realize his obsession.
5. Justin Jedlica
American Justin Jedlica is called "real Ken". Since the age of 32, the man has enlarged his lips, changed the cut of his eyes, had rhinoplasty, silicone breasts, abs, biceps and triceps. In total, the Internet star had more than 700 plastic surgeries, on which he spent about 1 million dollars.
Earlier OBOZREVATEL wrote about the epathetic characters who made dolls out of themselves with plastic surgeries.
Only verified information from us on Telegram Obozrevatel and Viber. Do not fall for fakes!