Trending:
Be careful! Five summer dresses make you look too fat: what to replace them with in order to look slimmer. Photo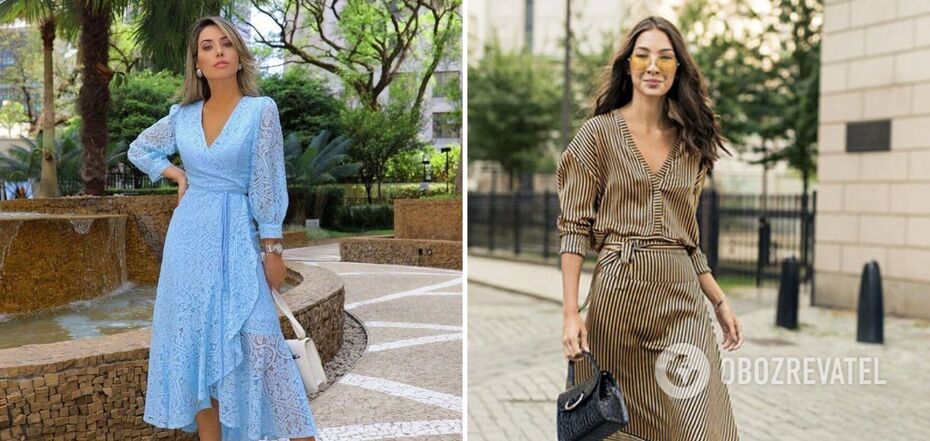 What dresses to wear to look slimmer
Dress - one of the favorite items of clothing for fashionistas in the summer. However, it is important to choose the right style so as not to "add" a few extra pounds.
OBOZREVATEL gathered the main mistakes in choosing a summer dress. Some styles can certainly spoil even the most attractive figure.
Tight
One of the main "dangers" in choosing a dress is the cut, which can emphasize flaws, even in impeccably slender girls. Tight models can accentuate even minor changes in the figure and sometimes create the illusion of extra volume. This is especially noticeable when thin synthetic materials are used, which do not give the figure enough freedom.
If you prefer to wear tight dresses, it is recommended to choose models made of thick and high-quality materials that emphasize the body shape, but not too tight.
Balahon
As in a medal, there is a flip side to the choice of dress styles. Shapeless hoodies can be just as problematic for the figure as tight-fitting models. Although these dresses give a feeling of freedom, do not cause discomfort and do not emphasize flaws, too voluminous forms can have a negative impact on the overall appearance. We do not urge to refuse free style, but you should always maintain a balance. It is recommended to choose dresses that fit your size and compensate the volume with details like a belt.
The waist is out of place.
Let's consider this point in more detail. First of all, it is worth noting the models of dresses with an inflated line of the waist, when it is located under the breasts. Often this style creates the impression that the girl has a tummy and visually increases the size of her breasts. As a result the upper part of the body looks more pronounced than in reality.
The second option is the models with a lowered waistline, which create a less attractive image. The result is an elongated rectangular torso and the legs appear short.
Dimensional decor
It is important to pay attention to the choice of decor details when composing the image. Ruffles, flounces, feathers and appliques can draw attention to certain areas of the body and create additional volume. If your goal is to avoid excessive puffiness, it is recommended to refuse such decorative elements in your image.
Special attention should be paid to the basques. Although this element of decor can visually give the waist a certain shape and increase the volume of the hips, it can be beneficial for girls with the type of figure "triangle". However, in most cases, the basque can be disadvantageous for the figure and only emphasize completeness.
When choosing decorative elements it is worth to be guided by your individual features and goals. If you seek to create a slimmer image, it is recommended to give preference to more minimalistic and laconic details, which will not create extra volume and will not attract attention to the problem areas of the figure.
Puffy Skirt
If you do not want to look larger than you really are, do not pay attention to dresses with a puffy skirt and made of dense materials such as neoprene. Nowadays such dresses are no longer considered fashionable, and in addition to that they can give you a few extra pounds.
Instead, choose one of the following options to visually elongate your figure and make it slimmer.
The dressing gowns: These tight-fitting dresses emphasize the body shape and create a slimming effect. They usually have a fitted silhouette and can be made of fabric with a light elastic fiber to fit the figure well.
High-waisted dresses: Dresses with a raised waist that start above the natural waistline create the visual effect of elongated legs and a slender silhouette. These can be sun dresses, sundresses, or boho dresses.
A-silhouette: A-silhouette dresses have a fitted top and extend downward, creating an "A" shape. This silhouette helps to hide wide hips and creates a balance between the upper and lower body.
Vertical stripes: Dresses with vertical stripes can create the illusion of a slimmer silhouette. They visually elongate the figure and give it grace.
Earlier OBOZREVATEL wrote about 5 fashion mistakes that almost all women make in summer. In the pursuit of trends, we sometimes forget about certain nuances. For example, whether the dress or skirt is see-through.
Only verified information in our Telegram-channel Obozrevatel and Viber. Do not be fooled by fakes!