Trending:
Back to the 80s: 5 stylish looks from Princess Diana, Elizabeth II and other royals you'll want to repeat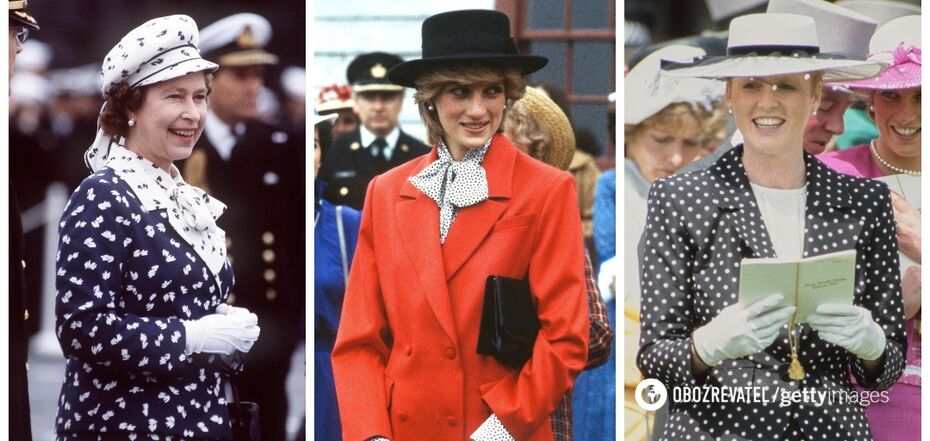 Spectacular images of representatives of the monarch family.
The style of the 80s is characterized by lush hairstyles, clothes with shoulder pads, sequins, colorful prints and bright colors. It would seem that all these things have no place in a royal wardrobe. However, many members of the royal family were inspired by these trends and partially incorporated them into their own looks.
What stylish techniques of princesses, queens and duchesses from the distant 80s can be safely repeated today to diversify modern outfits? Read the article in OBOZREVATEL.
1. Oversized coat
In 1988, Princess Diana attended the Glasgow Festival in a blue oversized coat with contrasting buttons. Thanks to its relaxed cut, this item was comfortable and had enough room to wear layered clothing underneath. By the way, in 2020, designers Balmain and Proenza Schouler released similar coats (slightly modified) in their collections to make them relevant today.
2. Polka dot print
According to Cosmopolitan, the polka dot print became popular in the 80s, but it has been around since the invention of the sewing machine in the 1700s. It fades in and out of trends, but still remains a constant favorite of many famous royals. For example, Sarah Margaret (Duchess of York) and Princess Diana used to love wearing Polka dot, and today it is one of the components of Duchess Kate Middleton's style.
Wes Gordon, creative director of Carolina Herrera, explained to The New York Times the phenomenon of this pattern: "Polka dots are basically a neutral element. I like to think of them as comedians in prints because they are so versatile and quirky." And in Prada's press release for the 2021 collection, another reason for its popularity was mentioned: "Polka dots seem to appear whenever there is a dark or tumultuous period in history. This explains the surge of the trend after COVID."
3. Blouse with a bow
Blouses with a small bow around the neck appeared in the 80s as a more feminine alternative to ties. Then they were introduced into high fashion by Coco Chanel and Yves Saint Laurent, which Lady Dee could not ignore. The princess often softened her strict suits with such blouses, and now you can use this stylish technique.
4. Interesting color blocks
Clothing with contrasting color blocks is a long-standing tradition in the Windsor royal family, which was at its peak in the 80s. This is a combination of bright red, blue, pink or black with white, which were presented in bold geometric patterns. For example, Princess Anne hinted at this trend at the 1985 Epsom Derby. She wore a cream coat with navy blue inserts and diamond-shaped buttons of the same color. If you don't have any outfits with a similar design, try simply combining a bright red coat over a pink jumpsuit or, say, a green shirt with yellow pants.
5. Exquisite abstractions
Animal prints, polka dots, geometric shapes, large flowers, and splashes of paint were part of the patterns that defined the fashion of the 80s. And since Queen Elizabeth II liked to stand out from the crowd with her brightly colored dresses and suits, she did not ignore this trend. For example, in 1983, during an official visit to San Diego, Her Majesty wore a dress, blouse and hat in contrasting navy and white with the same abstract patterns. She completed her look with elegant gloves and low platform shoes. So, why don't you try to complement your outfits with interesting prints?
Earlier, OBOZREVATEL wrote about 5 popular sunglasses worn by kings and princesses for years.
Only verified information is available on the Obozrevatel Telegram channel and Viber. Don't fall for fakes!