Trending:
Angelina Jolie, Britney Spears and other stars who proposed to their loved ones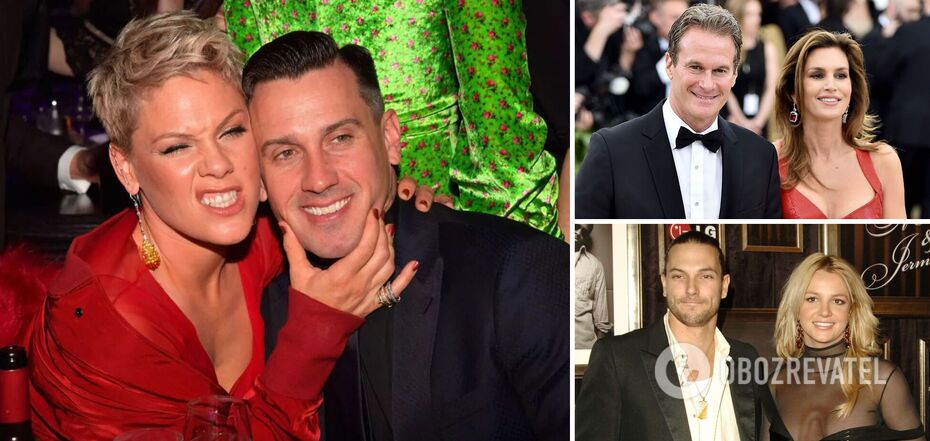 Bold star beauties who proposed.
Mexican movie actress Salma Hayek got married at 42, while her colleague Cameron Diaz got married at 41. These star beauties did not rush to put on a wedding dress, and first made sure whether a reliable person is really near.
And then there are celebrities who aren't willing to wait long. For the sake of the wedding, they can make the motorcycle racer off the track - or come up with another way to make an offer. More details - in the material OBOZREVATEL.
Pink and Carey Hart
In June 2005, after several years of dating singer Pink decided to become the initiator of the future wedding. She came to the motorcycle competition to her boyfriend racer Cary Hart with a poster "Marry me? I'm serious!". The athlete, seeing the sign, slowed down and said, "Yes!" The result - 17 years of happy marriage and two children.
Cindy Crawford and Randy Gerber
Supermodel Cindy Crawford and businessman Randy Gerber met when the girl was married to actor Richard Gere. This union lasted 4 years: due to different interests, busy schedules and constant quarrels, the spouses annulled the marriage. Immediately after that, in 1995, the friendship of Cindy and Randy grew into a romantic relationship. And in 1998, the model made an offer to her lover. He agreed without hesitation. Now the couple has two children, who, like the star mom, decided to conquer the catwalk.
Angelina Jolie and Brad Pitt
Now this Hollywood couple has made a lot of noise with their scandalous divorce, insider claims, and multiple child custody trials. And in the early 2000s, actors Angelina Jolie and Brad Pitt were crazy about each other. After 7 years of dating, the parents of many children (they have 6) decided to legitimize their relationship. Interestingly enough, it was the actress who got down on one knee and made a proposal. This happened in Venice, where the shooting of the movie "The Tourist" took place. In 2014, the couple played a wedding, and in 2016 they decided to dissolve the marriage.
Britney Spears and Kevin Federline
American singer Britney Spears decided to propose to her chosen one Kevin Fed erline in 2004, when they were flying from Ireland to New York. The star told about this spontaneous act in one of the interviews: "I asked if he was planning to get married. And then I moved on to asking if he would marry me."
At first Kevin refused his beloved, because for him it is a matter of principle that it is the man who should make a marriage proposal. But after a few minutes he changed his mind, saying that Britney was "the one he wanted to start a family with". In 2004, the couple got married, but their family idyll did not last long - 3 years.
Earlier OBOZREVATEL wrote about the shortest marriages of Britney Spears, Nicolas Cage and other celebrities.
Only verified information we have in Telegram-channel Obozrevatel, Threads and Viber. Don't fall for fakes!