Trending:
A miniskirt with the Saudi flag: a loud scandal erupted at London Fashion Week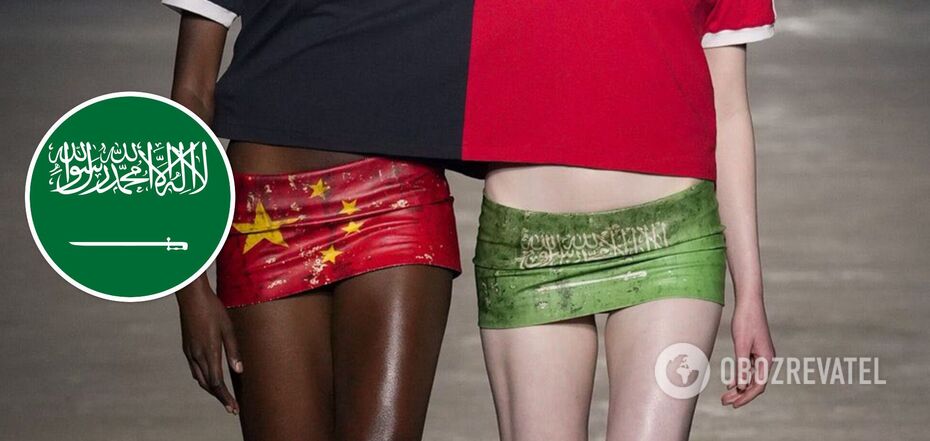 This ''fashionable'' decision outraged social media users. Source: @VANITYxVAULT (X/Twitter)
At London Fashion Week, which takes place this year from September 15 to 19, a scandal arose with the designer Mowalola. During the presentation of a new collection, a model wearing a short skirt with the flag of Saudi Arabia took to the catwalk.
This was reported by Middle East Eye. This design drew criticism on social media, facing accusations of disrespect for Islam and the Kingdom of Saudi Arabia. Users called on companies with which the designer collaborates to boycott her.
The flag of Saudi Arabia contains the phrase "There is no God but Allah; Muhammad is His Messenger". For Muslims, it is of great importance and is considered sacred. Some suggested that the brand had deliberately used the flag of this country to attract attention, but Mowalola denied such claims.
While the controversy raised a sensitive issue, it also showed the importance of understanding other people's cultures.
"The whole situation around the miniskirt is not about defending this horrible country of Saudi Arabia, but about a scripture that is sacred to billions of people. Is that hard to understand?" reads one of the posts on the X platform (formerly known as Twitter).
Others shared this opinion online as well.
"I am not a religious person by any means, but this is disrespectful. Knowing that the word 'Allah' is written on the Saudi flag and using it for a provocative miniskirt is proof of how shameless the fashion industry has become towards religions," another social media user said.
"There's a reason why Saudi Arabia doesn't wave its flag all over the country. It contains the shahada [Islamic confession of faith]. Saudi Arabia has a whole set of laws just for the flag. It has to be printed on both sides and rolled up, cleaned and destroyed in a specific way. Wearing it like a skirt is disrespectful," one of the dissenters wrote in response.
Initially, the Mowalola brand ignored the negative reaction and even published a rash post, underestimating the anger of those who were offended. The post was subsequently deleted, but the designer did not hesitate to apologize.
In her post, Mowalola explained that the national flags of different countries were one of the main sources of inspiration for her designs, but that she was unaware of the sacred nature of the words on the Saudi flag. She expressed deep regret for any harm or offense she may have caused and announced her intention to remove the design from her collection.
The designer of the brand is a Nigerian woman, Mowalola Ogunlesi, who lives in London. She is known for using a wide range of textures and materials in her work. Mowalola creates unconventional looks inspired by youth culture.
Ogunlesi has amassed over 300,000 followers on Instagram after sharing photos of the skirt on her stories.
Only verified information on our Telegram channel Obozrevatel and Viber. Do not fall for fakes!