Trending:
A man spent more than $15,000 to become a "dog". Photos and videos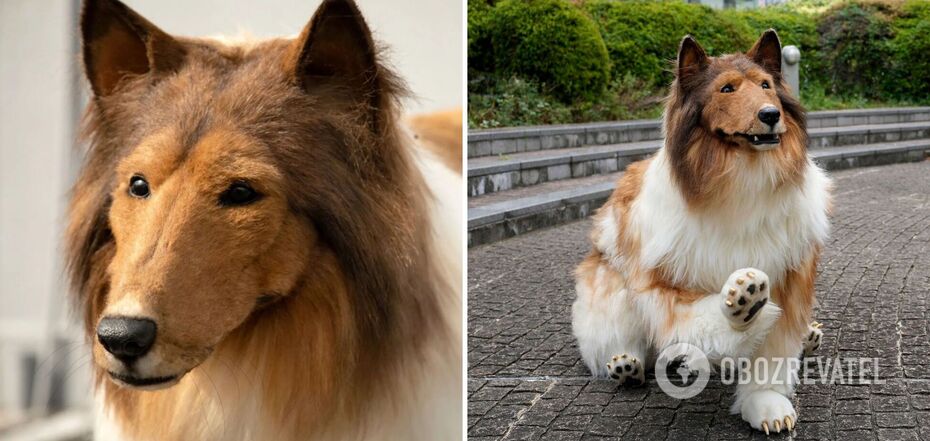 A man in a dog costume has become popular on
A guy from Japan who spent thousands to turn himself into a "dog" says that real dogs constantly avoid him. Toko, a Rough Collie human-dog, became popular after a video of him in a costume went viral.
This was reported by the Daily Star. The Japanese man, who has never revealed his real name, shared a video of himself walking the streets of Tokyo on four legs in an ultra-realistic dog costume.
Having spent about 12,500 pounds (over $15,000) on a rough collie costume, he tried to realize his childhood dream of becoming an animal. Soon, the Japanese man gathered almost 60,000 subscribers on YouTube.
Although his efforts have caught the interest of people, dogs have not been enthusiastic about his transformation. Toko shared that he found it difficult to make friends with the four-legged friends. The experimenter told The Sun: "They (dogs) looked a little surprised, and unfortunately, they don't treat me as an equal."
But the Japanese man does not lose hope and is looking for other therians - people who consider themselves a non-human species - to make friends with. Although he says he "doesn't see any progress yet."
Toko ordered the dog's outfit from a specialist in making costumes for film and TV. The Japanese man explained his choice of breed by the fact that he liked to take care of collie while being a human. He began sharing his journey of becoming a dog on YouTube last year.
The long fur helps to hide Toko's "human form" and allows him to look like a "realistic dog". He was delighted with the costume and said that "the dream of becoming an animal has come true."
But not everyone supports this choice - some people tell him it's a waste of money. "I've gotten comments saying I wasted my money and that I'm we ird," Toko says. However, he is not discouraged by the negative reaction, as he believes that "negative comments are unavoidable."
Until recently, Toko's identity was kept secret even from his closest friends. But the four-legged man said that he "introduced" his family to Toko, and their reaction was unexpected. "They were surprised, but they were happy to accept it," he said.
He said it would be "fun to travel" like Toko, and explained that he wants to make the most of the puppy's life as he doesn't see it as a long-term hobby.
"I won't stay a dog forever - I only turn into a dog a few times a month," he said. Toko regularly posts news about his life as a dog: he even bought a full-size dog crate to sleep in.
His most popular video has been viewed over seven million times. It shows a human dog walking in a park and being petted by strangers.
Earlier, OBOZREVATEL wrote about how Britney Spears in a bikini did a naked dance with knives and scared dogs.
Only verified information is available on our Telegram channel and Viber. Don't fall for fakes!