Trending:
A goat, a tractor and a pyramid of watermelons: top 5 humiliating birthday gifts for Putin that the whole world laughed at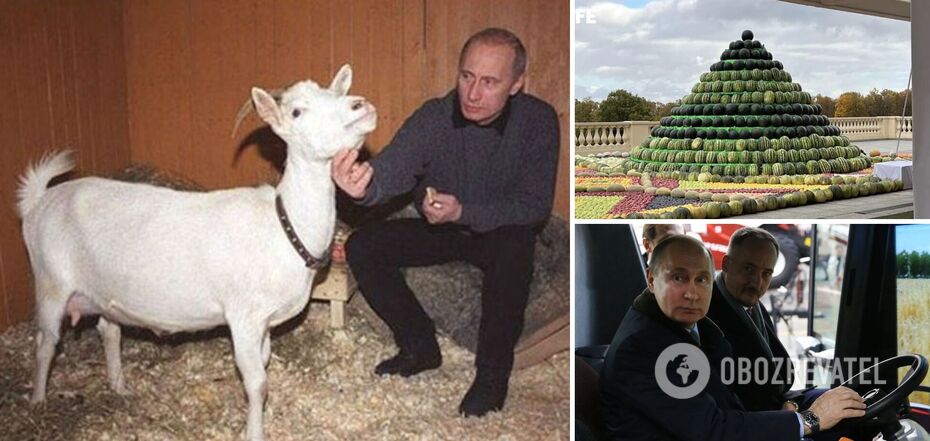 Putin was given ridiculous gifts that made the whole world laugh
Every year on October 7, the president-dictator of the terrorist Russian Federation, Vladimir Putin, accepts "generous" gifts from his colleagues and subordinates on the occasion of his birthday. However, the latter's imagination often fails them, which is not surprising, as it is not easy to come up with a present for a war criminal who has robbed the people and can afford almost anything he wants.
Most likely, this is the reason why a dictator often receives clumsy and humiliating surprises. Although it cannot be said for certain that the Russian terrorist is not simply being ridiculed in this way. OBOZREVATEL decided to recall the top 5 gifts to Putin, which made him laugh far beyond the borders of Russia (to see the photos, scroll to the bottom of the page).
Goat "Fairy Tale"
In 2003, Moscow Mayor Yuri Luzhkov presented the president with a white goat called "Fairy Tale" as a symbol of the lunar calendar. A photo of the dictator sitting next to the animal in the barn went viral, and the gift was dubbed one of the most inappropriate. As expected, the animal was transported to Novo-Ogaryovo, because Putin did not want to live with "Fairy Tale".
Tractor
In the midst of the full-scale war in Ukraine, in 2022, Belarusian self-proclaimed president Alexander Lukashenko presented his Russian counterpart with a Belarus hand-assembled tractor. He accompanied his gift with an incoherent tirade that Russia would "feed Europe with bread," which caused a wave of ridicule at the self-confidence of the Russian and Belarusian.
Water from the lake
In 2012, on Putin's birthday, scientists presented him with "water from the time of the dinosaurs" that was found in an ice lake in Antarctica. Given the principle of the water cycle in nature, the scientists could have just as easily filled the bottle anywhere else.
Erotic calendar
In 2010, students of the Faculty of Journalism at Lomonosov Moscow State University greeted Putin with their naked bodies. They handed the dictator an erotic calendar with their photos, and he said he liked it. Given that the Russian leader was 58 years old and married at the time, such a gift looked a bit strange.
Pyramid of watermelons and melons
Earlier, on the occasion of the bloody dictator's birthday, OBOZREVATEL recalled the most interesting facts from Putin's biography, which he carefully hides from the public. The Polish journalist and lawyer Krystyna Kurchab-Redlich has long been researching the "white spots" in the Russian's life.
Only verified information is available on our Obozrevatel Telegram channel and Viber. Don't fall for fakes!