Trending:
A 19-year-old girl didn't know she was pregnant until a baby's leg came out of her... An incredible story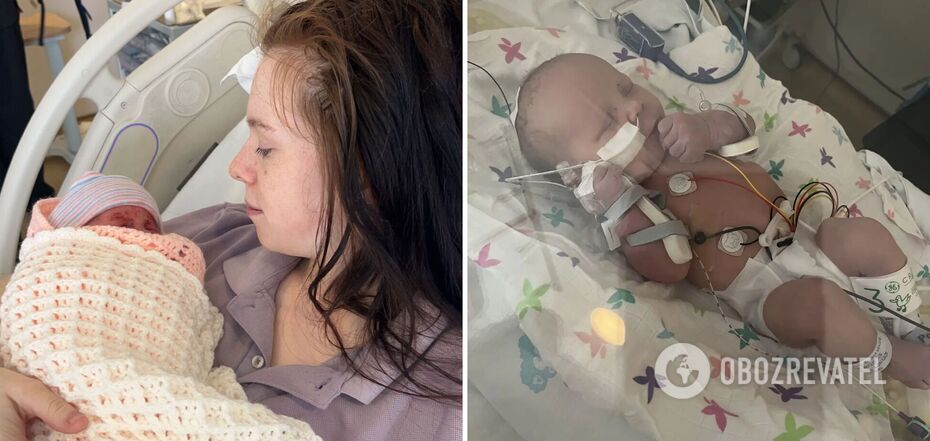 A girl after the birth of a child she didn't even know she had. Source: Kennedy News and Media
Faye White, 19, from Braintree, Essex, England, says she didn't even realize she was pregnant until her newborn daughter literally came out of the womb. The young woman, who gave birth to Luna Grace Behrens on May 6, thought she had a urinary tract infection before the baby came out.
"I took about six pregnancy tests over the course of nine months, and they all came back negative," White said. She admitted that she and her partner, 21-year-old Aidan Behrens, do not use contraception regularly. The young people have been together for four years, the New York Post reports.
White has a 2-year-old son and previously lost a child at 18 weeks. However, she claims that this pregnancy was not like the previous ones. Faye also said she smoked and drank alcohol throughout her pregnancy because she did not realize she was carrying a child. The young mother explained that her menstrual cycle before giving birth was normal, and there was no noticeable belly. She recognized the symptoms of mild acid reflux, which is common during pregnancy, but it did not raise any suspicions.
"Everything was as usual until one morning I woke up to a giant stream of water," she said. She realized she was in labor as soon as the contractions started. White said she was "shocked" and "confused" and frantically called her mother-in-law to take her to the hospital.
"I went to the restroom because I felt a lot of pressure and something was coming out. When I went back to my bedroom, it turned out to be the baby's leg. Eventually, I called an ambulance," she recalled. The labor lasted 2 hours.
White was rushed to a place where a helicopter was supposed to pick her up and take her to the nearest hospital. But the baby "decided" to be born earlier than expected in the back of the ambulance, overlooking a nearby soccer field. The birthing process was, of course, nothing like in a hospital: they had to make do with what the ambulance had."Most of the time I was begging for morphine," says the young mother.
Despite admitting that she was not interested in having more children, White said her "maternal instinct" kicked in immediately: "From the minute I found out I was in labor, I immediately thought: "Okay, this is our baby, we're going to keep her." I just wanted to see her and make sure she was okay."
The baby girl, named Luna, was born at 37 weeks and weighed six pounds (about 2.7 kg). She was rushed to the neonatal intensive care unit at Broomfield Hospital due to complications during labor.
White took her baby home 10 days later. Her friends helped her furnish her home with things for her daughter. The hospital gave her free diapers. She admitted that it was easy to get used to the baby:"When you give birth to your first child, you have to get used to a new life. When you give birth to your second child, you adapt relatively faster."
A young mother believes that the unexpected birth of her child is a real miracle. "The baby defied fate. What she went through is simply amazing. Now I can't imagine life without her. I like my life to be rough and tumble, and she definitely makes it that way."
After this pregnancy, White insists that it was her last: "I'm done. Now I'm taking a blood test to get on contraception."
Only verified information on our Telegram channel Obozrevatel and Viber. Don't fall for fakes!