Trending:
7 gestures that reveal a person is lying: how to spot a lie in a few minutes. Photo.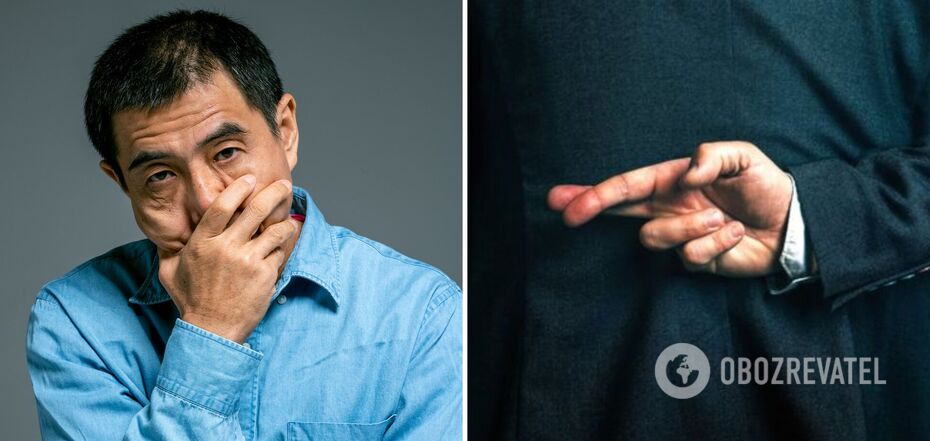 Some gestures may indicate a lie
You can tell when someone is lying by their body. Usually, when a person is lying, they are nervous, guilty and uncomfortable. Unpleasant emotions are revealed by their movements.
These gestures often go unnoticed, and the excited interlocutor simply does not have time to control them. The editors of the Кobieta website told us what to look for (scroll to the bottom of the page to see the photo).
Hand to mouth
In order to hide emotions when lying, a person randomly tries to cover his or her mouth, as if wiping something or coughing. This can hide a smile, stuttering, confusion, etc.
Biting fingers and nails
A sure sign that your interlocutor is nervous is when he or she starts to put his or her fingers in his or her mouth. This habit almost always indicates emotional instability, which in turn can be a sign of lying.
Eye contact
It is very difficult to tell a lie while looking into someone's eyes. That's why people start scratching their eyes, rubbing the skin around them, or looking away when they are lying.
Scratching your nose
Another way to distract yourself during a lie is to scratch your nose. Experts say that touching the nose calms people down.
Hand to the ears
The unconscious desire to touch the ears is explained by the fact that a person subconsciously does not want to hear his or her lies.
Scratching the neck
The most noticeable gesture during a lie is scratching unexpected areas of the skin. For example, the neck. The deceiver usually uses his index finger for this.
Loosening the collar and tie
The body reacts to a lie by sweating profusely and breathing heavily. This is accompanied by a desire to loosen the collar or tie around the neck.
Earlier, OBOZREVATEL wrote about the five behaviours that kill love and can destroy any marriage.
Only verified information is available in our Obozrevatel Telegram channel and Viber. Do not fall for fakes!