Trending:
5 secrets for straighting hair to make you look like you've just visited a beauty salon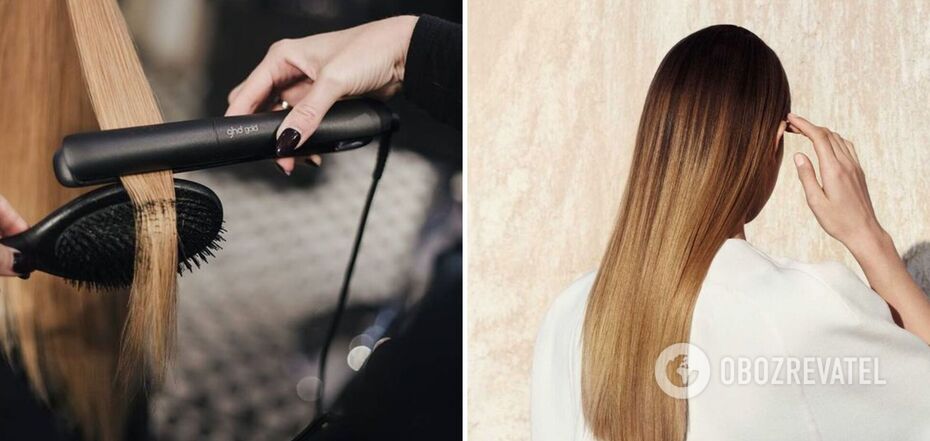 Tips on how to straighten your hair beautifully without damaging it
Curly hair is naturally beautiful, but sometimes you want to change the look a little and tame the wayward strands. Of course, you can do this with a hair straightener, but it can look damaged and split.
The List has shared the secrets of how to straighten your hair at home to make you look like you just left a beauty salon. These tips will make your hair look beautiful and shiny.
Preparing your hair for straightening
Just as you need to prepare your face for makeup, you need to prepare your hair for straightening. Straightening looks best on clean, freshly washed hair. For best results, first wash your strands with a high-quality shampoo and conditioner.
If your hair looks a little lifeless and dry, use a mask. Many commercial hair masks work well, but you can also create one yourself using olive oil and eggs. You need to whisk the ingredients first and then apply them to your hair, starting from the ends. Let the mask sit for about an hour before washing it off with a mild shampoo and conditioner.
You can also try soaking your hair in milk for about 20 minutes if olive oil doesn't work for you.
Pre-comb and dry your hair
Detangle wet hair with a comb. It's a good idea to use a heat protectant: it's an extra step to make sure the heat doesn't damage your follicles.
Dry hair by combing if you have naturally straight hair. However, if you have curls, you need to pre-stretch your hair to get the best result. Take a hairdryer and a round brush. Divide your hair into four to five different sections and work through one section at a time. It is important to angle the hair dryer and lift the round brush, pulling the hair straight. This will add volume at the roots.
When everything is dry, it's time to section your hair again. You can divide the hair into as many parts as you want, but remember that you will be working from the bottom up. Knowing this, try to divide your hair in the middle and create a bottom, middle, and top section on each side. Secure your sections in place with bobby pins.
Select the correct straightener setting
Your straightener needs to be clean and ready to go just like your hair. Therefore, you should make sure that you are using the correct setting and check the cleanliness of the device first.
Hair products can build up on the surface. To make sure the appliance is clean, inspect it before plugging it in. If it looks a little dirty, add a few drops of alcohol to a cotton pad or cloth. Rub it along the plate to remove any residue.
For straight hair, you should use a lower temperature than for wavy or curly hair. If you have fine, straight hair, try 120 degrees. You can increase to 150 if your straight hair is thick or stiff. Those with wavy or curly hair can set the temperature between 150 and 210 degrees.
The best hair straightening technique
It is important to start from the bottom and work your way up the hair. You will start by straightening the bottom, then move to the middle and finally to the top.
Pull out the bobby pin and take a small part of the hair, then pin the rest. When the time comes, place the straightener at the base of your scalp and slowly pull your hair through the length in a downward motion.
A simple trick is to have a comb or brush in front of the device to help keep the hair tight and avoid tangling. It is also important to stay about 3 cm from the scalp. The straightener is hot and will burn you if you hold it too close. If you want to add a slight curl while straightening, turn the straightener down at the ends.
Tips for straightening your hair
If you find that styler doesn't bring the desired results, you can try taking a smaller strand. It is also helpful to run it through that stiff section of hair again.
After completing the entire straightening process, you may also notice that you have a few imperfections. Try a finishing oil or hairspray to better handle your frizz. Just add a little product to a comb and comb through your hair.
Earlier, OBOZREVATEL wrote about the most trendy hair color for fall 2023.
Only verified information in our Telegram Obozrevatel and Viber. Don't fall for fakes!