Trending:
5 celebrity couples who accidentally revealed their secrets with their body language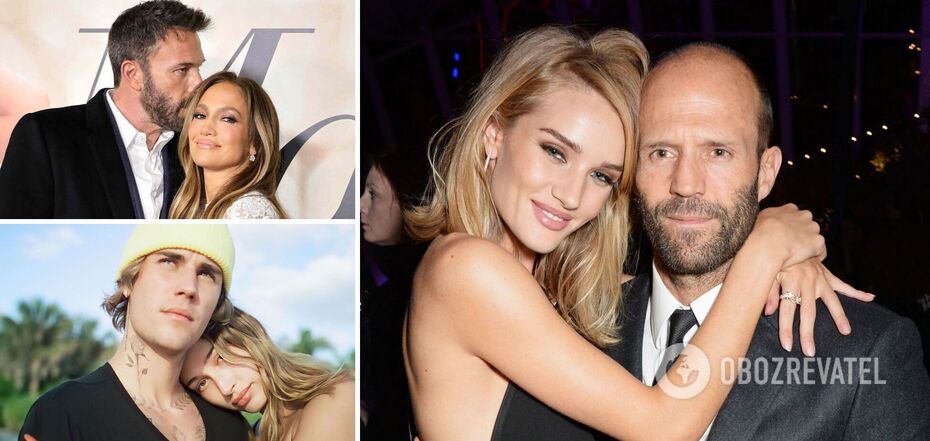 The behavior of celebrity couples reveals their real attitude towards each other.
When you are silent, your nonverbal cues speak for you: facial expressions, gestures, walking, posture, and eyes. They reveal whether you are confident, sincere, relaxed, or uncomfortable. A couple can also "communicate" with body language. The behavior and interaction of both of them can help you figure out whether the relationship is harmonious, real or pretend, and even who dominates.
Read OBOZREVATEL's article to find out what celebrity couples say about their relationships in non-verbal ways. Maybe a good game in public hides a completely different reality.
1. Justin Bieber and Hailey Rhode Bieber
American model and TV star Hailey Bieber plays the role of a caring mother in her relationship with Canadian pop singer Justin Bieber. Her chosen one, with whom she has been married since 2018, often behaves like a child - too infantile, has an hysterical psychotype (self-centered and wants to get what he wants "here and now").
If you look at photos of the Bieber family, Hayley always looks at her husband with tenderness, while Justin shows with his whole body that he "allows himself to be loved." If Hailey suddenly falls in love with a stronger man, he can change her role model from "mom" to "equal partner."
2. Jennifer Lopez and Ben Affleck
American actress, singer, and dancer Jennifer Lopez and American actor and director Ben Affleck are psychologically mature, financially independent, and successful spouses. He is a strong man who is able to protect and care for his chosen one. She is a purposeful and expressive woman who is certainly pleased to receive and give tenderness.
In the photo, Ben's hands are often hidden in his pockets, and J.Lo is holding on to him. This shows that Affleck treats his wife without unnecessary sentimentality, and at moments when he needs to show masculine qualities, he will show them in full.
3. Jason Statham and Rosie Huntington-Whiteley
The English actor Jason Statham and the English supermodel and actress Rosie Huntington-Whiteley are a charismatic couple. He has an epileptoid psychotype - he dominates his relationship with his beloved, rarely smiles, has a difficult personality, and is incredibly scrupulous.
If you look at the couple's photos, Statham often holds his chosen one by the hand and leads her around like a child, and she doesn't mind this "role". It is likely that the age difference of 20 years contributed to this. Rosie also often puts her knee close to Jason in the photo, which indicates her admiration for her partner.
4. Megan Fox and Colson Baker
American actress and model Megan Fox is a good girl in love with a rebel in her relationship. But for her boyfriend Colson Baker, a pop singer (stage name Machine Gun Kelly), the priority is to be shocking and different. Why? Because he has a narcissistic personality type. All of this is demonstrated by their behavior in public, their looks at each other, and their facial expressions. It seems that this format suits the couple, because Megan receives additional emotions and attention in her relationships with other people: she openly declares her bisexuality.
5. Blake Lively and Ryan Reynolds
American actress and model Blake L ively and Canadian actor Ryan Reynolds are undoubtedly happy together and sincerely in love. They have been married for 11 years and still haven't lost the sparkle in their eyes and their tender attitude towards each other.
In the photo, there is almost no space between them at all times: Black reaches out to Ryan and snuggles. There is a lot of tactility in their relationship, they smile sincerely when they look into each other's eyes and admire each other. It's also interesting that even their hair and clothes are often adjusted in sync, which shows the strong bond between the partners.
Earlier, OBOZREVATEL wrote about 5 Ukrainian celebrities who found love during the war.
Only verified information is available on the Obozrevatel Telegram channel and Viber. Don't fall for fakes!