Trending:
11 anti-fashion trends according to TikTok and how to replace them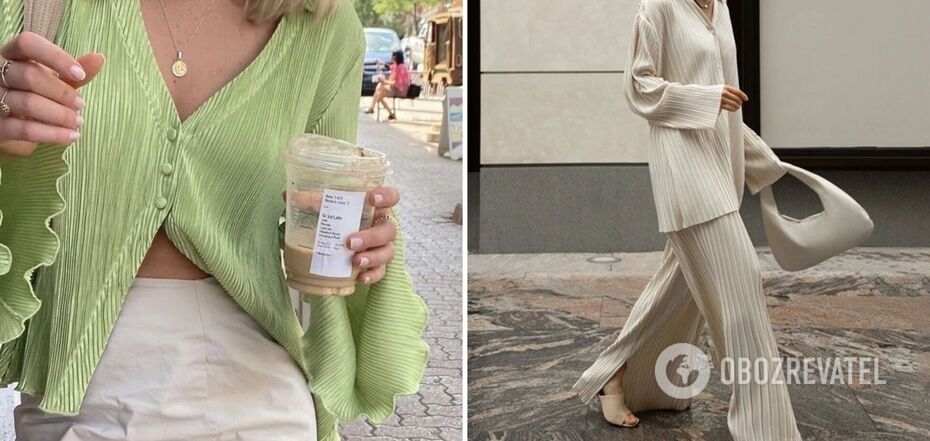 New trends that have taken over TikTok
The world of TikTok fashion trends is a place where everything goes in and out of fashion in the blink of an eye. The truth is that social media fosters the emergence of new trends, so it's no surprise that when a thing has reached its fashion peak, the ever-growing TikTok fashion community chooses a new star. This is how the trend wheel works in a cyclical fashion.
So, with all this in mind, Her World has collected 11 things that TikTok has declared anti-trends and found stylish alternatives.
The trend: Pear green
Anti-trend: Barbie pink
If you've spent a lot of money on a Barbie-style wardrobe on the occasion of the recent movie of the same name about the famous doll, then we have bad news for you: according to TikTok fashionistas, Barbie pink is no longer in fashion. Instead, meet the color of a green pear, which has been seen on celebrities, including Emily Ratakovsky and Cardi B, all summer long.
Trend: Shoes with a narrow pointy toe
Anti-trend: The square toe
It was bound to happen: with so many people wearing the hugely popular square-toed sandals. It was only a matter of time before social media users got bored with it. Their place was taken by a type of shoe that was all the rage in the mid-2000s - a square that turns into a narrow, pointy toe (the so-called arrow).
Trend: Thin, rectangular glasses
Anti-trend: Oversized lenses
Put your large black sunglasses in the drawer, because the era of thin and rectangular frames has arrived.
Trend: Beach cowboy
Anti-trend: Beach grandma
Beach... who? Let us explain. Do you remember last year's grandma look, which implied knitted items in mostly neutral colors? You can keep the color palette, but replace the details with something in the style of the Wild West. Think about edging, cowboy boots, denim shirts made in calm sandy shades, ivory and beige.
Trend: Roses
Anti-trend: Feathers
Given that every mass-market website is now "filled" with feathers, it's time to look elsewhere for an alternative. Volumetric roses are making a comeback and promise just as much impact, but without the tickle.
Trend: Sexy lingerie-style dresses
Anti-trend: The little black dress
Let's face it: little black dresses will never go out of style. But if your dress has seen the light of day many times before, give it a rest and try this season's star - a lingerie-style shift dress.
Trend: Boxer shorts
Anti-trend: All other models of shorts
Last year, the Frankie Store brand released a batch of shorts that looked like men's boxers, and they flew off the rack at hyper speed. In particular, this model went viral on TikTok. Summer temperatures continue to rise, and at the same time, the lightness and comfort of boxer shorts make them an ideal option.
Trend: Silver
Anti-trend: Yellow gold
Sorry, warm skin tones: blame it on TikTok, because local fashionistas are tired of gold. But don't rush to melt down your gold jewelry, because as we know, everything comes back into fashion. However, now it is better to stock up on silver accessories, at least for the next six months.
Trend: Dumpling bag over the shoulder
Anti-trend: All other cross-body bags
This is obvious after the mega-success of Uniqlo's viral dumpling bag, which made ticktockers wear it in every color available.
Trend: Modest evening luxury
Anti-trend: Too bright evening looks
In contrast to TikTok in 2021, which was dominated by a suffocating amount of "tulle" and bright sequins, today's fashion TikTok scene follows the trend of quiet luxury. For example, a one-shoulder mini will be the perfect option for the trend. You can choose an elegant cut and add matte sequins.
Trend: Wide leg pants
Anti-trend: Tight pants
This is an ode to comfort! Ticktockers have always been in love with wide leg pants and this passion has remained to this day.
Earlier, OBOZREVATEL wrote about10 anti-trend things to have in your wardrobe.
Only verified information on our Telegram channel Obozrevatel and Viber. Don't fall for fakes!