Trending:
Russian oligarchs Rotenberg help hide Putin's assets from sanctions: media investigation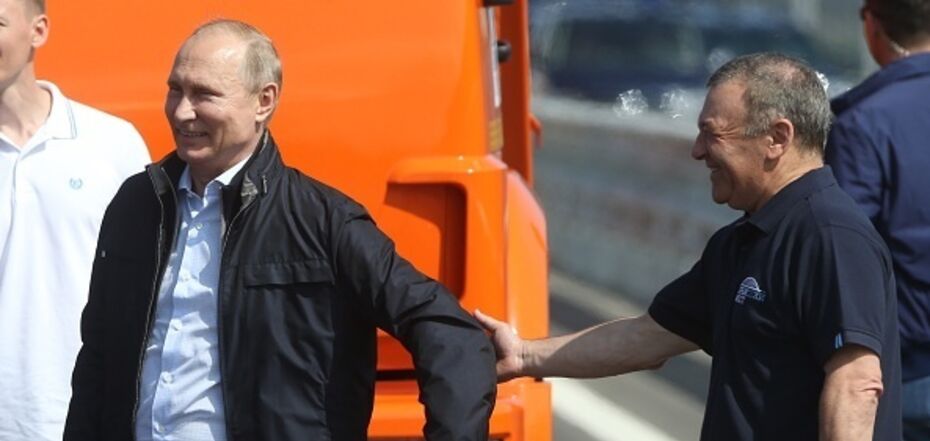 Putin and Arkady Rotenberg at the opening of the Crimean Bridge (2018)
A number of global media outlets have obtained the so-called Rotenberg Archive, which includes 30,000 emails and 12,000 documents explaining how Russian oligarchs Arkady and Boris Rotenberg hide their assets and those of the family of dictator Vladimir Putin from Western sanctions.
This is discussed in the article "Important Stories". Thus, after the imposition of sanctions against the Rotenbergs in March 2014, their stakes in various Russian companies began to be transferred to closed-end mutual funds managed by Evocorp, whose chairman is Maxim Viktorov.
The Rotenberg brothers were shareholders in most of these funds. In late 2014, Viktorov began negotiating the purchase of a villa in an elite Spanish resort near Valencia for nine million euros. The deal was arranged in such a way as to conceal the real owner: first, the house was owned by a company from Malta, then from Cyprus.
At the same time, leaks have confirmed that the real owner is Boris's wife, Karina Rotenberg. In addition, the photos of the house show a monogram with the initials KRB, which can be found on Karina Rotenberg's Instagram photos.
The leak revealed several other assets of the Rothenbergs: a villa in Austria for €10.8 million, two apartments in Riga for €200,000 each, a Bombardier aircraft worth $42 million, a villa in France for €4.25 million, an apartment in Monaco, an equestrian club and a number of houses in France for €15.8 million.
In addition, Arkady Rotenberg registered some of his real estate in Russia and Monaco with the help of closed-end mutual funds in the name of his unofficial wife, Maria Borodunova. In addition, the Rothenberg Archives revealed that the Putin family owns a chalet in the Kitzbuhel ski resort worth €10.8 million.
According to the documents, the building belongs to the Cypriot company Wayblue Investments, which, in turn, received a large loan from one of Arkady Rotenberg's companies. Local residents interviewed by journalists claim to have seen Putin's eldest daughter, Maria Vorontsova, and her former common-law husband, Dutchman Jorrit Faassen, on the site.
As OBOZREVATEL previously reported, the Lithuanian company Yukon secretly supplies thermal imagers to the terrorist country Russia. They are used by the aggressor's army in the war against Ukraine.
Only verified information is available in our Obozrevatel Telegram channel and Viber. Do not fall for fakes!