Trending:
Putting Russia on a par with North Korea: the Kremlin is afraid of the FATF blacklist - Bloomberg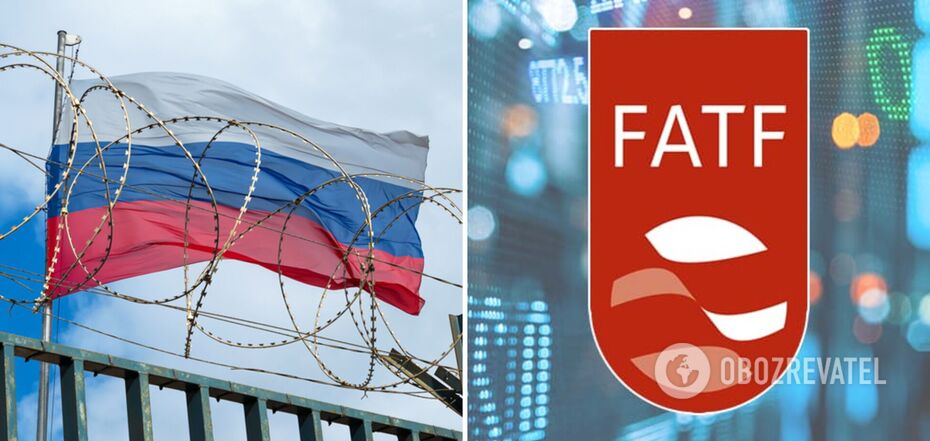 The State Financial Monitoring Service of Ukraine ensures preparation for the next FATF meeting
Russia asked a number of countries not to include it in the black or gray list of the International Financial Crimes Task Force (FATF). Moscow described in detail the threat of such a decision (which Ukraine is seeking). The list of expected negative consequences includes damage to Russia's trade relations with other countries, a drop in investment, and problems with cooperation in defense and energy projects.
Russia has sent its appeal to more than six countries, including Saudi Arabia, Turkey, Mexico, the United Arab Emirates and Malaysia. Bloomberg reported, citing documents with calculations of possible losses and reports from officials in NATO countries familiar with the situation.
"Blacklisting Russia would put it next to North Korea, Iran and Myanmar. This will oblige FATF member states, as well as banks, investment houses and payment processing companies, to conduct enhanced due diligence on financial transactions, and in the most serious cases to take measures to protect the international financial system," the material says.
In the gray list of FATF now are 23 countries, including Turkey, South Africa, UAE and Jordan. Inclusion in this list implies stricter requirements for financial monitoring and leads to "a large and statistically significant reduction in capital inflows".
The Kremlin warned that inclusion on the FATF list would lead to such consequences:
documents for officials in Turkey and the UAE state that each of these two countries could lose as much as 1% of GDP as a result of the trade and investment consequences of Russia's inclusion on the FATF lists;
Moscow warned the UAE that Russia's inclusion on the FATF list "would hurt the success of bilateral trade, which reached record levels in 2022 thanks to energy, related investments and trade in other commodities."
Russia said Turkey would lose revenue from Russian tourists due to potential difficulties in processing payments, the breakdown of contracts would also affect major projects such as the Akkuyu nuclear power plant or the Turkish Stream gas pipeline, leading to billions of dollars in losses;
Russia has warned Saudi Arabia that Rosatom's project to build a nuclear power plant in the country and the investments made by billionaire Prince Al-Waleed bin Talal in Russia's Gazprom, Lukoil and Rosneft could be under threat.
The Kremlin reminded the Malaysian authorities that they import significant amounts of oil products and aluminum from Russia. Projects related to the supply of helicopters and fertilizers to Kuala Lumpur and projects implemented by Malaysian companies in Russia, including the production of oils, synthetic rubber and rubber blends and wood-fiber boards, will be under threat, the document said.
Mexico was informed of "serious difficulties" in joint projects with Russia with the participation of Lukoil, as well as in the introduction of the "Mir" payment system.
Moscow has also sent more general requests to a number of other governments. In particular, the Russian Federation urged India to oppose Russia's inclusion on the FATF list.
As reported by OBOZREVATEL, Ukraine requires the FATF to blacklist Russia as a high-risk jurisdiction. FATF may take a corresponding decision at a plenary session in Paris on June 19-23.
"Russia's actions are a gross violation of the obligations of international cooperation and mutual respect upon which FATF members have agreed to implement and uphold the group's standards. Blacklisting Russia would restrict its access to foreign markets and require all FATF jurisdictions to apply enhanced scrutiny and effective countermeasures... This will protect global financial security, help close existing loopholes in sanctions regimes and stop an unprovoked and illegal war against Ukraine," explained Igor Cherkassky, head of the State Financial Monitoring Service.
Only verified information on our Telegram-channel Obozrevatel and Viber.Don't be fooled by fakes!