Trending:
"Prigozhin negotiated too and ceased to exist": Kuleba pointed out the "price" of talks with Putin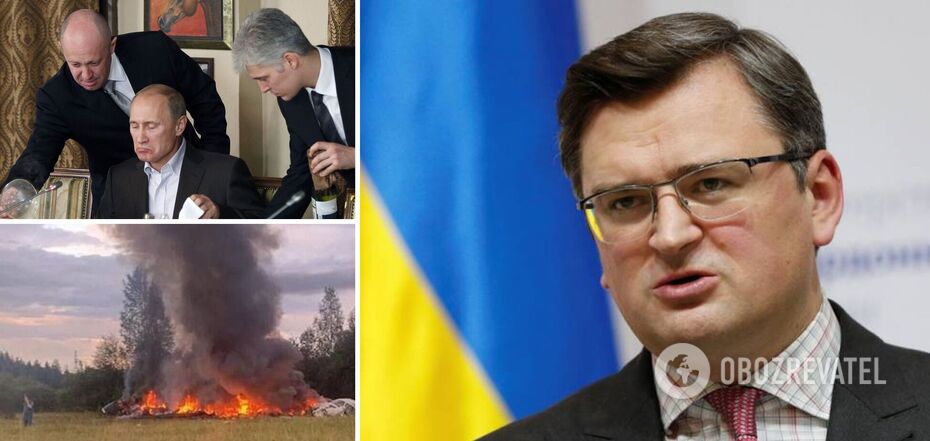 Kuleba recalled the agreements between Putin and Prigozhin as an example of the ''price'' of the Kremlin's promises
The possibility of negotiations with the current Russian government is a "very specific issue" because the Kremlin is not fulfilling its promises and commitments. The recent agreements between Russian President Vladimir Putin and the owner of the Russian Wagner PMC Yevgeny Prigozhin reached after the armed rebellion of the mercenaries are a vivid confirmation of this.
Exactly two months after the Wagner PMC's unsuccessful march on Moscow, Prigozhin is highly likely to have died after crashing in his airplane. Such an example was given by Ukrainian Foreign Minister Dmytro Kuleba during a joint press conference with Turkish Foreign Minister Hakan Fidan, commenting on the possibility of talks between Kyiv and Moscow.
Discussing the possibility of negotiations between Ukraine and Russia, Kuleba called it "a very specific issue". The minister explained his point of view using a parallel with the relationship between Putin and Prigozhin and its end for the latter.
"We recently saw Mr. Prigozhin, a very longtime friend of Putin, trying to negotiate a 'truce' with Putin. They sat down at a table, it was shown on television. Then all of a sudden Prigozhin seems to have ceased to exist," he added.
Kuleba emphasized that Prigozhin's experience shows "the price of negotiations with Putin."
"This applies, of course, to antagonistic cases. We appreciate those countries that can talk to the Russian Federation with full respect for Ukraine's principled position on territorial integrity as they may make them understand that there is no positive end for their country," the foreign minister specified.
Kuleba also called Turkey one of the countries making efforts to put an end to Russian aggression as soon as possible and to establish a "just and lasting peace". The Ukrainian Foreign Minister thanked the Turkish counterpart for these efforts.
A private business jet associated with Wagner PMC fell in the Bologovsky district of Tver region 15 kilometers from the Hotilovo airbase on the evening of August 23. As Rosaviatsia noted, the owner of the company Prigozhin and representatives of the top management were on board.
All seven passengers, as well as three crew members, died.
It has not been known whether Prigozhin was actually on the plane for some time, but later reports of his death began to appear. U.S. intelligence later confirmed that Prigozhin had died.
Top Russian propagandists, having recovered from the initial shock, began to issue versions of the "Ukrainian trace" and share how the country allegedly planted explosives on board. They are trying hard to convince Russians that Putin, who is suspected of a showy massacre of Prigozhin, did not "benefit" from his death "at all".
The Institute for the Study of War believes that Russian dictator Vladimir Putin almost certainly ordered to shoot he plane belonging to the Wagner group down. Analysts believe that this is how the Russian dictator avenged his humiliation after the armed mutiny of the Wagner PMC on June 23-24. That is why the elimination of Prigozhin and Wagner commanders was as demonstrative as possible.
Meanwhile, British and Ukrainian Intelligence agencies suggested that Prigozhin could have been killed by a Russian GRU general involved in the poisoning of the Skripal family.
The self-proclaimed president of Belarus Alexander Lukashenko, who two months ago boasted of his alleged role in ending Prigozhin's mutiny, suddenly "forgot" that he had given security guarantees to the founder of Wagner before his death.
Only verified information from us on Telegram Obozrevatel and Viber. Do not fall for fakes!