Trending:
What to bake chicken wings in to make them golden and crispy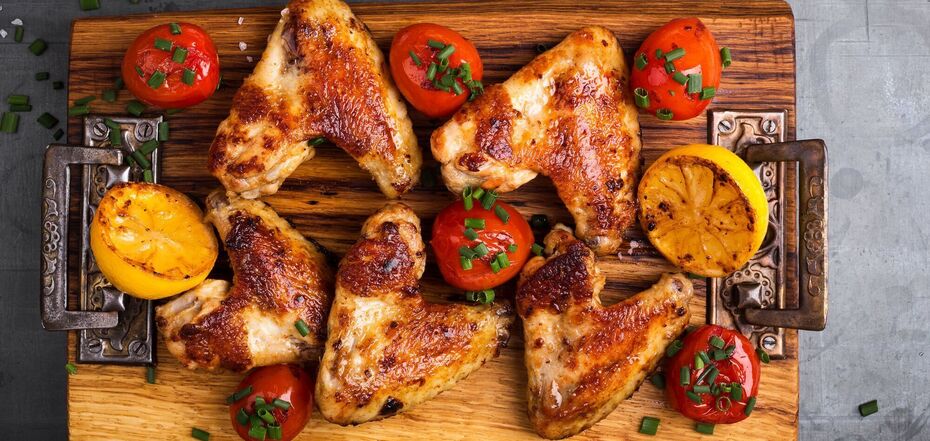 How to bake golden chicken wings. Source: pixabay.com
If you need to cook a meat dish quickly, choose chicken wings. They are quite budget-friendly and don't take much time. The main thing is to bread the wings to make them crispy and golden.
The idea of making breaded chicken wings with sauce is published on the Instagram page of food blogger Yulia Symonchuk (cook_julija_simonchuk). The meat is lean because it is baked in the oven.
Ingredients:
chicken wings - 1 kg
smoked paprika - 1 tbsp
flour - 3 tbsp
dry garlic - 2 tsp.
baking powder - 1 tsp.
Provance herbs - 1 tbsp
salt and pepper - to taste
Ingredients for the sauce:
butter - 50 g
cheese - 30 g
greens - a bunch
garlic - 2-3 cloves
juice of half a lemon
Method of preparation:
1. Wash and dry wings.
2. Divide into parts.
3. Roll in breadcrumbs (mix flour, baking powder, dry garlic, paprika, Provance herbs, pepper, and salt).
4. Put on a baking tray covered with parchment.
5. Bake in a preheated to 200 degrees oven for 20 minutes on one side, and then turn to the other side and bake for another 20 minutes.
6. Take out and dip hot in the sauce (mix finely grated cheese, melted butter, lemon juice, herbs, and garlic).
You can also find recipes on OBOZ.UA: