Trending:
Juicy moist cheesecake with apples: how to make delicious seasonal pastries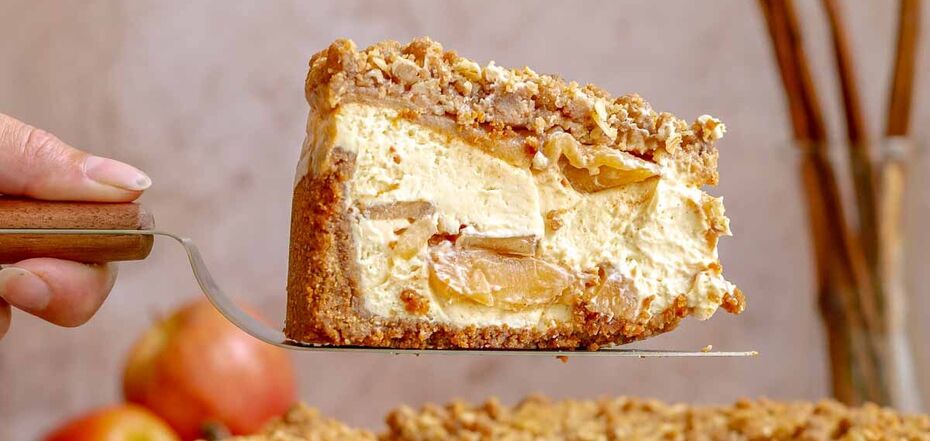 Moist cheesecake with apples for tea. Source: thecozyplum.com
In the fall, traditional cheesecake can be supplemented with juicy and sweet apples. The pastry will be dense and moist. It is ideal for cozy family tea parties.
The idea of making a delicate moist cheesecake with apples, raisins and dried apricots was published on the Instagram page of food blogger Natalia Ryzhkova (natali_ryzkova). The dessert consists of several layers.
Ingredients for the dough:
3 tbsp. sour cream
2 eggs
100 g of sugar
2 tsp of biscuit powder
100 grams of butter
300 grams of flour
Ingredients for the curd mass:
1 kg of cottage cheese
2 packs of vanilla sugar
2 packs of sour cream pudding (can be replaced with starch)
200 g of sugar
zest of 1 lemon
100 grams of raisins
100 grams of dried apricots
5 egg yolks
100 grams of butter
For the bottom of the cheesecake:
2 apples
50 grams of sugar
Method of preparation:
1. Knead the thick dough to roll it out.
2. When the dough is ready, cut the apples into thin slices.
3. Add sugar and put on the fire to caramelize for a short time. The apples should release their juice.
4. Prepare the curd mass: pass the cottage cheese through a meat grinder or whip it with a blender, add all the products and you get a delicious curd mass.
5. Roll out the dough and put it on the bottom of the mold (make it around the sides).
6. Spread the caramelized apples, then the curd mass, make a mesh of the remaining dough on top and sprinkle with poppy seeds.
7. Put in the oven at 180 degrees for an hour.
8. Eat after cooling.
You can also find more recipes on OBOZ.UA: