Trending:
"Warsaw will melt, and Vilnius will sink": Belarusian propagandist threatened the West with nuclear weapons after Putin's high-profile statement. Video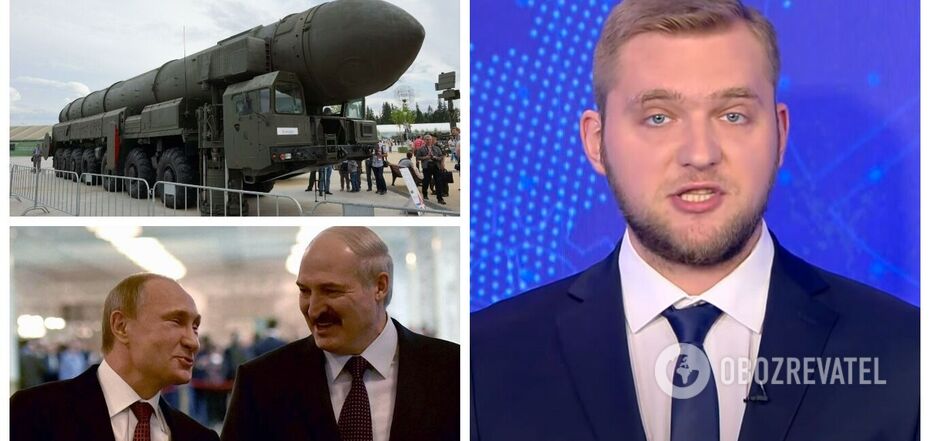 Belarusian propagandist threatened the West with nuclear weapons
Belarusian propagandists continue to compete for the level of inadequacy with their Kremlin counterparts. Following Russian dictator Vladimir Putin, the odious propagandist Grigory Azarenok began threatening civilized countries with nuclear weapons.
He specifically mentioned Poland and Lithuania and threatened to launch a nuclear strike from the territory of Belarus. A fragment of the propagandist's aggressive statement was published on Telegram (to see the video, scroll to the end of the page).
Azarenok "made the consumers of Belarusian propaganda happy" by saying that Belarus is now a nuclear power. In the propagandist's fantasies, someone is going to attack Belarus, so the country is allegedly ready to respond with tactical nuclear weapons.
Moreover, he threatened Poland and Lithuania with the consequences of a nuclear strike. It is noteworthy that the propagandists became agitated and began to actively use nuclear rhetoric after dictator Putin announced his intention to deploy weapons of mass destruction in Belarus.
"Belarus is a nuclear power. A state that can respond with tactical nuclear weapons in case of an attack on its territory. Warsaw will melt, and Vilnius will sink. We will see a frosted sunset and the rise of a plague mushroom in a Polish swamp," the propagandist said.
Recall, that on March 25, Vladimir Putin, the dictator of the Russian Federation, announced that Russia would complete the construction of a tactical nuclear weapons storage facility in Belarus on July 1. According to Putin, the reason for this step was Great Britain's statement about supplying Ukraine with depleted uranium ammunition.
In reality, depleted uranium has nothing to do with nuclear weapons, and the self-proclaimed President of Belarus Alexander Lukashenko back in August 2022 said that the Belarusian army was getting ready to use Russian nuclear weapons.
Earlier, the American Institute for the Study of War stated that dictator Putin's threats to deploy tactical nuclear weapons on the territory of Belarus had nothing to do with the risk of a nuclear war. This risk remains very low.
As OBOZREVATEL reported, the European Union is skeptical about the possibility of Russia using nuclear weapons. Josep Borrell, EU High Representative for Foreign Affairs and Security Policy, said that after the visit of Chinese President Xi Jinping to Moscow, the likelihood of nuclear war decreased, as Xi made it clear to Russian President Vladimir Putin that nuclear weapons should not be used.
The International Campaign to Abolish Nuclear Weapons (ICAN) has condemned Russian dictator Vladimir Putin's statement about the deployment of nuclear weapons in Belarus. ICAN noted that Europe cannot be safe as long as Russia has such weapons.
Only verified information on our Obozrevatel Telegram channel and Viber. Don't fall for fakes!