Trending:
One of Russia's oldest allies is now helping Ukraine - CNN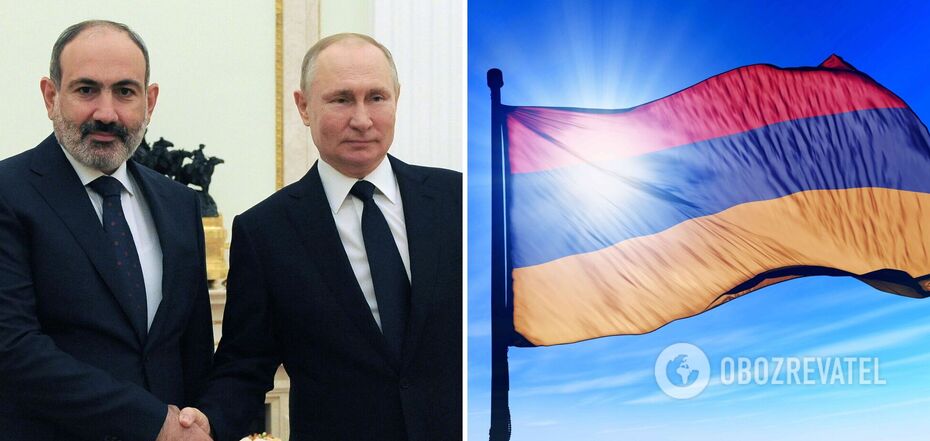 One of Russia's oldest allies is now helping Ukraine - CNN
Armenia began flirting with new international partners as it realized that Russia, which had been one of its main security guarantors for many years, was no longer able to protect it amid strained relations with Azerbaijan over Nagorno-Karabakh. Yerevan is disappointed in Moscow and has to admit that it was a mistake to trust this country.
This is stated in the material of CNN. Recently, relations between the two countries have changed. And this could be a turning point for Yerevan.
The journalists reminded that the US military recently arrived in Armenia to train peacekeepers, which caused a negative reaction in Russia, which for decades has been the only guarantor of security for the former Soviet republic. This may indicate that Yerevan is leaving the sphere of Moscow's sole influence.
In addition, Yerevan sent humanitarian aid to Ukraine, which is suffering from a full-scale Russian invasion. The country also plans to ratify the Rome Statute of the International Criminal Court.
According to it, the country will be obliged to arrest Russian dictator Vladimir Putin if he comes.
"Armenia's flirtation with new international partners has been fueled by its frustration that Russia has been unable or unwilling to protect it from what it sees as aggression by neighboring Azerbaijan, and has raised questions about Russia's ability to maintain control over countries and conflicts in the former Soviet Union," the newspaper writes.
"Armenia's security architecture was 99.999% connected to Russia. But today we see that Russia itself needs weapons... Even if it wants to, Russia cannot meet Armenia's needs," Armenian President Nikol Pashinyan said recently.
The 44-day war between Armenia and Azerbaijan in the fall of 2020 for control of Nagorno-Karabakh exposed Armenia's military inferiority. Azerbaijan, using drones and F-16 fighters, won a crushing victory, claiming about a third of Nagorno-Karabakh's territory. Then Russia helped end the war by agreeing to a ceasefire. The agreement provided for the deployment of about 2,000 Russian peacekeepers in Nagorno-Karabakh to guard the Lachin corridor. However, the Russian peacekeepers did not prevent Azerbaijani troops from setting up military checkpoints along this territory, preventing the import of food into the Armenian enclave.
According to Vahram Ter-Matevosyan, an associate professor of foreign policy at the American University of Armenia, Russia's inability or unwillingness to intervene has caused many in Yerevan to feel betrayed.
"Armenia has invested 30 years of its independence - I would even say 200 years of its recent history - in the firm belief that when the time comes and when it is needed, Russia will fulfill its strategic obligations and protect Armenia from any external aggression. This did not happen in 2020, 2021, or 2022," he said.
This loyalty has entailed many losses of Armenia's interests.
"Over the last 30 years, Armenia has done almost everything Russia wanted," the expert said, adding that this included, for example, the suspension of the country's European integration efforts in 2013 after Moscow expressed its dissatisfaction.
Yerevan has long danced to Moscow's tune and waited for the fulfillment of security obligations that Russia allegedly fulfills through the Collective Security Treaty Organization (CSTO). But in recent years, analysts say, a trail of unfulfilled promises has emerged.
"Russia failed to fulfill its promises on the security of the Lachin corridor... Russia failed to deliver the weapons that Armenia purchased from Russia, Russia failed to stop Azerbaijan's expansionist and aggressive behavior against Armenia," Ter-Matevosyan listed.
In response, he said, Armenia felt it had no choice but to diversify its security apparatus.
According to the article, it is still unclear whether Armenia's efforts are aimed at creating new international partnerships or are solely its attempts to strengthen its security and establish broader relations with the West.
"For Armenia, as a small country, it is quite risky to make a U-turn or a big geopolitical leap," said Anna Ohanyan, an expert on Russian foreign policy at Stonehill College in Massachusetts.
According to her, instead of completely severing ties with Russia, Armenia is simply "diluting" its influence. However, even these modest steps can put Armenia on a path that is difficult to turn back from.
"If Putin woke up tomorrow and suddenly started providing some specific security guarantees, I don't think Armenia's foreign policy would change," Ohanyan said.
As OBOZREVATEL previously reported, Pashinyan has once again said that his country can no longer consider Russia a guarantor of its security amid strained relations with Azerbaijan over Nagorno-Karabakh. Since the full-scale deployment of troops to Ukraine, the Kremlin has been permanently losing ground and weakening, which cannot but affect its attitude toward its former allies.
Only verified information on our Telegram channel Obozrevatel and Viber. Don't fall for fakes!