Trending:
Jason McCue: Putin pays for the services of terrorists. We will prove it in court. Interview.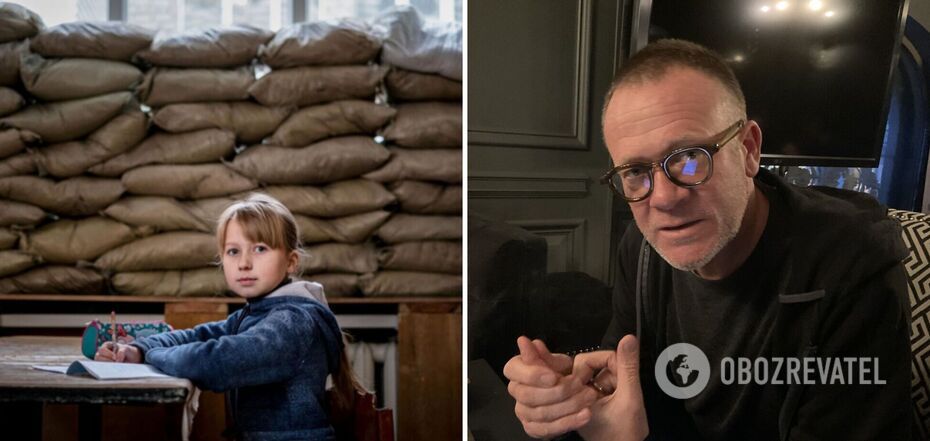 First, Wagner should be recognised as a terrorist organisation
On November 1, a High Court case in London was initiated against Yevgeny Prigozhin and PMC Wagner regarding the confiscation of assets with the subsequent payment of reparations to Ukrainians affected by crimes of terror (terrorism). This process is being handled by Jason McCue, Chairman of the British law firm McCue Jury & Partners.
McCue is known for his involvement in many high-profile cases. For example, Bellingcat V. Prigozhin, and he also sued Libyan dictator Muammar Gaddafi on behalf of the victims of the "Irish Republican Army", who supplied explosive materials to the IRA for use in terrorist attacks in which relatives of victims were injured. This case was won in the United States, and relatives of the victims received compensation of up to 10 million USD. McCue hasask sued Hamas, al-Nusra and Facebook, and now he has come to Kyiv to collect evidence of the terrorist activities of Wagner and Prigozhin personally.
– Jason, there is very little information about your London lawsuit against Prigozhin. I would like to ask you to tell me more about it…
– It is a good thing that the information is limited, because the enemy will know our tactics before we start acting. We want to track down the enemy's assets as part of this case, and this is a kind of cat-and-mouse game in a sense. This is part of a wider campaign, and the UK case is the first step, but there will also be a number of others, and all of them are aimed against the Russian war machine. Thete are individuals and institutions that help Wagner Group and Putin circumvent sanctions. These include Russian oligarchs or institutions who were hired to assist and facilitate Wagner. Included in this category there may be private military companies, arms dealers, and private companies that help circumvent sanctions in terms of gold supplies, banking facilities and other services provided to this war machine.
I have several goals in this process. The first is to maximize the amount of reparations paid to Ukrainian victims, and to ensure they receive reparations from those who are responsible for the damage caused, and not from donors. I believe that Ukrainians should not receive symbolic compensation, but real and significant payments.
The second is to influence the operation of the Russian war machine in such a way that its owners are forced to think about court cases around the world and focus on these court cases – instead of focusing on waging war.
The third is to give the people of Ukraine an instrument of justice, which they can use free from political negotiations.
The fourth goal is to prove that the Russian war machine uses terrorism as its tool; in Russia, it is terrorism for hire, Putin pays for those services – and all this will be proved in court. Last but not least, the processes should be a pain in the ass for Russians. This is our idea.
– The key assets and interests of Prigozhin and Wagner are located either in Russia, the Emirates, or Africa. Africa for him is generally a big criminal empire for mining operations and drug supplies. How can you get to all this? These are closed areas, aren't they?
– They are not closed to court decisions made in courts in the UK or in the United States. We work closely in this regard with Bеllingсat, as well as with private intelligence companies around the world that provide us with information. The relevant authorities in Ukraine also assist us with providing the necessary information.The only thing I won't tell you is what we're targeting. I won't tell you before it happens.
– Today Prigozhin privatized part of the state. He got the right to amnesty prisoners, to access federal budgets, in fact, he creates a shadow state. Not even a shadow economy, but a shadow state, which is impossible without Putin's support. Can this investigation end in the prosecution of the Russian president? Will Putin appear as an object of prosecution in this case? We really want to see him in the dock.
– As soon as we get all the necessary data and information, then we can start using different jurisdictions to bring claims. Because in different jurisdictions, it is easier to prove certain things, and we will be able to make this case on the necessary elements of the relevant laws, and thus achieve our goals. The skill-within this concept of lawfare – is that you need to know in which court and in which country to prosecute a particular person, company, or institution, and this is the difficulty of the game.
– How long is your campaign calculated in time?
–I believe that this campaign will continue until all affected Ukrainians receive well-deserved reparations from their abusers. On average, this takes from 1 to 3 years. If it lasts 10 years – it's okay, we will do it as long as necessary, if it happens in 3 months – great. And the time frame is dependent on the specific case, on the court and on the legal system in the state in which the trial takes place. Because, for example, a case can last one year or three years – depending on how the opposition choose to defend themselves, and how they react to the claims.
I think that now Ukraine will do the right and proper thing when talking about international tribunals to punish criminals. The problem is that such judicial formats are very dependent on political factors, so they force you to limit your expectations for the future. I think that within the framework of such tribunals, these reparations will be symbolic. Therefore, I want to start this second parallel line of justice for Ukrainians, which is independent of political factors.It is important that there is an intention to move along this second, parallel line of justice, which has not been done before, but we have now started this case, and it is very important that we have received the support of your government and the Office of the President in this direction.
– Is the Office of the President the main customer?
– No, the Government is not our client, in fact, these are individual people, heroes who suffered from this war, and this is their collective case and their class action. As a private lawyer, I help them achieve this, but all this requires a great degree of coordination, and without proper assistance from the government of Ukraine and the Office of the President, this would not be possible, and the positive story is that this support exists.
– So, someone has physically applied to you with applications and who else can apply?
– Yes, in every lawsuit, in every other country, there are a number of people who can potentially become claimants in this case. If we are talking about a case that started in Britain, then we started with a small number of people to start the process. But about 180,000 people who were affected and came to the UK as refugees are potential claimants in this case. I will add that for each case there will be different groups of claimants from the Ukrainian side.
– How can Ukrainians from Bucha, Irpin or Mariupol join this initiative?
– All this will be clarified soon. Now we need to understand that in the framework of these cases, we are seeking to prove that Russia uses the tools of terrorism against Ukraine and Ukrainians. Terrorism affects people in different ways. That is, the victims are not only those who were shot, tortured or raped. Because of terrorism, people had to evacuate, that is also a manifestation of terrorism. In countries where Ukrainians have fled from this horror, they have the right to sue in the courts of that country. This is a smart idea, do you think it makes sense?
– Yes, of course.
– Legally, this is a very good idea. We are also considering providing assistance to Ukrainian companies in order to launch such legal actions in various jurisdictions.
– At the beginning of the war, most Western countries perceived Putin as a political partner to sit down and talk to. Do you think it's possible to get him recognized as a terrorist?
– There is a need to balance justice and real politics. It's a big game. But I am not a politician, my field of activity is the law, and in my field of activity I know how to show everyone that Russia is an exile, it should be banned by the international community. Therefore, it is very important that in this case we will prove that Russia is a state sponsor of terrorism and a rogue state. Look at what they've come to – they've sent a sledgehammer to the European Parliament. After that, there's no turning back, it can't be rewound. These are my thoughts on this.
– How many billions of dollars can you get as reparations?
– A lot. But in the first case, the most important task is to get recognition that the Wagner Group are terrorists, hired terrorists, they are hired by Putin. This is important to me, and I'm focusing on it.
Wagner should be recognized as a terrorist organization at the international level. It is for this reason that the national parliament of Great Britain, as part of their parliamentary investigation, asked me to provide evidence that Wagner is a terrorist organization. Because in fact, I have been doing this business for about 30 years, and I have experience. If my opinion, which I have already voiced to the British parliament, is supported by a court decision, parliament will recognize them as a terrorist organization.
6 months ago, when we were just starting this case and planning our work, I sent relevant letters to the head of the US State Department, as well as to our Minister of Foreign Affairs and Minister of the Interior, where I said: recognizing Wagner as a terrorist organization is the first step in the fight against them. All these institutions knew that this case would be conducted, and it in itself is a very big incentive to grant the status of "terrorist" to this organization. Because they know that when we start a case, citizens start asking the government, "why isn't this recognition happening?". Thus, political pressure is exerted on its own government.
– You defended Bellingcat in the trial with Prigozhin. What was the point?
– Then the case was against the founder of Bellingcat: Prigozhin filed a lawsuit that allegedly he is not the head of Wagner. By the way, he gave up then, and we won. 1:0. Let's now get to the score 5:0.
– There was also a case in Belarus. You had a lawsuit against Lukashenko. How did it end?
– We were then hired by political prisoners from Belarus, and the task then was to put pressure on the Government of Lukashenko to release them. Therefore, we said that we will use legal cases around the world against individuals, such as Mr. Lukashenko's ministers, and every time his minister attends an international event, a personal case will be initiated against him in that country. This then scared them very much: for example, when a particular minister visited a security conference in France, on the same day the French law enforcement agencies opened a case and that minister was forced to run away very quickly. We actually achieved our goals, and these prisoners were released. This is our approach, as well as a fun moment for such law firms. You don't always need to open cases, sometimes you can just threaten the case to achieve results.
Now imagine how much fun it can all be in the trials against the Russians. If our friends here in Ukraine give us the right "legal weapons", we can have a very satisfying process.