Trending:
Georgian president admits Russian Federation will attack the country again if "Ukraine falls"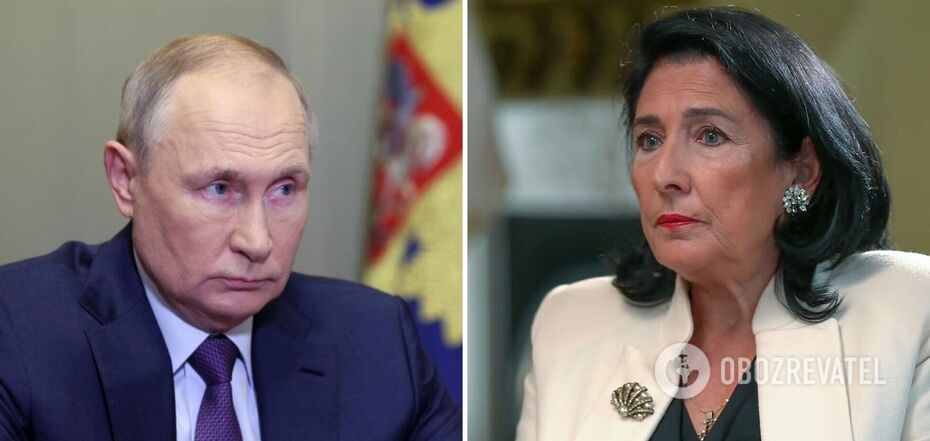 Zurabishvili is convinced that Russia will attack Georgia or the Baltic states if Ukraine is defeated
If Ukraine fails to resist Russian aggression, Georgia or the Baltic states will be the next target for Russian attack, and democracy and the future of the whole of Europe will be at risk. However, Ukraine will win the battle against Russia, as the long and fierce resistance of Ukrainians that has stunned the world proves.
Russian President Vladimir Putin has already lost the first "round" of the war in Ukraine, and now Europe's task is to help Ukraine achieve a final victory and force Russia to stay within its borders and behave like a normal state. This was stated by the President of Georgia Salome Zurabishvili in an interview with the Lithuanian TV channel LRT.
When the interviewer asked Zurabishvili who would be the next target for Russian aggression if Ukraine loses the war with Russia, the Georgian president suggested that it could be his country or one of the Baltic states.
"Us or they (will be next if Russia is not stopped - Ed.). You have already told us that we will be next if Russia is not stopped in Ukraine. We have Russian military bases in the occupied territories. Europe and the future of democracy is under threat," she said.
Zurabishvili called the Russian-Ukrainian war "the most important battle" and predicted that Ukraine would win it.
"This is the most important battle that is currently taking place in Ukraine, and Ukraine will win this battle because it has resisted for so long that the rest of the world thought it was impossible. This is perhaps the most important military tool it can use to show that Ukraine is invincible. The resilience and courage demonstrated by Ukraine and its president show the world that it is possible to question Russian military power, confront the Russian military, and humiliate the Russian military because of everything that has happened. Changes in the military command, endless changes in the war strategy, and the story with Prigozhin: all show that the Russian president has not finished what he started, continuing the war in the KGB style, not according to the rules of war," the President of Georgia emphasized.
She is convinced that Putin lost the "first round of the war" and only Ukraine's final victory will ensure lasting peace and stability in Europe.
"Now Ukraine must win, and Ukraine's victory will lead to victory for all of us and will help ensure peace and stability. I'm speaking very selfishly, of course, but it will help ensure the security of the Black Sea region, which is irreplaceable and especially important for Europe. This is what we are talking about when we talk about the war in Ukraine. The Three Seas Initiative, which we have not yet joined, is certainly an initiative that is very interesting to us and will help secure our future. All the big projects that Europe is implementing in our country contribute a lot to our success and the success of Ukraine," Zurabishvili said.
She believes that until Russia realizes that it is better to stay within its borders, peace and tranquility can be forgotten. If Ukraine does not win, it is only a matter of time before Russia intervenes again.
"The fact is that only Ukraine's victory can ensure peace, so we have to make sure that Russia does not go beyond its borders and behaves like a normal state. Until this happens, no one can live in peace and no one can say that we are not threatened by further interventions, because Russia will remain Russia as it was, as we saw and knew it, as you know it, as we know it, and as many Europeans know it," the Georgian president emphasized.
Zurabishvili is also convinced that Europe must help Ukraine win. After all, only joint efforts can stop Putin. So far, Europe has managed to maintain impressive unity and solidarity, which came as a complete surprise to the Kremlin.
"Ukrainians and, of course, the solidarity and unity of all European partners (will be able to stop Putin. - Ed.). Indeed, all of this does not meet Putin's expectations, as he expected to split Europe and that many allies would immediately stop supporting Ukraine. This has not happened, and public opinion remains very stable. Indeed, it is rare to see solidarity at such a high level for such a long time, including in the media. It is a very rare case. The support of the United States, which has been provided regularly, is seen during Zelensky's visit to Washington as well. The Russian president did not expect this," Zurabishvili emphasized.
As a reminder, on September 18, the Constitutional Court of Georgia began impeachment proceedings against President Zurabishvili. The case against the incumbent president was initiated by the ruling parliamentary party, which pursues a pro-Russian policy. Party members accused the pro-European head of state of violating the Constitution by visiting EU countries without government approval.
Only verified information on our Telegram Obozrevatel and Viber. Do not fall for fakes!