Trending:
"We fell every two meters": Ukrainian intelligence officer shared how he rescued a wounded compatriot from under fire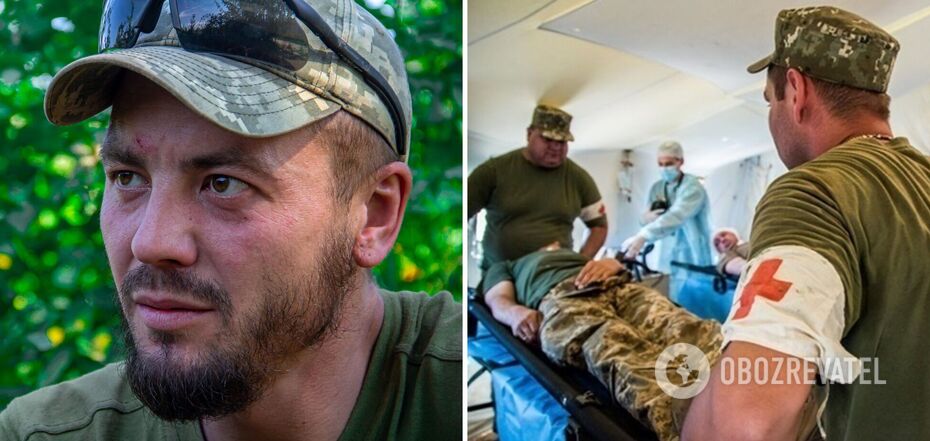 The occupants winged the defenders with massive fire from ''Grads''
An intelligence officer of the 32nd separate mechanized brigade of the Armed Forces of Ukraine shared how he rescued a wounded compatriot from the battlefield under heavy fire from enemy Grad MLRS. The shells were whistling over the heads of the defenders and every few meters they had to fall to the ground to survive.
The warrior's story was published on the Facebook page of the 32 SMB. "Then our guys had to move back a bit from their positions. They were shelled quite a bit. Grad MLRSs were working. There were a lot of wounded," Oleksandr said.
He added that the reconnaissance went to these positions at night as the task was to make a way back and clean up the trenches. According to the information of the soldiers, the occupants did not gain a foothold there.
"We reached the site, searched all the positions and bushes nearby and saw no signs of the enemy. Already in the morning, the massive shelling started again. Grad MLRSs were working. But we managed to find our wounded guys. We had to bring them out because they would not have survived. We heard whistling above our heads. We took them and went back. Every few meters we fell to the ground so that the shrapnel would not hit us," the officer said.
Oleksandr noted that during the explosions one should fall, right where they are standing. People often start to run, which is a certain death.
"To save a person under such circumstances, you have to put him on the ground forcibly. I don't even know the name of the fighter I took out. Somehow I didn't ask. There was no time for that. We were out at 4:00 in the morning. I only know that he survived. That's the main thing," the warrior said.
Oleksandr is from Lokhvytsia in Poltava region, he is a carpenter by education and has not served in the army before. He got into reconnaissance by accident. When a large-scale war began, he could not sit at home, so he filled out a questionnaire and was assigned. He was trained in Germany at a NATO base.
"The intelligence officers' job is to get men into the position abandoned or recaptured from the enemy. We also set up an observation post. In practice, it looks like this: we go ahead 300 meters ahead, go in first, look if there is no enemy, no stretch marks, no mines. We have a sapper with us. The infantry goes in when everything has been checked. Then we either go back or climb closer to the enemy and set up an observation post. There were times when we climbed through thickets to the enemy positions. We climbed up to a hundred meters," the soldier says.
He added that ideally intelligence officers do not shoot, although in practice it can be different, because they go "to the very hell".
"There is a saying that when a scout begins to fight, it is no longer a scout, but infantry. I had to be an infantryman. If everything goes according to plan, we report on enemy actions and take photos from the arranged post. We usually go in for 1-3 days, then we rest," he said.
According to him, the occupants often leave their dead and wounded at the positions.
"It's amazing to us, but they don't take those who can't walk with them. Probably so that they won't run away. In general, they treat people like meat. They often send them to storm through mines, right under bullets. When I know the terrain and receive tasks, I often correct the path with the commander. They follow orders without thinking. It may be better for the war, as their losses are much higher," the scout said.
Friends, settled life and calling relatives helps Oleksandr recover from the fights.
"The guys in our unit are mostly good. We are already like a family. They cook everything deliciously. We made both stuffed cabbage and olivier. We really want home-made food. We've had enough sardines and stew for many years to come," he says.
Oleksandr misses his daughter and son, who are 4 and 2 years old.
"I call regularly, my daughter cries, she really wants me to come. They promise to give vacations and I will go at once. I hope that by the end of the year we will win. I think so... I want it very much! First I'll go home to my family. I'll be with them for a while, have a rest. Who knows, maybe then I'll sign a contract. I think we need a strong army for the future. The Russians will not leave us," the warrior says.
As reported OBOZREVATEL:
- Former U.S. Marine Trevor Reed, who in April 2022 managed to be released from a Russian prison, went to fight for Ukraine. He was wounded and is now being treated in Germany.
- Ukrainian air intelligence officers showed how they used a drone to locate and rescue wounded twin soldiers in the video. One of the warriors was seriously injured.
Only verified information from us in Telegram-channel Obozrevatel, Threads and Viber. Do not fall for fakes!