Trending:
"Tough time, didn't expect it": Solovyov worried about Prigozhin's "coup" and dreamed of a march on Kyiv and Lviv. Video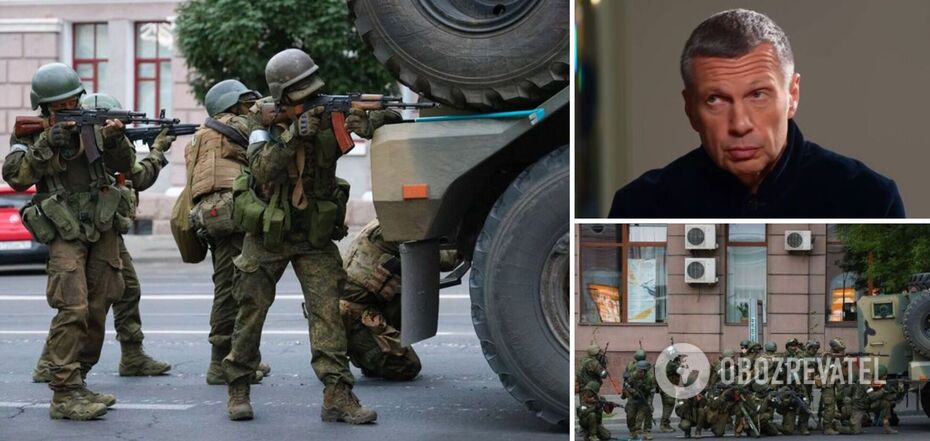 A propagandist worried about the possibility of Russia falling apart in a civil war
Vladimir Solovyov, the chief mouthpiece of Kremlin propaganda, became upset about the "coup" that Wagner's PMC leader Yevgeny Prigozhin had staged in Russia. Solovyov said "hard times" have come because of the internal conflict in Russia.
A video of the propagandist's address has begun to circulate online. It shows a distraught Solovyov worried about the possibility of Russia's disintegration.
"Are we going to allow the country to be lost? - declared the propagandist. - Stop it before it's too late. There is nothing scarier than a civil war."
The propagandist said 25,000 Wagnerians would come in handy at the front. He dreams that these troops should go to Lviv or Kyiv, not Moscow. Also, Solovyov once again remembered to recall the fable about the so-called "Ukrnazis" who are supposedly being fought by the Russian occupation troops in Ukraine.
"Guys, get a grip! The enemy is there, in Ukraine," the propagandist said.
Solovyov also compared Prigozhin to the leader of the fascist movement in Italy, Benito Mussolini.
It should be noted that Wagner leader Yevgeny Prigozhin announced a coup against the Russian Defence Ministry after the June 23 strike on Wagner camps. The owner of the private military company threatened to take revenge on the Russian troops and their commanders, saying that "the next step is up to us".
The Wagnerians subsequently seized military installations in Rostov-on-Don. At around 2am on 24 June, Prigozhin announced that they had allegedly "flipped the state border" in all directions and were infiltrating Rostov.
Earlier, it was reported that on Friday, 23 June, the Wagner PMC said that Russian army personnel had struck at their camps. As a result, many Vagner members were wounded and there were also fatalities. Yevgeny Prigozhin, the owner of the PMC, promised to take revenge and the Russian Federation put law enforcers on alert.
Recall that Putin pounced on Prigozhin in an emergency statement and talked about the risk of capitulation. Putin said Russia was facing treason and a "stab in the back" because of "inordinate ambition".
Only verified information from us on our Telegram channel Obozrevatel and on Viber. Don't be fooled by fakes!