Trending:
The occupants hit the Antonov Bridge on the left bank of the Dnipro River with the "Iskander" missile. Video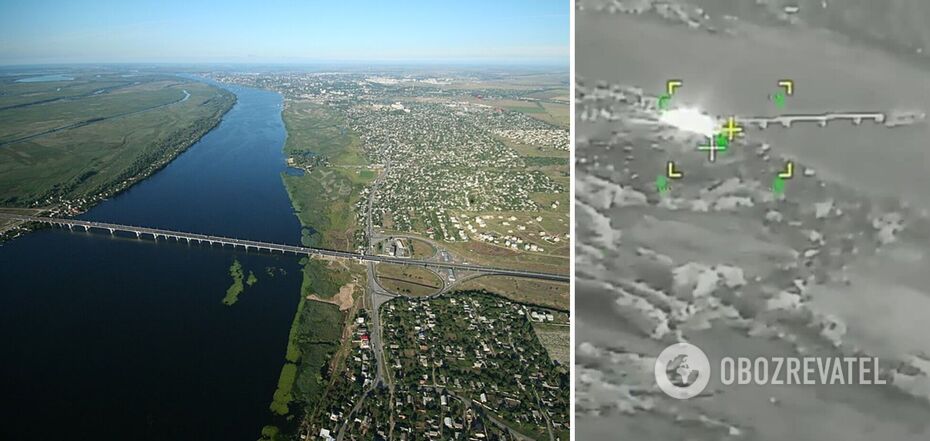 The Russian Armed Forces hit the Antonov Bridge near the left bank of the Dnipro River with the ''Iskander'' missile
On June 30, Russian troops struck the Antonov Bridge on the left bank of the Kherson region. They probably hit it with "Iskander" missiles.
Video footage of the strike appeared on the Internet. The strike was carried out amid hysterics by Russian propagandists that the occupiers could not do anything about the Ukrainian soldiers allegedly entrenched near the bridge on the left bank of the Dnipro River.
"The occupiers hit the Antonov Bridge yesterday, probably with an Iskander," wrote social activist, blogger and volunteer Serhii Sternenko on July 1.
In the popular video shot by the occupants of the impact, it is seen that one of the spans of the bridge fell after the strike. According to the occupant commenting behind the scenes, the Ukrainian soldiers allegedly set up a "bunker" near the bridge.
According to the UK Ministry of Defense, Ukrainian forces are conducting operations on the occupied bank of the Dnipro River near the destroyed Antonov Bridge. They are trying to resist units of the 7th Airborne Division. However, most of the Russian paratroopers have already been transferred to the Zaporizhzhia direction. However, on the whole, the British Defense Ministry concluded that it would be difficult to carry out any large-scale combat operations in this area due to the consequences of the Russians blowing up the Kakhovka dam.
Earlier, ISW analysts noted that Russian propagandists were hysterical about the Russian army's inability to dislodge small Ukrainian forces from the bridgehead on the left bank of Kherson.
They complain that the occupants have been unable to dislodge a small detachment of the Ukrainian Defense Forces (reportedly numbering up to 70 people) from the eastern (left) bank of the Kherson region for almost two weeks. On June 30, the occupiers launched an Iskander ballistic missile on the span of the eastern part of the Antonov Bridge in an attempt to prevent Ukrainian soldiers from using the structure as a shelter.
It is possible that the occupants were forced to use Iskander because of their inability to deal with Ukrainian soldiers by other means.
Only verified information in our Telegram channel Obozrevatel and in Viber . Don't be fooled by fakes!