Trending:
The Kremlin wants to bring workers from the DPRK to the occupied territories of Ukraine - CNR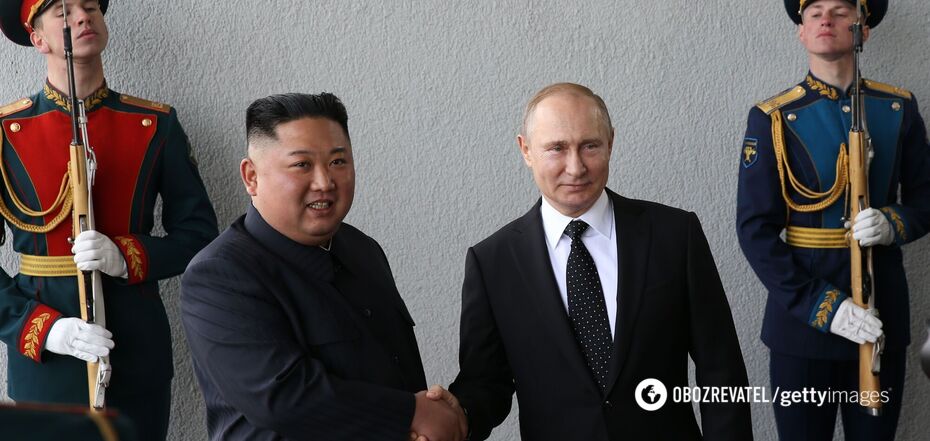 Putin persuaded Kim Jong-un to open ''representative offices'' in Donetsk and Luhansk
Russian President Vladimir Putin persuaded North Korean leader Kim Jong-un to open "diplomatic missions" in occupied Donetsk and Luhansk. The main task of these pseudo-diplomatic institutions is to facilitate the importation of DPRK citizens for construction work.
This was reported on September 17 by the Center for National Resistance (CNR) of the Special Operations Forces of the Armed Forces of Ukraine. They noted that as a result of the meeting of the dictators in the Far East, a number of agreements were signed regarding the temporarily occupied territories of Ukraine.
"The Kremlin dictator persuaded his Pyongyang counterpart to open his "diplomatic missions" in Donetsk and Luhansk. The main task of these pseudo-diplomatic institutions is not to strengthen economic cooperation or promote tourism (because these things do not exist in the DPRK), but to facilitate the import of workers to the TOT and involve North Korean citizens in construction work in these regions," the CNS explained.
The agency added that such actions by Moscow indicate a shortage of workers from the Russian Federation itself or labor migrants from Central Asia, whom it could attract to build engineering and fortification infrastructure and to construct in the interests of the occupation administrations.
In the spring and summer, attempts to recruit labor migrants into the Russian army have already been recorded. Therefore, it is possible that labor detachments of North Korean citizens will be used to support the occupiers, the CNR noted.
They also reminded that in late July, the Russian Foreign Ministry established its regional "representative offices" in Donetsk and Luhansk regions to attract foreigners to labor migration and to facilitate the establishment of enterprises by foreigners.
Employees of these "representative offices" should also actively work on creating new "diplomatic missions" to further talk about the "international recognition" of the occupied territories' belonging to the aggressor country.
Until 2022, such a role for Moscow was played by representatives of the so-called Commonwealth of Unrecognized States (Abkhazia, Nagorno-Karabakh Republic, Gagauzia, Transnistrian Moldavian Republic, and South Ossetia), who have been regularly visiting the occupied Crimea and Donbas since 2014, the CNR noted.
As reported by OBOZREVATEL:
- On September 16, in occupied Berdiansk, the occupiers ran a green light and hit a woman born in 1965 with her son. She died from her injuries.
- Russia could have transferred underage "military" to the Arabat Spit. They were placed in a school building in Shchaslyvtseve.
Only verified information on our Telegram channel Obozrevatel and Viber. Do not fall for fakes!