Trending:
Russia has a "plan B" for Ukraine: Danilov points to danger and explains what's behind Prigozhin's plane crash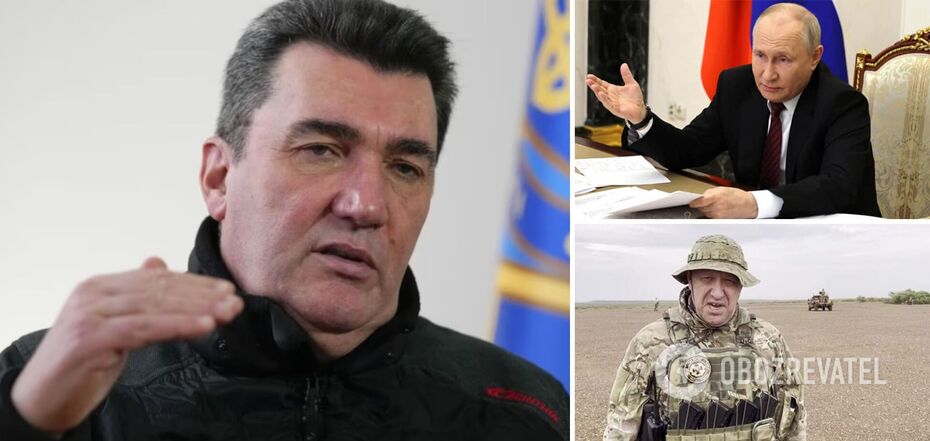 Russia is likely to begin a power transition
The Secretary of the National Security and Defence Council, Oleksiy Danilov, said that Russia will not be able to defeat Ukraine militarily. But the aggressor country has a "plan B", which is to destabilise the enemy internally.
He spoke about this in an interview with Radio Liberty. According to the NSDC Secretary, it is impossible to predict the development of the war.
"It depends on many factors. Today, I don't think there is a person in the world who can give you these forecasts. Once again, I emphasise that forecasts in war are not a correct thing. It depends on a lot of circumstances, it depends on a lot of things that will happen, not only in Russia but also in other countries of the world. Because the whole world is interconnected. It is, I can say, a single coordinate system," he explained.
Danilov noted that Russia is supported by some countries, such as Iran. He is convinced that if this were not the case, the occupiers would have run out of steam and would not have been able to conduct the kind of hostilities they are conducting.
"The only thing I want to say is that the Russian Federation cannot defeat us militarily. Therefore, it has a plan B. It is to try to shake our country through internal destabilisation. But we will be vigilant here and will not allow the events that the Russian Federation is counting on with the help of those media collaborators whom we have recently been recording more and more, who came from Luhansk at one time, ran around with Colorado ribbons, and now they are sitting on YouTube... Unfortunately, not on the territory of our country, but nevertheless, they pretend to be Ukrainians and start telling us that they are analysing something there," he said.
In addition, the NSDC Secretary commented on the death of the head of the Wagner PMC, Yevhen Prigozhin, noting that this is a blow to the Kremlin dictator Vladimir Putin himself.
"Let's wait for it. We shouldn't touch something when it's so hot. We should wait until it cools down a bit. And we will understand all the events that took place," he said.
According to Danilov, Prigozhin's march on Moscow in June could not have taken place without the support of the Russian Federation's security forces.
"Prigozhin was not a crazy person to decide to organise that march on his own. Those people who gave him instructions to move towards Moscow, they stopped him. Moreover, everything that happens will have consequences. This is not the end of all these things that will happen in Russia," he explained.
The NSDC Secretary also added that Russia has most likely begun a power transition. Putin is already losing control of his country. And there will be a lot of interesting events in the near future.
"And I can once again note that the fragmentation of Russia has begun and is already underway. And if the West does not want to pay attention to this, does not want to prepare for it, then this is a big mistake of the West. And they need to understand that this will happen regardless of their desire or unwillingness. Russia will be fragmented," he concluded.
As OBOZREVATEL previously reported, the Institute for the Study of War is confident that Russian dictator Vladimir Putin almost certainly ordered the downing of the plane belonging to the Wagner Group. Analysts believe that this was the Russian dictator's revenge for the humiliation caused by the armed rebellion of the Wagner group on 23-24 June. That is why the elimination of Prigozhin and the Wagner commanders was as demonstrative as possible.
Only verified information is available on our Obozrevatel Telegram channel, Threads and Viber. Don't fall for fakes!