Trending:
PMC "Wagner" to penetrate the Suwałki Corridor from Belarus? Interview with General Romanenko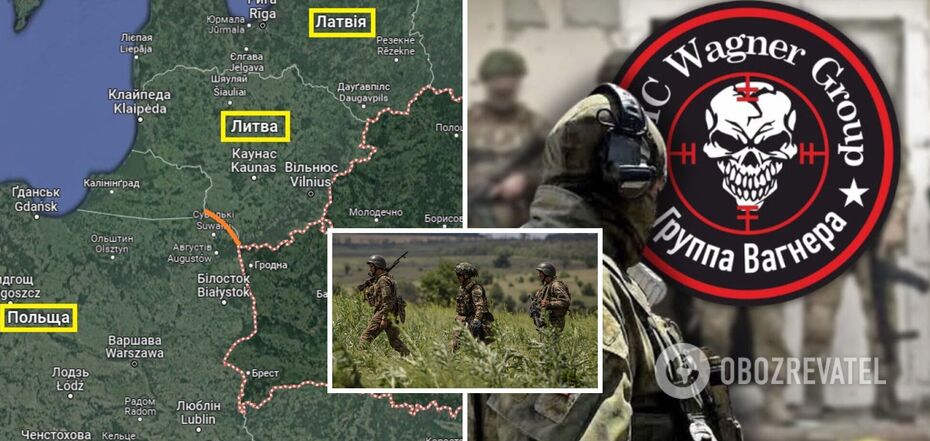 PMC ''Wagner'' in Belarus accumulates forces
There are currently about 6 thousand "Wagner" soldiers on the territory of Belarus and the number of this group of trained assault infantry is constantly growing. Their main problem is the lack of heavy equipment. It is also unclear whether the Belarusian self-proclaimed president Alexander Lukashenko will be willing to provide them with the neccessary arming. However, Wagner can conduct reconnaissance against not only Ukraine but also Latvia, Lithuania and Poland even in its current state.
In fact, both dictatorial regimes (Russian and Belarusian) put pressure on the European countries bordering Belarus. That's mainly concern the threat of seizing the Suwałki Gap, a notional corridor running from Belarus to Russia's Kaliningrad Oblast. Currently, the number of the Belarusian "Wagner" group is not too large for such actions. NATO also hastened to assure the Baltic States and Poland that it would support them in deed. Nevertheless, the situation is changing rapidly and must be constantly monitored. This opinion was expressed in an exclusive interview with OBOZREVATEL by former Deputy Chief of General Staff of the Armed Forces of Ukraine, Lieutenant General Ihor Romanenko.
Head of the Defense Ministry of Ukraine Oleksiy Reznikov in an interview with CNN predicted that in July 2024, Ukraine may become a member of NATO and the war will end with our victory by then. Is it really possible that the timeline could be exactly that?
There are prospects for such an approach. I hope that Mr. Reznikov has much more information on this subject and that his policy statements of a strategic order are based on such data.
In order for such approaches to be realized a year from now, we need to implement the current year's plans. However, so far this is happening in a rather difficult way. We have not finished the strategic defensive operation in the east of our country and the enemy is advancing in Kupiansk, Lyman and Svatove directions. At small distances indeed, but still advances.
In the south, the Ukrainian army is carrying out offensive actions, but their pace is insignificant for a number of reasons. Therefore, the tasks of the summer campaign, including one to cut the land corridor from Russia to Crimea, have not yet been accomplished.
I would advise not to focus on this strategy. We are striving for it and we need it. Making these kind of statement is good. But what is happening now is more important as it defines that bright future that Mr. Reznikov talked about.
President Zelensky made an interesting statement about the "drone army". According to him, good news about the use of Ukrainian drones will be more frequent. Do you think that against the backdrop of our increasing capabilities, it is the "drone army" that can provide a turning point in the war?
There is a indeed a trend of strategic order in waging wars (this and future), where the role and place of drones will increase. Moreover, we are talking not only about aerial drones but also about unmanned platforms operating on land, at sea and underwater. These technologies are being practiced by the world military science, including the experience of the Russian-Ukrainian war, in which we are fighting for our liberation.
As the prospect of drone use is seen, we need to increase both their quantity and quality. Steps have been taken by our military-industrial complex. At the end of last year and the beginning of this year, several dozens of drones were adopted by the Ukrainian army. We see that the number of drones that can cover distances of hundreds of kilometers has increased. This is confirmed by the strikes on facilities in Moscow and in Crimea.
However, it is necessary to realize that the Russians are also learning from this war. They have drawn conclusions and implemented approaches related to increasing the number of drones, in particular the Lancet barrage munition and others. While the number of drones of our production is down to a few dozen plus those drones provided by allies, the Russians have tens of thousands of drones. The enemy is building up its capabilities in this regard.
Therefore, our task is not only to increase the quantity and quality of drones, including those that are more resistant to the enemy's EW means, but also to develop means of suppressing the enemy's drones. This is a very important area. We have developments, we have the relevant weapons from allies that are provided to us, but this is not yet enough.
A new heating season will start soon. Do you think that the enemy will intensify strikes on Ukraine's critical infrastructure again? Can we expect that in a matter of months our facilities will be better protected from enemy strikes, particularly if we have the means of suppressing enemy drones that you mentioned?
They're already in place. I think the enemy will not forget our critical infrastructure facilities, because it is still pursuing this strategic approach. We see how it acts in the grain deal. Its goal is to undermine Ukraine's economy, cause irreparable damage and generally weaken our state's ability to maintain its Defense Forces. We see this all the time.
Therefore, unfortunately, there will be strikes. The potential of our air and missile defense is increasing, but it is not sufficient yet. In certain positions lik missile defense and in the air defense assets of the troops. We still need this since the troops need to be provided with air cover before carrying out combat operations. We will not be able to solve the problem with the help of man-portable air defense systems alone.
Moreover, some of Ukraine's allies even provide us with some new elements of armaments, but only to such an extent that they can be used at a testing range in Ukraine, made as an advertisement and thus earn money on these weapons in the world.
The work to increase our capabilities continues, but not at the pace we would like. It concerns both quantity and quality.
It was reported that the eleventh convoy of PMC "Wagner" arrived in Belarus on July, 25. It consists of at least 29 units of vehicles. Earlier, it was reported that about 3.5 thousand "Wagner" mercenaries were deployed in Belarus. We understand that such a group can hardly pose a serious threat, but we also see a trend of a constant accumulation of forces and means. Can Wagner threaten Ukraine in the future?
First of all, according to the latest data from open sources, the number of "Wagner" soldiers in Belarus has already increased to 6 thousand. I agree that the tendency to increase the grouping continues.
They are well-trained assault infantry, which has effectively shown itself during the war. So far they lack heavy weapons, but Belarus has the capabilities. It was said that the head of the Russian National Guard, Zolotov, had agreed with Putin that heavy weaponry would be provided to him. This was related to the Prigozhin mutiny. At that time, there was little heavy weaponry near Moscow, so the prospects for those defending the city were not good. One way or another this armament is now left in Russia.
Belarus has its own capabilities in heavy equipment, but the question is whether Lukashenko will do it. However, even these 6,000 lightly armed personnel of assault infantry can engage in reconnaissance from the territory of Belarus. It is not only with regard to Ukraine but also with regard to our allies, the Baltic States and Poland.
Thus, Wagner in Belarus creates tension to put pressure on the leadership of the states I mentioned, as well as Europe in general. In particular, we are talking about the danger of seizing the Suwałki corridor and related actions.
The leadership of these countries is taking this prospect seriously. The Poles have formed an engineering battalion, which is being transferred to the east towards Belarus. It will be ready to carry out remote mining. This is a very important element. This is what the Russians are doing in the Tavria direction in Zaporizhzhia region. In addition, troops are being prepared in the Baltic States as well.
There are political statements from the United States and NATO leadership that they will support NATO member states not only in words but also in deeds. At the same time, the probability that the Russians may start hostilities now is low, given the number and condition of troops. However, the situation should definitely be monitored due to the growth of the grouping.