Nikolai Patrushev said that Russia plans to recover the wreckage of the downed MQ-9 Reaper UAV in the Black Sea and accused the United States of participating in the war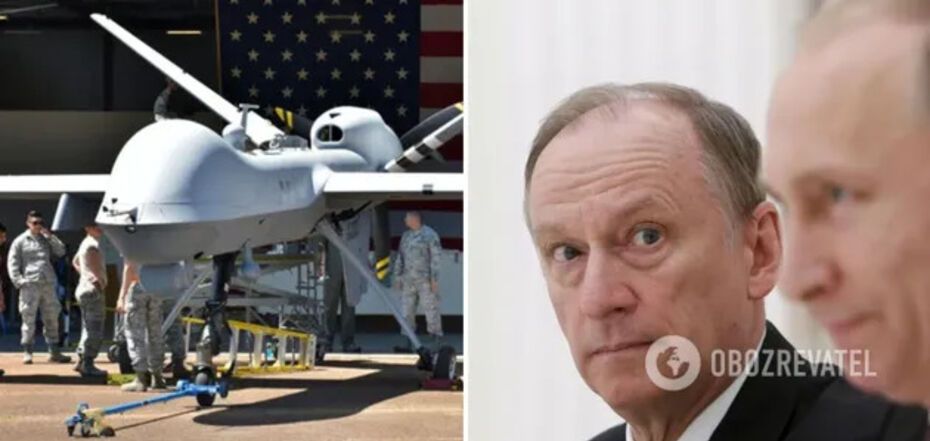 Nikolai Patrushev is dreaming of getting the wreckage of the American MQ-9 shot down the day before
Secretary of the Security Council of Russia, Nikolai Patrushev, said Russia would try to retrieve the wreckage of the American drone that crashed into the Black Sea after a collision with a Russian Su-27 the day before. He hopes that the Russians will succeed in doing so. The official also revealed that the situation with the American drone allegedly confirmed the "direct involvement of the United States in hostilities" in Ukraine.
Patrushev said this in an interview with the Russian propaganda channel Russia-1. Russian Security Council Secretary also said that Russia "must defend its sovereignty."
Thus, Patrushev revealed that Russia would try to retrieve the wreckage of the American drone that fell into the Black Sea.
"I don't know whether we will be able to get it or not, but we have to do it, and we will do it for sure," he said.
The Russian Security Council Secretary is hopeful that the planned operation will be successful.
In addition, Patrushev, following his "boss," Russian President Vladimir Putin, started to accuse the United States of direct involvement in hostolities in Ukraine.
"The Americans keep saying that they are not involved in the war. It is another confirmation that they are directly involved in these events," he said.
Patrushev saw the situation with the American drone as a threat to Russia's sovereignty and independence.
"We have to defend our independence, our sovereignty," he said, without specifying, however, how the American drone over the neutral waters of the Black Sea affects the "sovereignty and independence" of the Russian Federation.
To recap, on the eve of March 14, it became known that a Russian fighter jet collided with an American MQ-9 drone over the Black Sea. According to the U.S. European Command, on the morning of March 14, two Russian Su-27s made a "dangerous and unprofessional interception" of a U.S. Air Force reconnaissance drone. One of the Russian fighters damaged the MQ-9, forcing the Americans to land it in neutral waters of the Black Sea.
"Several times before the collision, the Su-27s dumped fuel on and flew in front of the MQ-9 in a reckless, environmentally unsound and unprofessional manner. This incident demonstrates a lack of competence in addition to being unsafe and unprofessional," the U.S. military added.
The U.S. European Command also claims that the MQ-9 Reaper reconnaissance drone was conducting "normal operations" in international airspace. Russia said it was allegedly headed for Russian-occupied Ukrainian Crimea.
On March 15, it became known that Türkiye may open the Bosphorus Strait to the United States to retrieve the MQ-9 Reaper drone shot down by the Russians.
Only verified information on our Obozrevatel Telegram channel and Viber. Don't fall for fakes!