Lithuania recognized Wagner PMC as a terrorist organization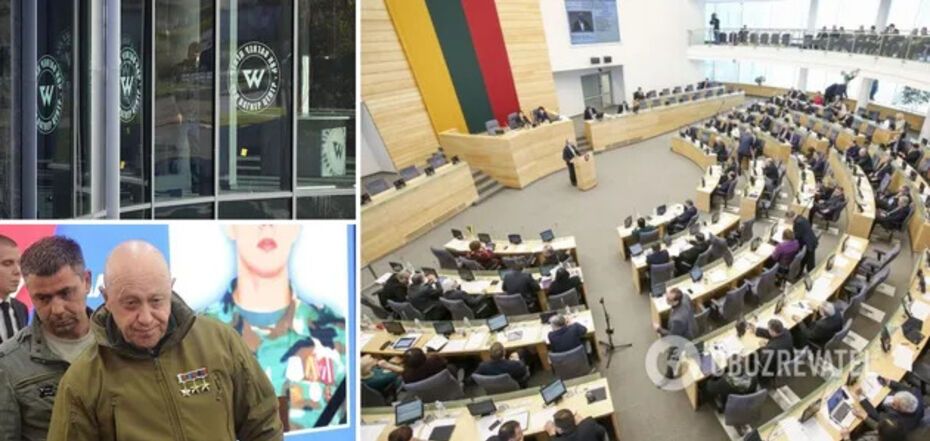 Lithuanian Seimas recognizes Wagner PMC as a terrorist organization
Lithuania has recognized the Russian private military company Wagner as a terrorist organization. Lithuanian deputies stated that this PMC poses a threat to national and public security and confirmed the support of mercenaries at the state level in Russia, despite the fact that the activities of private military companies in the aggressor state are prohibited by law.
The deputies of the Lithuanian Seimas voted unanimously for the relevant resolution. The LRT media reported about it.
During the voting on March 14, members of the Lithuanian Seimas unanimously supported a resolution recognizing the Wagner PMC as a terrorist organization. The resolution emphasizes that mercenaries of this Russian private army pose a threat to state and public security.
The document also calls on other countries to follow Lithuania's example.
Thus, the resolution states that since the beginning of the Russian invasion of Ukraine, mercenaries of the Wagner PMC have been involved in committing serious war crimes. In particular, they have been committing "systematic serious aggressive crimes - murder and torture of Ukrainian civilians, bombing of houses and other civilian objects - which is tantamount to terrorism."
"Wagner, a private military company founded by Yevgeny Prigozhin, a businessman close to Russian President Vladimir Putin, which is under EU and US sanctions [...], is a shadowy instrument of the Russian government," the document states.
The resolution of the Lithuanian Seimas also states that this PMC receives military equipment, including Grad multiple rocket launchers, tanks and armored vehicles from the Russian government for free and is trained by the Main Directorate of the General Staff of the Armed Forces of the Russian Federation (GRU).
The Lithuanian MPs reminded that the Wagnerites helped Russia occupy and annex Crimea in 2014, took part in the fighting in eastern Ukraine in 2015, and are also engaged in criminal activities in the Central African Republic, Sudan and Mali.
"The resolution also emphasizes the need for Lithuania to adopt a law on the prevention of terrorism, which will establish specific criteria for compiling a list of terrorist organizations and provide for sanctions against persons involved in their activities," the statement said.
Last May, the Lithuanian Seimas also recognized Russia's actions in Ukraine as genocide and Russia as a state sponsor of terrorism. In June, Lithuanian MPs called the deportation of Ukrainians to Russia a deportation of the Ukrainian people.
In August 2022, the Latvian Saeima recognized Russia as a sponsor of terrorism.
On January 26, the Wagner PMC was recognized as a transnational criminal organization in the United States.
Only verified information on our Obozrevatel Telegram channel and Viber. Do not fall for fakes!