Trending:
"Drones with claws steal the wounded": kadyrovets issued a "scary story" about the war in Ukraine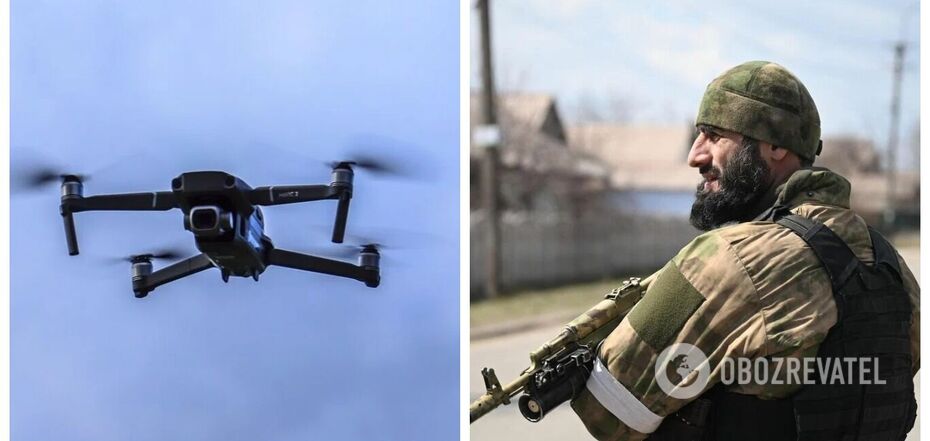 Kadyrovite has issued a ''scary story'' about ''Baba Yaga'' in the war in Ukraine
A Russian occupier has complained about the "Baba Yaga" with the help of which the Ukrainian military allegedly "steal" wounded invaders. The Kadyrovite said that this nickname was given to the drone, which is allegedly capable of carrying away a person.
At the same time, the war criminal said that the Russians can not shoot down "Baba Yaga", because Russian electronic warfare systems do not act on the drone. This is written by Russian propaganda media.
The Kadyrovite told the Kremlin media that the occupiers themselves gave the drone the nickname "Baba Yaga". The occupier gave out that the UAV, the size of a man, is capable of carrying up to four 82-mm and up to two 120-mm mines. At the same time, the invader complains that the drone operates exclusively at night, as it is easy to detect and shoot down during the day due to its noisy gasoline engine.
The apogee of the propaganda legend about Ukrainian drones was the "scaremongering" of the Kadyrovite about the "abduction" of wounded occupants by "Baba Yaga". The captor said that the UAV was equipped with special claws that could grab a person.
"The same large drones, only slightly modernized, were previously used by the enemy in the Zaporizhzhya direction to steal our wounded. The drone has special devices on it, visually resembling claws, with which it grabs a person who is unable to run away, hide or fight it off," the Kadyrovite gave out.
The occupier also complained that Russian electronic warfare systems do not work on Baba Yaga, so it is possible to destroy the drone only with small arms or grenade launchers. However, even in this case the occupants are powerless. Kadyrovets added that the Ukrainian military allegedly attached plates from their body armor to the Baba Yaga, making it harder to shoot down the drone.
We will remind, the captured Russian occupants told what the Kadyrovites from the detachment "Akhmat" actually do in the war against Ukraine. These fighters, who earned the fame of "TikTok-troops", are used as barrier units.
Earlier it was reported that the Defense Forces of Ukraine defeated in the area of Bakhmut in Donetschina militants of the unit "Akhmat" of the head of Chechnya Ramzan Kadyrov. The Kadyrovites are fleeing from their positions and suffering heavy losses.
Only verified information from us in Telegram-channel Obozrevatel and Viber. Do not fall for fakes!