Trending:
Ambassador of Ukraine summoned to the Polish Foreign Ministry due to Zelensky's words: Ukrainian Ministry clarifies the situation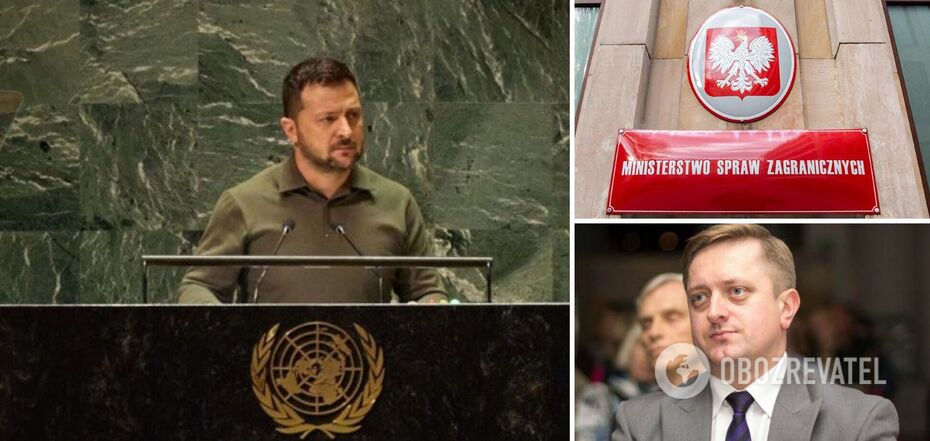 Ukrainian ambassador summoned to the Polish Foreign Ministry
Ambassador of Ukraine Vasyl Zvarych was summoned to the Polish Foreign Ministry because of a statement by Volodymyr Zelenskyy, who criticized Poland for imposing a grain embargo. Deputy Foreign Minister Pawel Jablonski emphasized that the Polish side expressed opposition to President Zelensky's words.
This was reported by Polsat News. Jablonski noted that this case is extremely important and politicians in Ukraine must change their narrative in their statements about Poland. The Ministry of Foreign Affairs of Ukraine also responded to this situation.
In his speech at the UN General Assembly on Tuesday, President Volodymyr Zelensky drew attention to the issue of restrictions on imports of Ukrainian agricultural products imposed by some EU countries.
"We are making every effort to preserve land routes for grain exports. And it is a matter of concern how some in Europe, some of our friends in Europe, demonstrate solidarity in the political theater by creating a thriller with grain. It may seem that they are playing their role, but in fact they are helping to create a stage for the Moscow actor," the head of state said.
He did not name specific countries, but he was probably referring to Poland, Slovakia and Hungary, which recently imposed restrictions on imports of agricultural products from Ukraine.
In response, the Polish Foreign Ministry summoned a Ukrainian diplomat and informed him of the "strong protest of the Polish side" against the words spoken in New York.
"This position was passed on, also with a request to pass it to the headquarters in Kyiv. We believe that the relations between our countries should be partnership and good. There should be no ill will on our part, and there is none. We clearly communicate our position. We do not accuse others of unfair, unjustified and unauthorized actions," said the Polish Deputy Foreign Minister.
He stated that the statement contained statements harmful to relations between Ukraine and Poland.
"We hope that this will not happen again. We decided that we need to say this to each other in a frank conversation, and in such an urgent manner, because this issue is important for millions of people in Poland and Ukraine," Jablonski said.
At the same time, Ukrainian Foreign Ministry spokesman Oleh Nikolenko provided details of the meeting between Ukrainian Ambassador Vasyl Zvarych and the Polish Deputy Foreign Minister in Warsaw. He noted that the Ukrainian diplomat explained the position that the Polish unilateral banon imports of Ukrainian grain is unacceptable for Ukraine.
As a reminder, amid disputes over the import of Ukrainian grain, Polish President Andrzej Duda urged Kyiv to remember the assistance provided and compared Ukraine to a drowning man. He said that he would firmly defend the interests of Polish farmers in the issue of agricultural products. The Polish president also canceled a meeting with Volodymyr Zelenskyy that was to take place in the United States, as reported by Polish media.
Ukraine filed a lawsuit with the WTO against Poland, Hungary, and Slovakia. In response, the three countries announced that they were suspending their participation in the Ukrainian grain coordination platform in Brussels.
Poland may block Ukraine's accession to the EU over the grain issue. This was stated by the Minister of Agrarian Policy Telus.
Only verified information on our Obozrevatel Telegram channel and Viber. Do not fall for fakes!