Trending:
Cancer can change a person's voice: How not to miss a symptom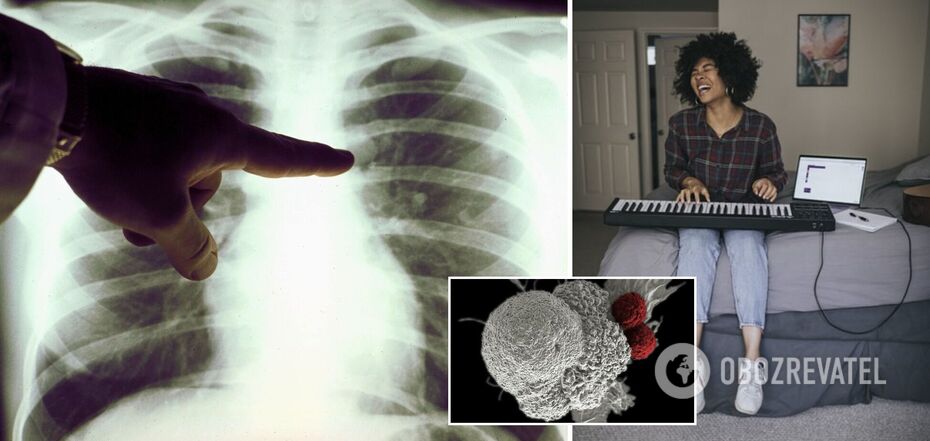 The only symptom of lung cancer can be a person's voice changing. At the same time, a kind of hoarseness that was not fixed before appears in it.
As told by Express with reference to the National Health Service in England(NHS), the most common type of cancer affects older people. So, according to Cancer Research UK, about 45 out of 100 people diagnosed with lung cancer in the UK are 75 years old or older.
The NHS reported that in the early stages, there are usually no signs or symptoms of the disease. they appear as the disease progresses.
"A chronic cough or a tumor that affects the vocal cords can cause people with lung cancer to have a hoarse voice," experts warned.
Experts stressed that early detection of lung cancer could mean it would be easier to treat.
"So if you notice any changes in your voice, check with your general practitioner as soon as possible," they noted.
The most common symptoms of lung cancer are known to be coughing, and chest infections that come back again and again or that are difficult to treat.
The NHS encouraged people who have a cough that lasts three weeks or more and it's not COVID-19 to see their general practitioner.
The NHS also identified some less common symptoms of lung cancer that some people may not be aware of.
These include changes in the appearance of the fingers, such as them becoming more curved or their ends becoming larger. Some people may also notice swelling of the face or neck or persistent pain in the chest or shoulder.
Talking about what can trigger this pathology, experts said it could be: harmful work, chronic lung disease, and smoking.
"If you smoke more than 25 cigarettes a day, you are 25 times more likely to get lung cancer than a non-smoker. If you don't smoke, frequent smoking by others around you can increase your risk of developing lung cancer," the health professionals said.
They also urged you to listen for feelings such as loss of appetite, constant fatigue, and weight loss. They may indicate lung cancer.
As reported by OBOZREVATEL, the doctor told me how to distinguish coronavirus from lung cancer.