Trending:
"Ukraine should join NATO as soon as possible, but...": Wallace names the main condition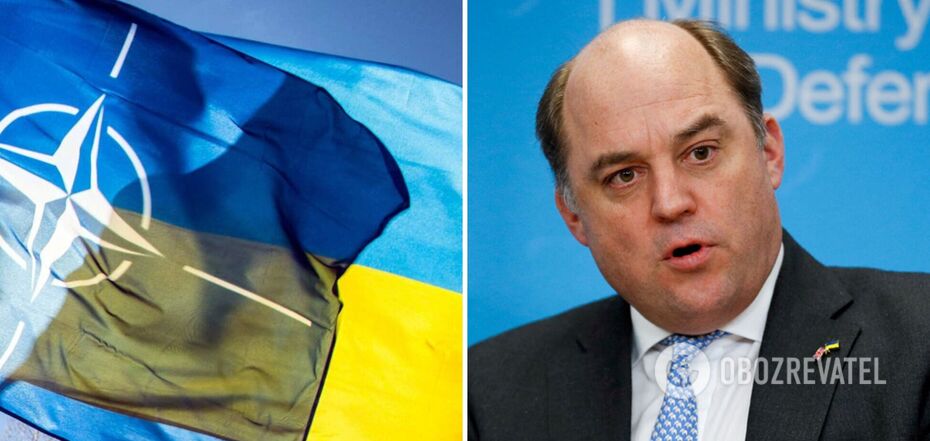 Wallace says Ukraine will become a NATO member after the war with Russia ends
Ukraine should join NATO "as soon as possible" because it deserves it and has already taken some of the necessary steps to join. However, this is not possible until the war with Russia is over, because otherwise such an expansion of the Alliance would mean "importing war into NATO".
This was stated by British Defence Secretary Ben Wallace during the NATO summit in Vilnius, Lithuania, CNN reports. At the same time, the head of the British defence ministry stressed that the member states of the Alliance will make efforts to ensure that Russia "fails in its illegal invasion of Ukraine".
In a commentary to CNN, Wallace said that Ukraine should join NATO "as soon as possible", but only after Russia's aggression stops. He expressed agreement with US President Joe Biden's position that Ukraine's accession to the North Atlantic Alliance before the war with Russia is won is impossible.
"I fully agree with the United States that we cannot have a new member in the midst of a conflict. It would simply import war into the alliance," Wallace said.
The British defence secretary stressed that NATO member states must "work together to ensure that Russia fails in its... illegal invasion of Ukraine" before approving Ukraine's accession to the Alliance.
At the same time, preparations for NATO's expansion to include Ukraine should begin now, so that by the time the war is over, the Alliance will be ready to accept our country as a full member.
"Given that we have an open door policy, it is important to state that we believe that Ukraine is indeed a member of NATO," Wallace said.
He also noted that Ukraine has already done something to further join the Alliance. In particular, Wallace believes that Ukraine's steps towards strengthening its armed forces and eradicating corruption have been successful.
"When this conflict is over, we should be ready to bring Ukraine into NATO as soon as possible," Wallace said.
As a reminder, the NATO Summit is taking place in Vilnius on 11-12 July. Its participants, the leaders of NATO member states, continued to work on the final communiqué of the summit almost until the very beginning of the meeting. According to NATO Secretary General Jens Stoltenberg, it will contain a "strong message for Ukraine".
In addition, according to Reuters sources, on the eve of the summit, NATO approved plans to defend against a Russian attack.
On Monday, 10 July, the day before NATO leaders meet at the Vilnius summit, the allies reached an agreement on regional military plans that detail how the Alliance would respond to a Russian attack. They agreed that NATO could go into action immediately if necessary.
Just before the start of the official part of the summit, US President Joe Biden said that NATO member states had agreed on a common position on Ukraine's membership.
His French counterpart, Emmanuel Macron, announced the transfer of long-range SCALP missiles to Ukraine, which has already caused hysteria in the Kremlin.
And Germany will provide Ukraine with a new military aid package worth 600 million euros: it will include, among other things, two Patriot missile launchers.
Only verified information is available in our Obozrevatel Telegram channel and Viber. Do not fall for fakes!