Trending:
What to make for a quick snack in 10 minutes: top 3 recipes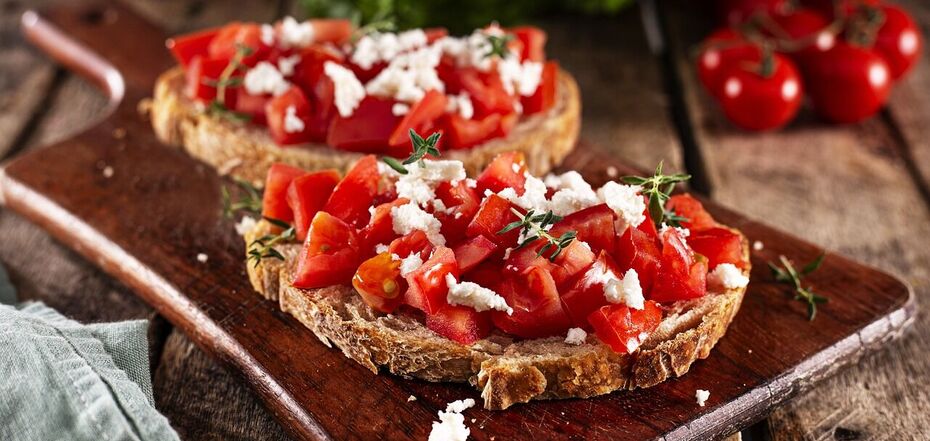 Bruschetta with tomatoes and cheese. Source: pixabay.com
Snacking is often an integral part of many people's daily diet. It should be light, balanced, and satisfying at the same time. To do this, you can eat some foods on their own or, if possible, combine them in one dish.
The FoodOboz editorial team has gathered information and will share with you recipes for three dishes that are suitable for a snack and take just 10 minutes to prepare.
Tomatoes with cheese in a pan
Ingredients:
tomatoes - 300 g
onion - 0.5 pcs
garlic - 1 clove
hard cheese - 60 g
sunflower oil - 2 tbsp
salt, pepper
Method of preparation:
1. First, chop the onion and garlic. Fry in a frying pan until golden brown.
2. Cut the tomatoes into thin slices and put them on the fried onions. Season with salt and pepper. Cover and simmer over low heat for 10 minutes.
3. Cut the cheese into thin slices and put on the tomatoes. Cover and simmer for another 5 minutes. Sprinkle the finished dish with herbs. Enjoy!
Sandwiches with ham and cheese
Ingredients:
whole grain toast bread - 6 slices
ham - 200 g
lettuce or Chinese cabbage - 50 g
red onion - 100 g
pickled cucumbers - 2 pcs
cheese - 60 g
mustard - 2 tbsp
Method of preparation:
1. Wash and dry the lettuce leaves, thinly slice the ham, cheese, cucumbers and red sweet onion.
2. Spread three slices of bread with mustard, put lettuce leaves, slices of ham, cheese, onions and cucumber rings. Cover with the remaining slices of bread. Enjoy!
Tuna pate
Ingredients:
canned tuna - 250 g
white bread - 70 g
milk - 50 ml
eggs - 2 pcs
processed cheese - 1 pc. or 100 g
salt, pepper
vegetable oil - 2 tbsp
wine vinegar - 1 tsp
Method of preparation:
1. Boil the eggs in advance until cooked, cut them into pieces.
2. Soak the bread in milk, cut the processed cheese.
3. Put tuna, milk with bread, eggs, cheese, vegetable oil and vinegar in a blender bowl. Season with salt and pepper. Beat everything until smooth and spread the resulting mass on the bread. Enjoy your meal!
Earlier, OBOZ.UA reported what to make for a pita bread snack.