Trending:
What to cook with potatoes and meat for lunch: a hearty pie in a hurry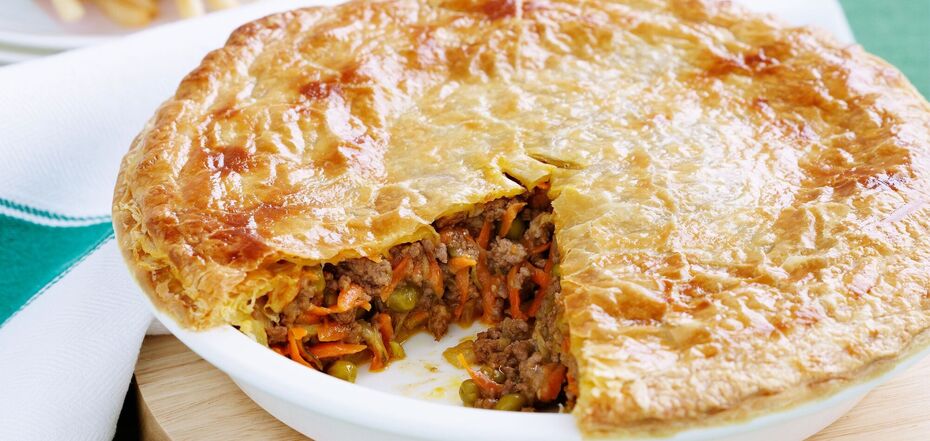 Mincemeat and potato pie for lunch. Source: taste.com.au
Meat and potatoes are the perfect combination for a hearty meal. These ingredients can be used to make a very quick pie. You just put everything in layers and bake it.
The idea of making a hearty meat pie with potatoes for lunch was published on the Instagram page of food blogger Polina with the nickname polli_cooking. The dish will be baked in the oven for a maximum of 15 minutes.
Ingredients:
500 g. minced meat
1 onion
1 carrot
5-6 tbsp of green peas
2 tbsp of tomato paste
dry garlic, pepper, smoked paprika
salt
4-5 potatoes
100 ml of cream 10%
20 g of butter
green onions
80 g. mozzarella
Method of preparation:
1. Put the potatoes to boil.
2. Fry finely chopped onions and carrots in a frying pan.
3. Add the minced meat and mix well.
4. When the minced meat is almost ready, add salt, spices, green peas and tomato paste.
5. Add warm cream and butter to the boiled potatoes and mash them. Also add finely chopped green onions and mix.
6. Put the meat filling on the bottom of the mold and mashed potatoes on top. Smooth the surface and cover with cheese.
7. Place in a preheated 200-degree oven with convection mode for 10-15 minutes until golden brown.
You can also find recipes on OBOZ.UA: