Trending:
What ingredient to add to chebureki dough to make them crispy: the secret to a perfect dish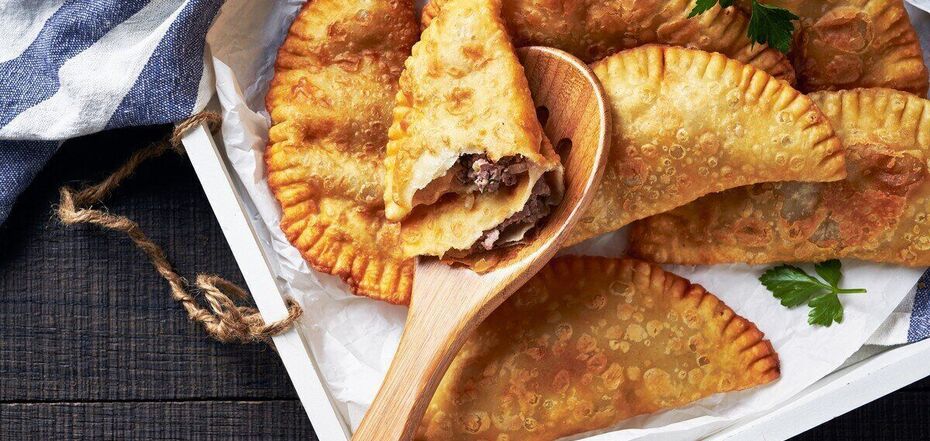 What dough to cook crispy chebureki on. Source: yummytemple.com
Homemade juicy chebureki can never be compared to semi-finished products. And cooking this dish is much easier than it seems. To make the dough elastic and crispy after frying, add one simple ingredient.
The idea of making homemade chebureks with choux pastry was published on the Instagram page of food blogger Snizhana Dudok (snizhana.dudok). To make the products crispy, add a little vodka to the dough.
Ingredients for the dough:
400-450 g flour
250 ml of water
1 egg yolk
0.5 tsp of salt
0.5 tsp of sugar
1 tbsp of vegetable oil
1 tbsp of vodka
Ingredients for the filling:
200 g of meat
1 large onion
200 ml of kefir
salt
pepper
vegetable oil for frying
How to make the dough:
1. Add salt, sugar, oil to hot water (almost boiling water), mix well and add 200 g of flour (from the total amount).
2. Knead the dough. Leave the resulting mass for 15 minutes.
3. Add the egg yolk and vodka to the mass cooled to a comfortable temperature.
4. Mix well. Add the rest of the flour and knead the dough.
5. The finished dough should be soft, elastic and not stick to your hands. Wrap the dough in cling film and leave it for about 20 minutes.
Method of preparing the filling:
1. Add the onion to the minced meat. You can grate it or grind it in a meat grinder.
2. To make the filling juicy, pour kefir into the minced meat.
3. Add salt and spices and knead again.
4. Roll out the dough into a thin layer, brush the sides with protein, put about 1 tbsp of the filling on one part of the circle, cover with the other half of the circle so that the edges meet. Press it with your fingers and then with a fork.
5. Heat the oil in a frying pan and put the chebureki. Fry over medium heat until tender and golden brown.
You can also find recipes on OBOZREVATEL: