Trending:
The most delicious crème brûlée at home: a lazy recipe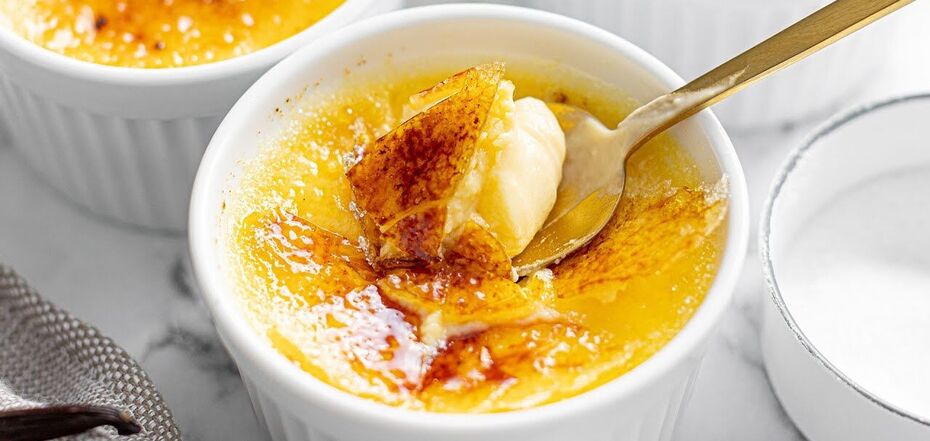 Crème brûlée. Source: Screenshot of a video on YouTube
Crème brûlée is an exquisite French dessert with a bright vanilla flavor and golden crispy crust. It is very easy to prepare at home. Traditionally, brulee is made with milk or cream and flavored with vanilla.
Food blogger Kateryna with the nickname katyamull shared a recipe for creamy brulee on her Instagram page.
Ingredients:
cream 35% - 500 ml
egg yolks - 3 pcs.
powdered sugar/sugar - 50 g
vanilla sugar - 20 g
Method of preparation:
1. Put egg yolks in a bowl and add sugar. Mix thoroughly until dissolved.
2. Pour room temperature cream into the resulting mass and add vanilla sugar. Pour the mixture into the molds.
3. Place the molds on a baking sheet and pour boiling water over them. The water should reach about halfway up the molds. Bake in a preheated to 150 degree oven for 50-60 minutes.
4. Take the finished dessert out of the oven, cool it down, and leave it in the refrigerator for 2-4 hours.
5. At this stage, pour sugar on the surface of the dessert and caramelize it with a gas burner. If you don't have a gas burner, put the crème brulee molds on a wire rack in the oven under the most heated grill for 5-7 minutes at 250 degrees. As soon as the sugar turns golden, take the molds out of the oven. Enjoy!
You can also find more recipes on OBOZREVATEL: