Trending:
The easiest dough for Napoleon cakes: there is a secret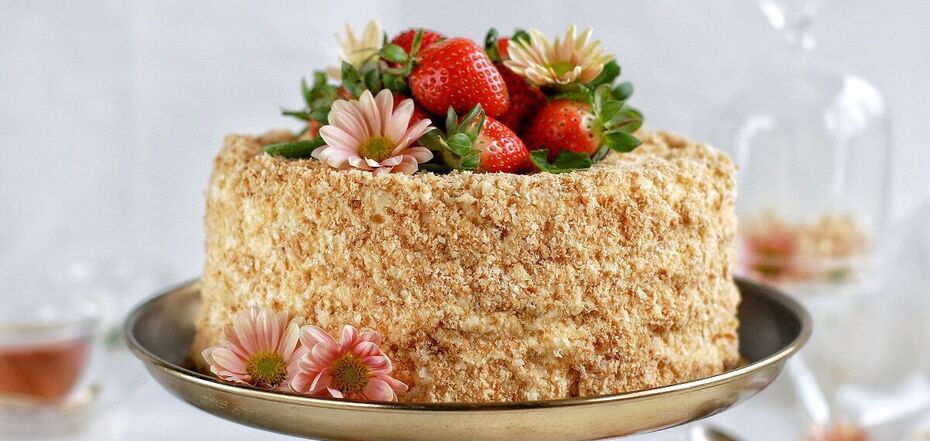 Perfect proportions for a delicious ''Napoleon''
"Napoleon" is a classic dessert that more than one generation knows about. And the cake that is made at home is a win-win. The cakes should be very crispy. To do this, you need to make the dough correctly.
The idea of making a Napoleon cake from the simplest dough was published on the Instagram page of food blogger Yulia with the nickname cooking.by.yuliia. The cream perfectly soaks the cakes.
Ingredients:
butter - 320 g
flour - 420 g
eggs - 1 pc
ice water - 130 g
salt - 0.5 tsp
vinegar - 1 tbsp
Ingredients for the cream:
milk - 800 g
sugar - 200 g
eggs - 3 pcs
corn starch - 70 g
cream - 400 g
Method of preparation:
1. Add salt, vinegar, egg to the ice water and mix.
2. In a separate bowl, add the grated cold butter to the flour.
3. Mix the flour and butter and pour in the prepared mixture.
4. Mix and knead the dough.
5. Form 9 balls and leave in the refrigerator for an hour.
6. Roll out each ball on the parchment into a thin circle and cut out a circle.
7. Bake the cakes at 180 degrees for 5-7 minutes.
8. For the cream, combine eggs, sugar, starch in a saucepan and mix.
9. Add milk in stages and stir. Cook the cream until it thickens.
10. Let the cream cool completely and leave it in the refrigerator for an hour.
11. Add cold cream to the cream and beat until fluffy and thickened.
12. Grease the cakes with the cream and leave the cake in the refrigerator for 3-4 hours.
13. Sprinkle with chopped crumbs from the leftover cakes.
You can also find more recipes on OBOZ.UA: