Trending:
Tastier than Vinegret: recipe for "Autumn" beet salad without mayonnaise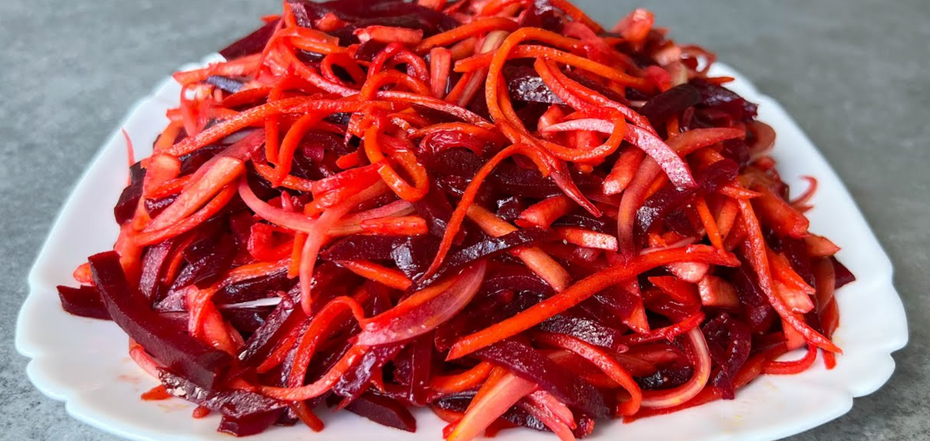 Beet salad without mayonnaise. Source: Screenshot from a YouTube video
Beetroot salad is budget-friendly, versatile, and delicious. It's worth noting that beets go well with almost all vegetables, cheese, eggs, peas, legumes, and even prunes. The dish can be seasoned with either regular mayonnaise or simply flavored oil.
Food blogger Natalia Parkhomenko (Natasha Parkhomenko) shared a recipe for "Autumn" beet salad without mayonnaise on her YouTube page.
Ingredients:
boiled beets - 3 pcs
carrots - 2 pcs
onions - 1 head
sweet and sour apple - 1 pc
water - 100 ml
vinegar 9% - 1 tbsp
sugar - 1 tbsp
olive oil - 3 tbsp
lemon juice
Method of preparation:
1. First, cut the onion into half rings. Add sugar, water and vinegar to it. Stir and leave for a few minutes.
2. Grate the carrots on a Korean carrot grater. Fry the vegetable until soft.
3. Peel the apple from the skin and seeds, cut into strips. Cut the pre-boiled beets into strips.
4. Mix all the vegetables, add salt, pepper, olive oil and lemon juice. Stir to combine. Enjoy your meal!
You can also find recipes on OBOZ.UA: